Blame It on Oil: 2016 Unhappy New Year for Asian Shipyards
|
Jonathan Burgos & Kyunghee Park
|
Monday, January 04, 2016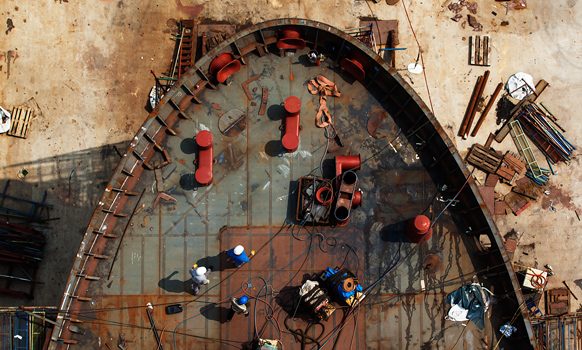 With oil prices forecast to fall as low as $15 a barrel and China's growth slowing, orders for offshore projects and new vessels are hard to come by for the world's three biggest shipbuilders.
(Bloomberg) -- For many Asian shipyards, 2015 was a brutal year. This year could be even worse.
With oil prices forecast to fall as low as $15 a barrel and China's growth slowing, orders for offshore projects and new vessels are hard to come by for Hyundai Heavy Industries Co., Daewoo Shipbuilding & Marine Engineering Co. and Samsung Heavy Industries Co., the world's three biggest shipbuilders. As the industry struggles with overcapacity and low rates, customers have been pushing back delivery schedules or canceling orders outright, a trend likely to continue this year.
"Nobody is ordering new rigs," said Lee Yue Jer, a Singapore-based analyst at RHB Securities Pte. "We're still at the worst" point of the cycle.
A troubled foray into building offshore rigs ballooned the debts of the Big Three, pushing them into losses and sending their shares down for a second consecutive year in 2015. The troubles for South Korean builders now are spreading to their rivals in Japan, China and Singapore, as several shipbuilders and offshore-platform makers warn of losses amid slumping oil prices.
The tough times have hit the companies' share prices. Daewoo Shipbuilding was the worst performing stock last year on the Kospi 200 index in Seoul, falling 73 percent. Sembcorp Marine Ltd. dropped 46 percent, the second-worst on Singapore's Straits Times Index, and IHI Corp. declined 45 percent, making it the fourth-worst on the Nikkei 225 index in Tokyo.
Shares of Hyundai Heavy fell 2.6 percent Monday in Seoul to 85,500 won, their lowest price since August. Daewoo Shipbuilding fell 1.5 percent, while Sembcorp Marine dropped 1.7 percent in Singapore.
Sembcorp Marine, the second-biggest builder of oil rigs, expects to post a loss in the fourth quarter, its first since the company started reporting three-month earnings in 2003. Cosco Corp. Singapore Ltd., the shipbuilding arm of China Ocean Shipping Group, forecast a "significant" net loss in the same period.
Crude oil surged today after Saudi Arabia cut diplomatic ties with Iran amid escalating tension between the regional powers, buoying energy shares. West Texas Intermediate rose 2.4 percent to $37.84 a barrel.
Daewoo Shipbuilding, the second-largest shipyard, is poised to record its biggest-ever loss in 2015 after writing off costs from order cancellations and delays in delivering offshore drilling rigs. Hyundai Heavy and Samsung Heavy Industries Co. posted losses in the first nine months of 2015.
"The shipbuilding environment will probably be more challenging next year, although we expect some orders from Iran once sanctions are lifted," Daewoo Shipbuilding said in an e- mail on Dec. 31. "The offshore business will also face hardship as well next year unless oil prices rebound. On earnings, we expect a big improvement for next year."
Daewoo Shipbuilding said Dec. 31 it's in discussions with two customers to push back delivery dates for four drill ships, which were scheduled to be handed over at the end of 2015.
Hyundai Heavy Chairman Choi Kil Seon warned of worries ahead in a Dec. 31 letter to employees.
"While most of the problematic projects are in the final stages of construction, there are still uncertainties," he wrote. "The drop in oil prices, interest rate increase in the U.S., slowing economic growth in China will mean restructuring for all industries."
Hyundai Heavy aims to win $19.5 billion of orders this year for all its businesses, including for ships, offshore units, construction projects and heavy equipment, according to a regulatory filing Monday. It didn't give a target breakdown for individual divisions or comparative figures for 2015. In the first 11 months of last year, it received $13.8 billion in new contracts, including $1.2 billion for offshore operations.
1
2
View Full Article
Generated by readers, the comments included herein do not reflect the views and opinions of Rigzone. All comments are subject to editorial review. Off-topic, inappropriate or insulting comments will be removed.
RELATED COMPANIES
Company: Hyundai Heavy Industries
more info
Company: Samsung Heavy Industries (SHI)
more info
Company: Daewoo Shipbuilding and Marine Engineering Company (DSME)
more info