Low Oil Prices Offer Case for Further Digital Oilfield Implementation
|
Wednesday, December 23, 2015
As an industry, oil and gas is not that different from others like mining or water treatment or electric utilities in their rate of adoption of wireless technologies. What differs is the site-specific or corporate-specific philosophy for embracing new technologies, said Harris.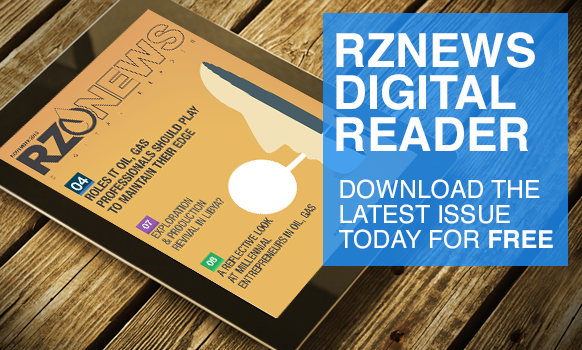 "I have been to plants that have been incorporating wireless extensively for years, and then driven to another company's plant next door, and their attitude is that they will never trust wireless for anything," Harris noted.
While wireless technologies can be cost-effective alternatives to traditional hard-wired industrial communications solutions, they are particularly well-suited for applications that are spread out across vast distances. Oil and gas applications are just that, particularly in upstream, where wellhead monitoring takes place over hundreds of square miles, and midstream, where piping networks need to communicate across hundreds of linear miles, said Harris.
"With that said, there are great advantages for wireless in downstream applications as well," Harris commented. "Every device that is installed in a plant/refinery that measures something, such as temperature, pressure, flow, level, density, and rotation speed, needs to send that information back to the control room where a DCS/PLC [distributed control system/programmable logic controller] can record and take action based on the data."
Onshore offers many more applications for digital oilfield than offshore, especially when the distance is considered, but there are still plenty of reasons not to run cables across a rig platform, Harris noted.
"Obstacles are mostly perception," said Harris. "There are always going to be applications that are not suitable for wireless. And we will be the first to point those out when someone asks."
"But there is so much untapped opportunity in facilities where wireless education and a dash of trust – backed by empirical proof in hundreds of similar applications around the world – are all that's needed to become reality."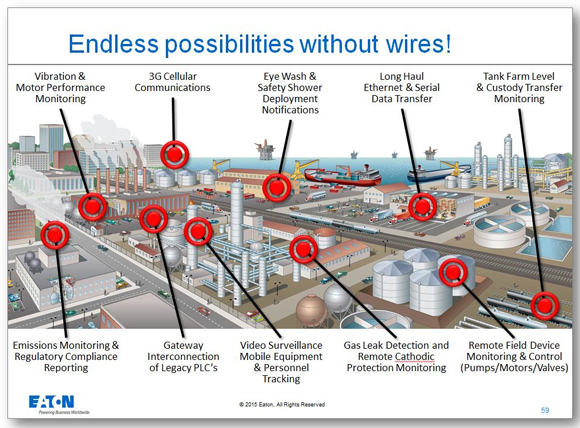 Wireless technology – part of digital oilfield technology – can allow for better monitoring of activity in oil and gas facilities.
The emergence of Big Data, Internet of Things, and machine-to-machine technologies has led to the birth of a new innovation theme in oil and gas, the digital oilfield. According to a January 2015 report by Cleantech Group, the digital oilfield category comprises technologies, services and related business models focused on the tools and processes for data and information management in upstream oil and gas. Examples of digital oilfield initiatives include Chevron Corp.'s iFields, BP plc's Field of the Future, and Royal Dutch Shell plc's Smart fields. These companies continue to seek new technologies to boost production output and reduce operating costs.
Earlier this year, industry officials said that some players in the oil and gas industry have successfully crossed the chasm in implementing digital oilfield technology, but others still lag behind, and industry faces challenges in adopting this technology. One challenge that industry needs to address is cybersecurity. Greater automation and use of digital technologies at places such as production sites and refineries puts oil and gas companies at greater risk of cyberattacks, a Honeywell official told Rigzone in April of this year at the IHS CERAWeek Conference.
Internet of Things Could Help Industry Weather Low Oil Prices
The Internet of Things (IoT), which basically integrates sensing, communications and analytic capabilities, offers a new suite of technologies that can help oil and gas companies tackle the challenges of becoming more productive and efficient in the "new normal" of lower oil prices, according to a report by Deloitte Center for Energy Solutions.
According to Deloitte, the oil price downturn is putting heavily indebted oil and gas companies on credit-rating agencies watchlists and derailing the capital-expenditure and distribution plans of even the most efficient companies. Addressing this structural weakness in oil prices requires more than financial adjustments, but a change in the industry's approach to technology. This includes industry's approach to using operational techniques to locate and exploit complex resources, to using information from technologies to make hydrocarbon extraction and every successive stage before sale more efficient and even revenue-generating.
The declining costs and increasing functionality of sensors, availability of advanced wireless networks, and more powerful and ubiquitous computer power, which have opened the floodgate to the amount of data that industry can quickly collect and analyze are enabling the shift to information-based value creation. Deloitte noted that sensor prices have tumbled to about 40 cents from $2 in 2006, with bandwidth costs a small fraction of those even five years ago, helping the industry amass individual data sets that are generating petabytes of data.
"The IoT's promise lies not in helping oil and gas companies directly manage their assets, supply chains or customer relationships – rather, IoT technology creates an entirely new asset: information about these elements of their business," said Deloitte in the report.
Over the past five years, the oil and gas industry has developed or applied an array of technologies such as geophones, robots, satellites, and advanced workflow solutions. But these technologies focus on the asset level, or they are not integrated across disciplines or do not incorporate business information, said Deloitte. The oil and gas industry's digital maturity ranks at 4.68 on a scale from one to 10, according to Deloitte's 2015 global study of digital business and MIT Sloan Management Review.
With only 1 percent of information gathered estimated to be available to oil and gas decision makers, Deloitte said that increased data capture and analysis can save companies millions of dollars by eliminating as many as half of a company's unplanned well outages and boosting crude output by as much as 10 percent over a two-year period. Deloitte also cited a study by Oxford Economics that industry-wide adoption of IoT could boost global gross domestic product by .8 percent.
Deloitte sees three business objectives for IoT deployments: improving reliability, optimizing operations and creating new value. Upstream companies focused on optimization can gain new operational insights by analyzing a diverse sets of physics, non-physics and cross-disciplinary data. Midstream companies eyeing higher network integrity and new commercial opportunities will tend to find significant benefits by building a data-enabled infrastructure. According to Deloitte, downstream players should see the most promising opportunities in revenue generation by expanding their visibility into the hydrocarbon supply chain and targeting digital customers through new forms of connected marketing.
1
2
3
View Full Article
Generated by readers, the comments included herein do not reflect the views and opinions of Rigzone. All comments are subject to editorial review. Off-topic, inappropriate or insulting comments will be removed.