Bruised Asian Shipyards Prepare for Eventual Market Upswing
|
Tuesday, December 22, 2015
Asian Yards Positioning for the Future
While negative sentiments surrounding the relatively poor financial results in the latest quarter have clouded prospects for major Asian shipyards, at least over the near term, some are already exploring ways of improving their business offerings.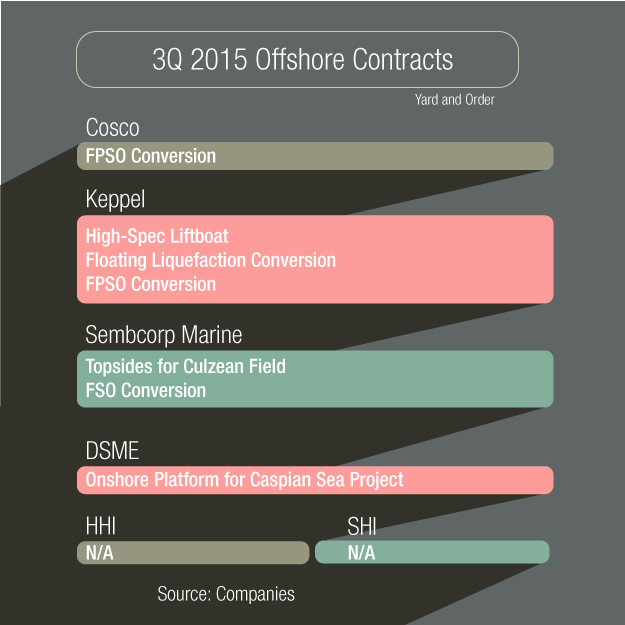 3Q Offshore Contracts
Back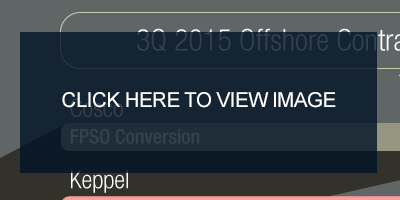 In July, Norway's DNV GL commenced a joint industry project (JIP) in South Korea with HHI, DSME and SHI to establish a new international standard for offshore oil and gas projects. The results could potentially trim project costs by 15 percent, or around $500 million for a typical tension leg platform project, for example.
The JIP, with support from Korea Offshore and Shipbuilding Association and Korea Marine Equipment Research Institute, aims to develop common and global best practices for components and equipment to reduce the number of, and variations in, requirements to the minimum. The project is open to oil companies and engineering firms.
"The implementation of a standardized approach will be an opportunity to significantly reduce the general cost level of offshore projects without compromising on quality or safety," Arthur Stoddart, DNV GL's regional manager for Korea and Japan said in the July 22 press release.
JIP will "initially focus on simple components and equipment, such as tertiary structures and bulk materials for construction, piping and E&I (electrical and instrumentation) engineering … the scope will be extended to complete modules and equipment packages."
"We hope this will lead to standardization that helps to reduce design periods and minimize design changes," JongBong Park, senior executive vice president (SEVP) and chief operating officer of HHI's offshore and engineering division, added in the July 22 statement.
Another push in this direction came when the South Korean yards held a meeting in October on "Offshore Design Standardization JIP" with American Bureau of Shipping in the United States, with participants from ConocoPhilips Co. and France's Technip SA also present at the discussion. The South Korean yards agreed to standardize materials, design, and procedures of offshore facilities that vary by project and client by the first half of 2016.
Apart from improving business efficiency, South Korean yards like HHI intend to expand into strategic markets such as Saudi Arabia. It signed a memorandum of understanding (MOU) with Saudi Aramco, the world's leading integrated energy and chemicals firm, Nov. 12 to collaborate on business development opportunities in the Kingdom.
Under the MOU, HHI and Saudi Aramco will cooperate in areas such as engineering, procurement and construction, while supporting ongoing initiatives relating to Saudi Arabia's maritime industry.
"The partnership between the two industrial behemoths not only means a great opportunity to enhance Korea's shipbuilding and EPC businesses," Ki-sun Chung, head of HHI Corporate Planning said.
Over in Singapore, Keppel O&M's wholly owned subsidiary Keppel Offshore & Marine USA, Inc. entered into a Stock and Asset Purchase Agreement with Cameron International Corp. in August to acquire the latter's offshore rigs business, comprising the LETOURNEAU jackup designs, rig kit business, and aftermarket services.
"The designs Keppel is acquiring, which include the LETOURNEAU Super 116E, WORKHORSE, Super Gorilla XL and Jaguar, will add to Keppel's offerings in the jackup market," Keppel said in the Aug. 31 press release.
The $100 million acquisition would add another dimension to Keppel O&M's business – the aftermarket services segment where there are around 100 LETOURNEAU jackups currently operating worldwide.
1
2
3
View Full Article
Generated by readers, the comments included herein do not reflect the views and opinions of Rigzone. All comments are subject to editorial review. Off-topic, inappropriate or insulting comments will be removed.
RELATED COMPANIES
Company: Hyundai Heavy Industries
more info
Company: Samsung Heavy Industries (SHI)
more info
Company: Keppel Offshore & Marine Limited
more info