Bruised Asian Shipyards Prepare for Eventual Market Upswing
|
Tuesday, December 22, 2015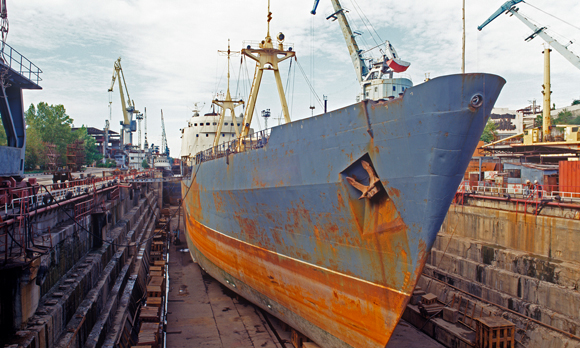 Battered Asian shipyards suffering from the most severe downturn in the offshore segment in recent years take steps to improve their future prospects.
After being adversely impacted by over a year of shrinking orders, many rig builders and offshore construction contractors in Asia have taken measures to better position themselves for an eventual recovery in the global oil and gas industry.
While the timing of an oil price recovery remains uncertain, some Asian yards are strengthening their future competiveness in the cost-conscious offshore industry, where crude oil prices no longer trade around the $100 a barrel mark – a level where they hovered around from 2011 until the current slump began around the middle of 2014.
The International Energy Agency (IEA) projected oil prices would reach around $80 a barrel by 2020, according to its "World Energy Outlook 2015" report released Nov. 19.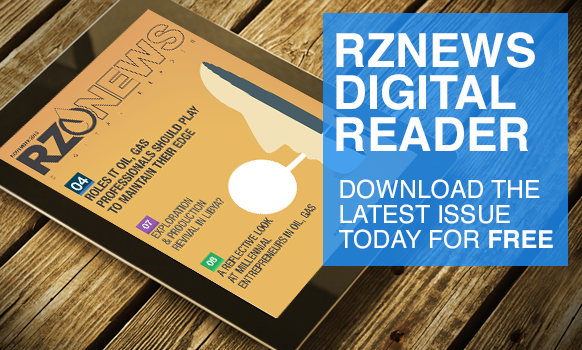 Declining Yard Profitability
The urge for Asian shipyards to find more effective ways of operating in the offshore industry has been made more pressing given their generally bleak financial performance over the last year. Latest financial results released for third quarter (3Q 2015) ending Sept. 30 indicated that the operating environment for these firms remained fairly gloomy.
In fact, an Oct. 27 Bloomberg report noted that customers are asking shipyards, including those in Asia, to delay delivery of ships and offshore rigs as weaker economic growth and sluggish oil prices made it difficult for these companies to pay for the projects.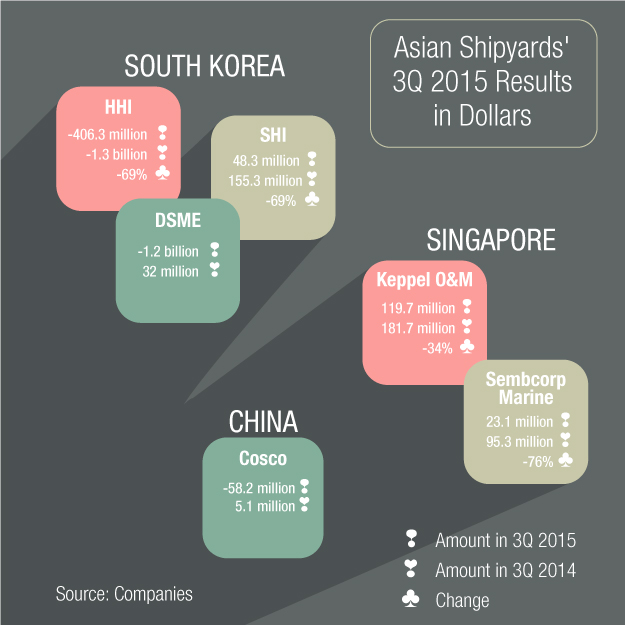 Asian Shipyards' 3Q 2015 Results
Back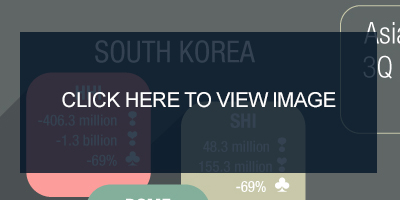 In South Korea, only one of the three major shipyards was profitable in 3Q 2015, while their two heavyweight counterparts in Singapore made lower profits. A major Chinese yard also recorded losses during the same period.
Samsung Heavy Industries Co. Ltd.'s (SHI) net profit for the quarter was $48.3 million (KRW 53.7 billion), down 69 percent from $155.3 million (KRW 172.6 billion) a year ago. This was however an improvement from 2Q 2015, when the shipyard registered a loss of around $1 billion (KRW 1.2 trillion). SHI's latest quarterly net profit was attributed to the receipt of payments from a client for design changes to a rig under construction, Bloomberg reported Oct. 27.
Unlike SHI, local rival Hyundai Heavy Industries Co. Ltd. (HHI) – the world's biggest shipbuilder – posted a net loss of $406.3 million (KRW 451.4 billion) in 3Q 2015, exceeding the net loss of $218.2 million (KRW 242.4 billion) in the previous quarter but still an improvement year-on-year, when the firm registered a net loss of $1.3 billion (KRW 1.5 billion).
"The shipbuilding business was hit by cancellation of a semisubmersible rig [by Bollsta Dolphin Pte Ltd.] as oil prices nosedived to $40 a barrel. The offshore business set up a reserve for possible losses that may be incurred from belated change orders, increased manhours or delays in delivery caused by design changes," a HHI source said.
The financial performance of Daewoo Shipbuilding & Marine Engineering Co. Ltd. (DSME) – the world's second largest shipbuilder – was also hit by the industry downtrend, with the firm posting a 3Q 2015 net loss of $1.2 billion (KRW 1.4 trillion) – its second consecutive quarterly loss – albeit an improvement from the $2.1 billion (KRW 2.3 trillion) net loss in 2Q 2015.
Like their South Korean competitors, Singapore's Keppel Offshore & Marine Ltd. (Keppel O&M) and Sembcorp Marine Ltd. – two of the world's largest builders of jackups – also saw profitability slip in 3Q 2015.
Keppel O&M's 3Q 2015 net profit fell 34 percent to $119.7 million (SGD 166 million), compared to $181.7 million (SGD 252 million) year-on-year amid a slowdown in orders for new drilling rigs, while there was a 76 percent decline in net profit for local rival Sembcorp Marine from $95.3 million (SGD 132 million) to $23.1 million (SGD 32 million) in the corresponding period as contributions from its key rig building business dried up.
Meanwhile, Cosco Corporation (Singapore) Ltd. – a Chinese ship repair & marine engineering and shipping group – posted a net loss of $58.2 million (SGD 82.1 million) in 3Q 2015 compared to net loss of $3.4 million (SGD 4.8 million) in the earlier quarter and a net profit of $5.1 million (SGD 7.1 million) in 3Q 2014.
Asian Yards Positioning for the Future
While negative sentiments surrounding the relatively poor financial results in the latest quarter have clouded prospects for major Asian shipyards, at least over the near term, some are already exploring ways of improving their business offerings.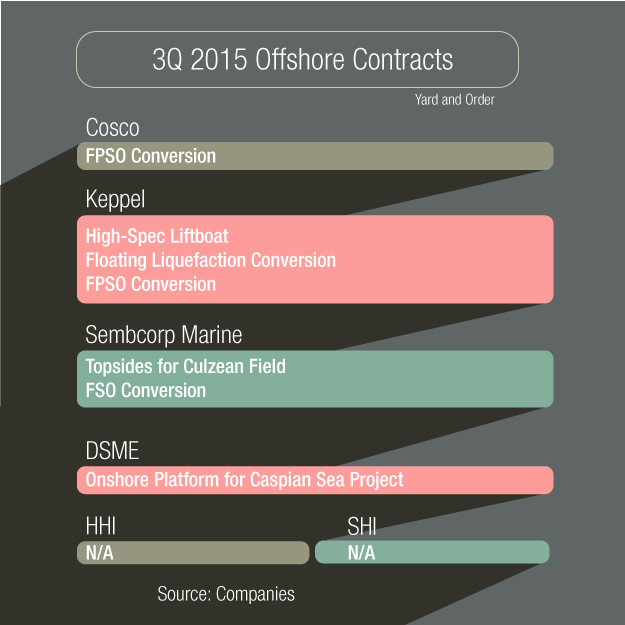 3Q Offshore Contracts
Back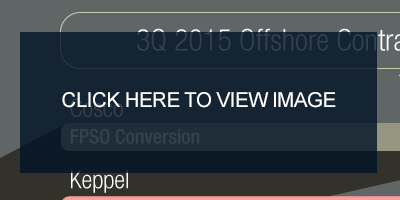 In July, Norway's DNV GL commenced a joint industry project (JIP) in South Korea with HHI, DSME and SHI to establish a new international standard for offshore oil and gas projects. The results could potentially trim project costs by 15 percent, or around $500 million for a typical tension leg platform project, for example.
The JIP, with support from Korea Offshore and Shipbuilding Association and Korea Marine Equipment Research Institute, aims to develop common and global best practices for components and equipment to reduce the number of, and variations in, requirements to the minimum. The project is open to oil companies and engineering firms.
"The implementation of a standardized approach will be an opportunity to significantly reduce the general cost level of offshore projects without compromising on quality or safety," Arthur Stoddart, DNV GL's regional manager for Korea and Japan said in the July 22 press release.
JIP will "initially focus on simple components and equipment, such as tertiary structures and bulk materials for construction, piping and E&I (electrical and instrumentation) engineering … the scope will be extended to complete modules and equipment packages."
"We hope this will lead to standardization that helps to reduce design periods and minimize design changes," JongBong Park, senior executive vice president (SEVP) and chief operating officer of HHI's offshore and engineering division, added in the July 22 statement.
Another push in this direction came when the South Korean yards held a meeting in October on "Offshore Design Standardization JIP" with American Bureau of Shipping in the United States, with participants from ConocoPhilips Co. and France's Technip SA also present at the discussion. The South Korean yards agreed to standardize materials, design, and procedures of offshore facilities that vary by project and client by the first half of 2016.
Apart from improving business efficiency, South Korean yards like HHI intend to expand into strategic markets such as Saudi Arabia. It signed a memorandum of understanding (MOU) with Saudi Aramco, the world's leading integrated energy and chemicals firm, Nov. 12 to collaborate on business development opportunities in the Kingdom.
Under the MOU, HHI and Saudi Aramco will cooperate in areas such as engineering, procurement and construction, while supporting ongoing initiatives relating to Saudi Arabia's maritime industry.
"The partnership between the two industrial behemoths not only means a great opportunity to enhance Korea's shipbuilding and EPC businesses," Ki-sun Chung, head of HHI Corporate Planning said.
Over in Singapore, Keppel O&M's wholly owned subsidiary Keppel Offshore & Marine USA, Inc. entered into a Stock and Asset Purchase Agreement with Cameron International Corp. in August to acquire the latter's offshore rigs business, comprising the LETOURNEAU jackup designs, rig kit business, and aftermarket services.
"The designs Keppel is acquiring, which include the LETOURNEAU Super 116E, WORKHORSE, Super Gorilla XL and Jaguar, will add to Keppel's offerings in the jackup market," Keppel said in the Aug. 31 press release.
The $100 million acquisition would add another dimension to Keppel O&M's business – the aftermarket services segment where there are around 100 LETOURNEAU jackups currently operating worldwide.
"This is an opportune and strategic acquisition as it will not only broaden our suite of jackup design offerings in this highly competitive sector, but also provide us with enhanced capabilities to service customers through the provision of expanded aftermarket sales and services," Chow Yew Yuen, CEO of Keppel O&M, said.
"With the current low oil price, we have seen a slowdown in newbuild rig orders. Rig owners are instead looking at repairing and upgrading their current fleet. We believe that we can make best use of our after sales service infrastructure to service rigs of both the LETOURNEAU as well as Keppel FELS designs ... rig owners can now utilize our global network of yards to service and maintain their rig assets cost-effectively," he added.
Keppel O&M is also looking at alternative revenue streams to offset weak performance in the rig building sector.
"We are also winning customers for more diversified and specialized solutions such as FLNG [floating liquefied natural gas] conversions, liftboats as well as ice-class vessels which will position us to capture more value," Keppel Corp. CEO Loh Chin Hua said in the firm's Oct. 23 press release.
The shipyard indicated that the third FLNG conversion project, Gandria, is on track with front end engineering and design (FEED) study being carried out for potential deployment in Equatorial Guinea with Ophir Energy plc, while Golar LNG Ltd. has initiated discussions with Keppel Shipyard for the fourth conversion project with a delivery in early 2019.
Generated by readers, the comments included herein do not reflect the views and opinions of Rigzone. All comments are subject to editorial review. Off-topic, inappropriate or insulting comments will be removed.
RELATED COMPANIES
Company: Hyundai Heavy Industries
more info
Company: Samsung Heavy Industries (SHI)
more info
Company: Keppel Offshore & Marine Limited
more info