North American Oil, Gas Survival Depends On Capital Discipline
by Deon Daugherty
|
Rigzone Staff
|
Thursday, October 29, 2015
Divya Parambi has vivid memories of her first days as a young engineer. She showed up to the frack job with a pristine hard hat and shiny new steel-toed boots, thinking she'd hop over any muddy puddles.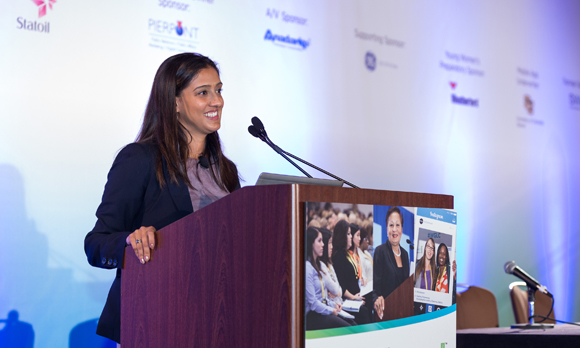 Divya Parambi, a strategist with PacWest Consulting Partners, addresses the 2015 Women's Global Leadership Conference in Energy. Source:Rigzone Staff
"For those of you who may not know this, a frack job is not a clean experience," she said, adding that her colleagues were all too eager to drive the point home
"They dumped a bucket of frack water on my head," she said without a drop of bitterness.
While the tidiness of a hydraulic fracturing site might not have changed much through its evolution, the industry itself is ever-evolving. And, folks are having to come to grips with the topic Parambi discussed at the 2015 Women's Global Leadership Conference in Energy Oct. 27. Her topic: Responding to Change – The New Normal.
Parambi, a MENSA International member, among other accomplishments, noted that downturns in the energy industry can be fueled by different financial drivers. The one most like the downturn today occurred in the 1980s and took 10 years for a recovery.
"We saw a bit of a spike in the '90s when Saddam invaded Kuwait [which created] supply security issues, but on the whole, it was a downturn that lasted almost 10 years. We're hoping 2015 will not be the same – that it won't take several years to recover, but it will definitely be a prolonged downturn," she told a crowd of close to 800.
Adjusting to a new normal that won't take 10 years of adjustment begins with capital discipline, she said. The adjustment will require several things: cost efficiencies, which North America has been among the first movers; workforce cancellations and/or deferrals; mergers and acquisitions; and finally, capital discipline.
"That's really the part that's going to differentiate us going forward," she said.
These survival strategies will depend on how companies cut costs. North America has succeeded in this by dropping its rig count, while maintaining production and improving capital efficiency. Some companies have cut 25 percent of their drilling and made 35 percent cuts to completion and actually made gains, which Parambi said is significant in the today's market.
However, the question remains of how this approach works while squeezing supplies without squeezing "the value chain so hard that it may not be sustainable, without additional capital discipline."
Generated by readers, the comments included herein do not reflect the views and opinions of Rigzone. All comments are subject to editorial review. Off-topic, inappropriate or insulting comments will be removed.