Perfect TEN for Tullow in Ghana
|
Wednesday, October 21, 2015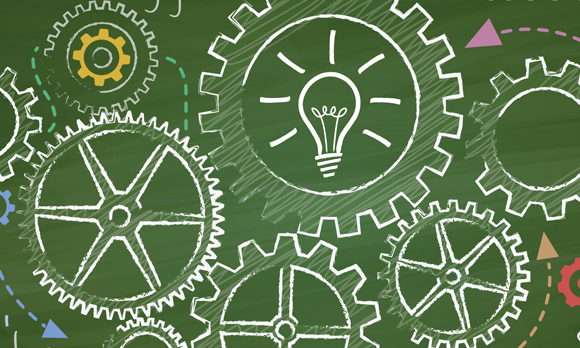 With the TEN project in Ghana on schedule for first oil in 2016, Rigzone highlights recent developments at the field and outlines what this production start-up will mean for the company.
The Tullow-operated Tweneboa Enyenra Ntomme (TEN) field, located offshore Ghana, is on schedule and budget to deliver first oil in mid-2016, Tullow Oil plc's Chief Financial Officer Ian Springett confirmed in a company statement Oct. 1 – three years after a plan of development was approved by the government of Ghana. What does this mean for Tullow? A great deal judging by some of the company's most recent developments.
The TEN project, which has a total estimated gross cost of almost $5 billion, contains gross reserves of 300 million barrels of oil equivalent and is expected to reach a daily output of around 80,000 barrels of oil by early 2017, according to Tullow. Described by the company as Ghana's second major oil development, the TEN field is situated around 40 miles offshore Western Ghana and just 12 miles from Tullow's flagship operated asset, the Jubilee field, which came on-stream in December 2010. Tullow's interest in the TEN development stands at 47.18 percent and its partners in the project comprise Kosmos Energy Ltd, which holds a 17 percent interest, Anadarko Petroleum Corporation, which also holds a 17 percent interest, GNPC (Ghana National Petroleum Corporation), which has a 15 percent interest, and PetroSA (Petroleum, Oil and Gas Corporation of South Africa (SOC) Ltd), which holds a 3.82 percent interest.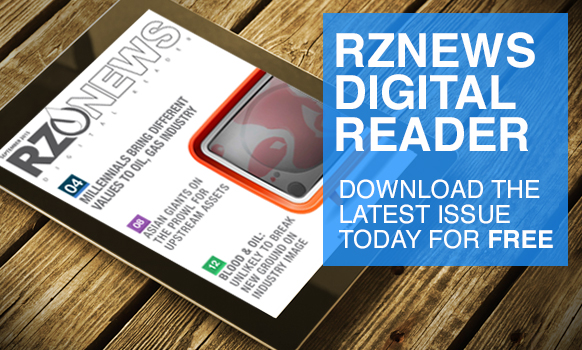 A number of milestones concerning TEN were reached in 2015. Arguably the most important of these events for Tullow occurred in April, when Côte d'Ivoire's request that Ghana be ordered to suspend all oil exploration and exploitation in the disputed zone of the West African TEN Project was rejected by the Special Chamber of the International Tribunal of the Law of the Sea (ITLOS). Although ITLOS is only expected to deliver its decision on the maritime boundary dispute between the two countries in late 2017, the fact that operations at TEN can continue during this period is significant for Tullow. Other notable developments regarding the TEN project in the last few months include the running of a number of well completions, the installation of four subsea christmas trees, which are used to monitor and control the production of a subsea well, and Springett's confirmation in October that Tullow is "fully funded" to meet all of its commitments for the project. By the second quarter of 2016, an FPSO will depart from Singapore to be permanently moored over the TEN field, and all of the pre-first oil wells, as well as umbilical and riser installation, will be completed at the development before first oil commences in the middle of next year.
Output and Income
In its financial statement for the first six months of 2015, Tullow's Chief Executive Aidan Heavey stated that the company's West Africa oil production would grow to "around 100,000 barrels of oil per day net to Tullow in 2017", as a result of the TEN project being brought on-stream in mid-2016. This production increase would be hugely significant for Tullow, whose average West Africa oil output averaged 63,400 barrels of oil per day in 2014. The company's oil production for the region elevated slightly during the first six months of this year to average 66,500 barrels per day, but even based on this improved figure, the production start-up of TEN would result in a more than 50 percent increase on the company's current West Africa output.
In fiscal terms, the production start-up of TEN would deliver "significant additional cash flow" to Tullow Oil, according to Springett, who made the claim a few weeks ago in a company statement. Although the Tullow CFO didn't reveal a specific number, any figure is likely to be welcomed by the company judging by its 2015 half year results. As well as posting a 35 percent revenue drop and a gross profit decrease of 50 percent year on year in the first half of 2015, Tullow significantly reduced its headcount and made strides to allocate less money to general and administrative expenses, operating expenditure and capital expenditure. The company also wrote off $87.5 million in exploration costs during the first half of this year and increased its net debt by 29 percent, to $3.6 billion, during 1H 2015, from $2.8 billion in 1H 2014.
Based on the aforementioned facts, it's clear that the production start-up of the TEN project is extremely important for Tullow. It's likely to give the company a major production boost and could help Tullow improve its financial position, at least until ITLOS makes its final decision on the maritime boundary dispute between Ghana and Côte d'Ivoire in late 2017. If this ruling goes in favor of Tullow, the TEN field is likely to play a key part in the company's future. If the decision goes against the embattled energy firm, which posted its first loss in fifteen years in 2015 and scrapped its dividend as a result, it will undoubtedly be a major blow for the company.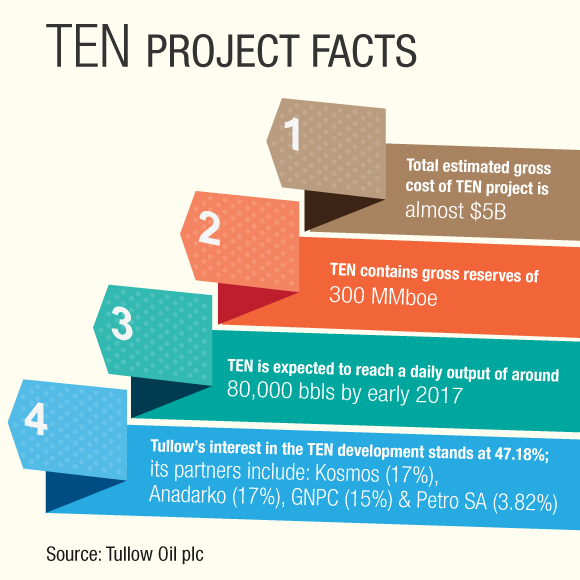 Source: Tullow Oil plc
Generated by readers, the comments included herein do not reflect the views and opinions of Rigzone. All comments are subject to editorial review. Off-topic, inappropriate or insulting comments will be removed.