Life in Libya: The Endurance of Eni
|
Thursday, October 15, 2015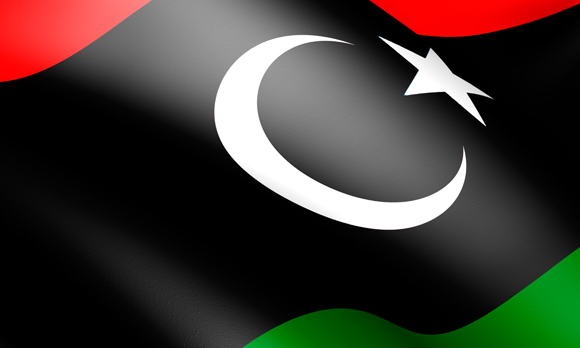 Rigzone takes a look at Eni's troubled history in Libya and examines why the Italian energy company is still operating in the region.
Eni S.p.A. has faced a spate of security threats in Libya since the beginning of the revolution that ousted Muammar Gaddafi in 2011. The most recent incident occurred Aug. 31, when a car bomb exploded in front of the headquarters of Mellitah – a joint oil and gas venture between Eni and the Libyan state oil firm National Oil Corp. (NOC). The attack caused damage to the facility which Islamic State militants claimed in a twitter statement the next day.
In July of this year, the Italian foreign ministry (Farnesina) reported that four Italian employees of oil services firm Bonatti had been kidnapped in the vicinity of the Mellitah compound and Reuters revealed in June that Yousef al-Shoumani, a manager at the Mellitah oil and gas consortium, had also been taken by abductors. Other notable incidents since the start of the 2011 revolution include:
a strike in April 2015 by Libyan security guards protecting the El Feel oilfield, co-owned by NOC and Eni, which forced the facility to close
a firefight in 2013 between former rebel fighters from Zuwara and those guarding Mellitah, which led to Libya temporarily stopping gas exports to Italy from the Mellitah complex
the 2011 civil war, which forced Eni to temporarily halt production at almost all of its Libyan facilities early that year
A range of companies have scaled back upstream operations in Libya due to the country's political instability. Royal Dutch Shell plc abandoned two exploration blocks in Libya in 2012, blaming the decision on disappointing exploration results, although reports at the time indicated the company was also concerned about the insecure situation in the North African country. In September 2013, Exxon Mobil Corp. cut back its staff and operations in the region following its decision that the security situation in Libya no longer justified a large presence, Reuters reported, and that Marathon Oil was considering the sale of its stake in Libya's Waha Oil company, before its efforts were blocked. Total S.A. said in its first quarter 2015 results, released April 28, that it halted production in the country in February because of the "deteriorating security conditions in Libya", and BP plc announced July 28 that it had written-off $600 million of exploration costs in the region, "primarily due to circumstances in the country".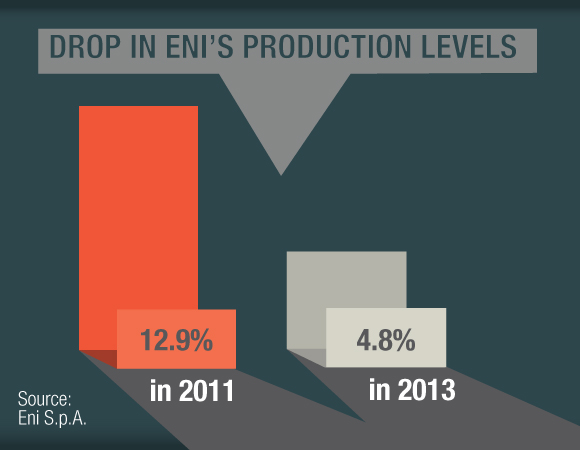 Drop in Eni's Production Levels
The Libyan Revolution and its associated fallout has caused Eni's production to fluctuate over the years, with output being affected significantly in 2011 and 2013. Eni's average production during 2011 was down 12.9 percent as a result of shutting down almost all of its plants and facilities in the country and disruption in the region was partly at fault for Eni's output decrease of 4.8 percent in 2013 compared to 2012. In the fourth quarter of 2013, the adjusted operating profit of Eni's Exploration & Production Division was down 31.8 percent from 4Q 2012, in a development that was partly driven by disruptions in Libya. Reuters claimed in October 2013 that these disruptions had already cost majors such as Eni and Marathon Oil billions of dollars in lost revenue.
Why is Eni Still in Libya?
According to BP's Statistical Review of World Energy 2015, Libya holds the largest total proved oil reserves and the fourth largest total proved natural gas reserves in Africa, which undoubtedly gives Eni a lot of motivation to continue operations in the country. Before the 2011 revolution, Libya had also been a major oil producer with an output of around 1.6 million barrels of oil per day, according to the Libyan National Oil Company. Although Eni has taken a production hit in the past few years due to the country's unstable security conditions, the company reported in May 2015 that it is producing more than 300,000 barrels of oil equivalent per day in Libya, which, as Bloomberg revealed earlier this year, is above the company's pre-civil war output of 280,000 barrels per day.
Eni is also continuing to make new discoveries in Libya. Since the start of 2015 alone, the company has made two gas and condensate discoveries in the region. The first, announced March 16, is located offshore in the Bahr Essalam South exploration prospect. In a producing configuration, Eni has stated that it expects the find to deliver in excess of 50 million cubic feet per day and 1,000 barrels per day of condensate. Eni's second discovery, announced May 26, is also located offshore in the Bouri North exploration prospect. The company revealed that it expects this discovery to eventually deliver in excess of 3,000 barrels of oil equivalent per day.
Libyan conflict is not new for Eni. The company's presence in Libya dates back to 1959, meaning the energy firm witnessed the Libyan Revolution in 1969 which saw Muammar Gaddafi gain power of the country in the first place. With the company making new discoveries in the region, and the licenses of Eni's oil and gas assets in Libya set to expire in 2042 and 2047, respectively, it looks like the Italian energy firm will be operating in Libya for quite some time yet.
Generated by readers, the comments included herein do not reflect the views and opinions of Rigzone. All comments are subject to editorial review. Off-topic, inappropriate or insulting comments will be removed.