PETRONAS' First Female Drilling Supervisor Settles in Trailblazing Role
|
Tuesday, October 06, 2015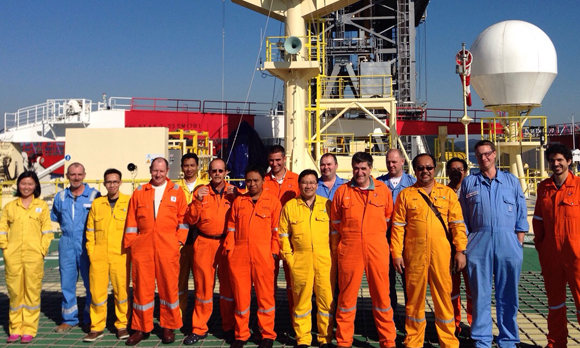 Chan with drilling crew on a rig
Source: PETRONAS
Furthermore, Chan felt that it's important to be polite and respectful in her interactions with staff.
"I find it easier to work in a healthy and positive work environment where we treat each other like a big family on the rig. This overall would definitely drive the drilling operation safer, cheaper and faster," she explained to Rigzone.
Although she is a drilling supervisor, Chan has frequently been mistaken for a trainee by men who have not worked with her, according to flow. She relates that conversations around her sometimes make her a tad uncomfortable, but rather than keeping silent she voices her unease to her male colleagues.
"That happens sometimes but I would talk to them privately and tell them that I am not comfortable with the conversation. I have done this before. It was okay because the guy was open about it and he understood. We were talking like friends," she explained.
Coping with the Physical Environment
Working in a modern offshore rig is not as physically demanding as before given that many of the processes are automated.
"The only physically challenging parts of the job are having to climb on piles of oil well casings, which can be quite scary as it gets higher and higher, and using the rope to swing onto the platform. If the seas are rough and you miscalculate the swing, you may very well end up in the sea instead!" Chan told flow, adding that she had to undergo a basic offshore safety induction and emergency training (BOSIET) to get her license to work offshore.
Her fairly smooth transition to work in an offshore rig was also facilitated by her participation in PETRONAS' All Rounded Drilling (ARD) program. Under this program, trainees were assigned to different rigs for exposure as well as provided them with intensive technical competency classroom and simulator trainings.
"With this structured [ARD] training in place, we are equipped with the right skills and knowledge to be able to work and marinate in the oil rig culture comfortably," Chan commented to Rigzone.
Still, the transition for an employee switching from work in an office environment to an offshore rig can be challenging, according to Chan, who admitted her ideal job upon graduation was to become a petro-physicist and have an office job. Instead, PETRONAS offered her a job in the drilling department as a well engineer.
She has not looked back since, especially after being given a clear idea of the job scope, challenges and opportunities, as well as potential career path.
"I know that I made the right choice because I really like it. PETRONAS operates globally, so we have the opportunity to work abroad. I was in Myanmar last year," she says, alluding to her assignment as night drilling supervisor in a land rig from June to October 2014.
1
2
3
View Full Article
Generated by readers, the comments included herein do not reflect the views and opinions of Rigzone. All comments are subject to editorial review. Off-topic, inappropriate or insulting comments will be removed.