Musings: Dog Days of Summer Bring a New Reality to the Oil Patch
by G. Allen Brooks
|
PPHB LLC
|
Tuesday, September 22, 2015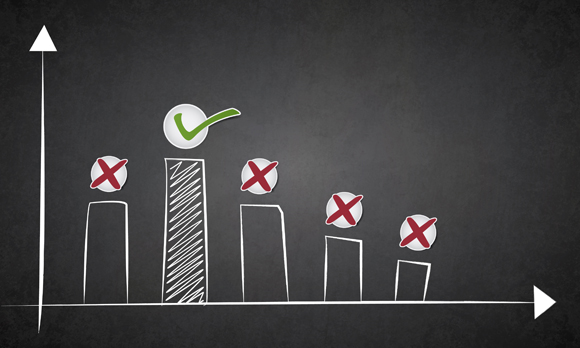 The dog days of summer have seen increased volatility for oil prices and the stock market, which means more challenges for the businesses and employees; G. Allen Brooks offers insight to the layoffs.
As August drew to a close, commodity and stock markets were buffeted by a tornado associated with the dark economic clouds growing over China and the rest of Asia. In our last Musings we covered the issue of the lack of economic transparency in China and the extremes to which analysts and investors must go to try to assess what may be happening in that country. What had been a remarkably benign year for the U.S. stock market, and, in fact, for most of the past three years, has suddenly come unhinged. The bull market since the end of the 2008 crisis has been largely driven by the Federal Reserve's easy money policy designed to stimulate U.S. economic growth. It has convinced investors that stock markets only go up. As shown in Exhibit 5, other than for a brief period in late June and early July of this year, and also at the end of 2014 and in early 2015, the Vix index has been essentially flat, and at a very low level. The Vix index is a trading vehicle that reflects the Standard & Poor's 500 Stock Index's volatility. When the Vix index goes up, it signals an increase in stock market volatility, while when the Vix index is low or stable, it reflects relatively low volatility. Jumps in the Vix index are taken by market students as an indication of growing fear among investors that they see the market entering a difficult period. We have certainly seen that fear demonstrated in recent weeks as the Dow Jones Industrial Stock Index has experienced daily price swings of 400-700 points.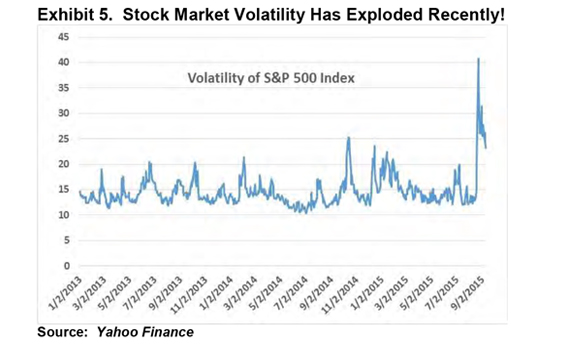 Source: Yahoo Finance
Crude oil prices have also experienced greater volatility in recent weeks. So far this year, crude oil prices have experienced two rallies and may be in the early phase of its third rally from the low levels that have not seen since the dark days of the 2008-2009 financial crisis. West Texas Intermediate (WTI) had clawed its way back to $60 a barrel in June from its late March lows in the mid $40s a barrel. The second cycle saw the oil price drop bottom out at $38.50 a barrel, substantially above the 2008 cycle low of $33.43, but consistent with recent technical trading patterns based on the past five years that suggest the bottom in oil prices should be in the range of $38-$40 a barrel.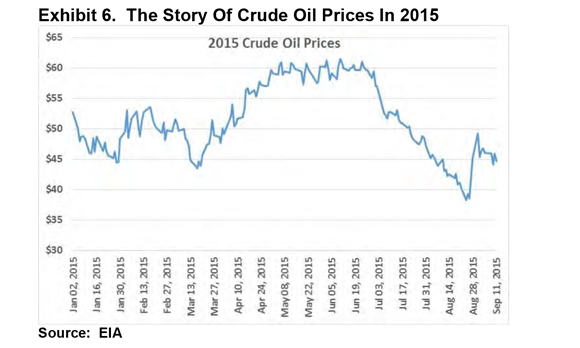 Source: EIA
The recent collapse in oil prices has been greeted with a sharp fall in the domestic drilling rig count. The rig count had stabilized and actually increased slightly after oil prices bounced up. Higher oil prices and a rising rig count was embraced by the oil and gas industry as a signal that maybe this correction had seen its worst and the industry was beginning to heal. Analysts who examined past downturns found that in the 2008-2009 correction, oil prices fell from the $140s a barrel in July 2008 to sub-$34 a barrel by December, but then rebounded to $65-$70 a barrel by July 2009, or just over a 12-month time span. In comparison, the peak oil price preceding this correction occurred in June 2014 with oil at $107 per barrel before falling to $44 a barrel in March 2015 and then rising to $60 in June 2015. This pattern of oil price movements fits the same time span as oil prices followed in 2008-2009. Then things changed!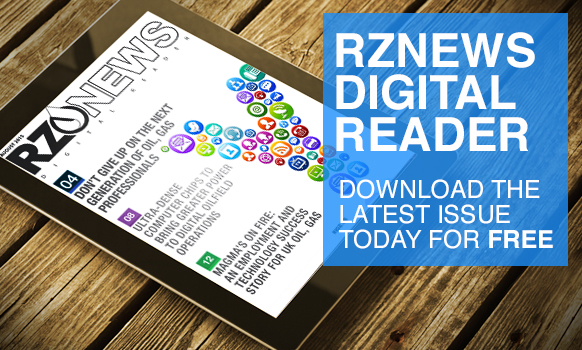 The recent drop in oil prices has come at the same time oil and gas and oilfield service companies were presenting their second quarter financial results. None of those results were good, and much of the discussion on earnings conference calls with investors dealt with management team expectations for the future and detailing the steps they were taking to weather the downturn. One of the key trends to emerge from these calls was the acceptance that this downturn was worse than almost everyone had expected heading into it and that oil prices were likely to remain lower than anticipated and would last longer than expected. The 'lower for longer" scenario has finally forced reluctant management teams to make more significant adjustments to their companies including additional employee layoffs.
The first companies within the energy sector to cut employees were the oilfield service companies. Those cuts were not surprising given the rapid drop in the drilling rig count and its associated oilfield activity that began in late 2014. The workers being let go were those who ran those pieces of oilfield equipment who no longer had work to do. In early January, Schlumberger Ltd. (SLB-NYSE), the world's largest oilfield service company, announced it was laying off 9,000 of its 123,000 employees in response to the drop in oil prices from over $100 a barrel to about $75 in January. As oil prices continued to fall, by April the company was forced to announce an additional 11,000 job cuts, or a total of 15% of Schlumberger's worldwide workforce at the start of the year. Many of the company's competitors thought those cuts were draconian, but the reality seems to be that Schlumberger's management team had a better handle on the magnitude of the growing downturn. Maybe Schlumberger's managers thought that if they had cut too deep, they could easily rehire employees they needed. Then again, managers would be forced to examine how best to structure their business.
1
2
View Full Article
Generated by readers, the comments included herein do not reflect the views and opinions of Rigzone. All comments are subject to editorial review. Off-topic, inappropriate or insulting comments will be removed.