LoSal: BP's Low-Salinity Enhanced Oil Recovery Technology
by Jon Mainwaring
|
Rigzone Staff
|
Thursday, September 24, 2015
Rigzone takes a closer look at BP's LoSal enhanced oil recovery technology that is being used on the Clair Ridge development in the UK zone of the North Sea.
The upstream oil and gas industry is constantly looking for new enhanced oil recovery technologies to improve oilfield production. And next year, plenty of EOR professionals will be taking a close look at how BP plc's new LoSal method for boosting oil production performs when it is deployed in a commercial environment for the first time.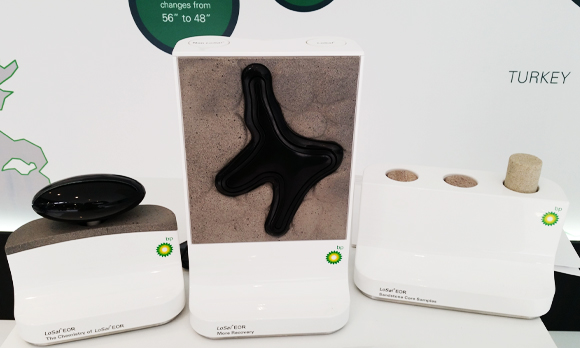 The demonstration kit that BP uses to explain how LoSal works. Source: Rigzone
LoSal is a low-salinity water-flooding technology that increases oil recovery compared to conventional seawater flooding. Flooding a reservoir with water helps to support reservoir pressure while also displacing oil from the reservoir and pushing it towards the well. For offshore reservoirs it make sense to use seawater flooding as it is abundantly available. However, there is a problem with the chemistry of using high-salinity water in that this water encourages plenty of oil molecules to be compressed to the clay that exists within a reservoir.
But the injection of fresh water into a reservoir can also cause problems by making clays swell and block the pores that hold the oil. BP has found that simply reducing the salinity of the water can also have a positive effect on pore-scale displacement and, ultimately, oil recovery.
Even with low-salinity water, according to BP's research, the "bridges" of divalent ions that bind the clay particles to the oil molecules become relaxed, which allows non-bridging monovalent ions to access and replace the divalent ions. With these bridges removed, the oil molecules are free to be swept towards the reservoir's producing wells.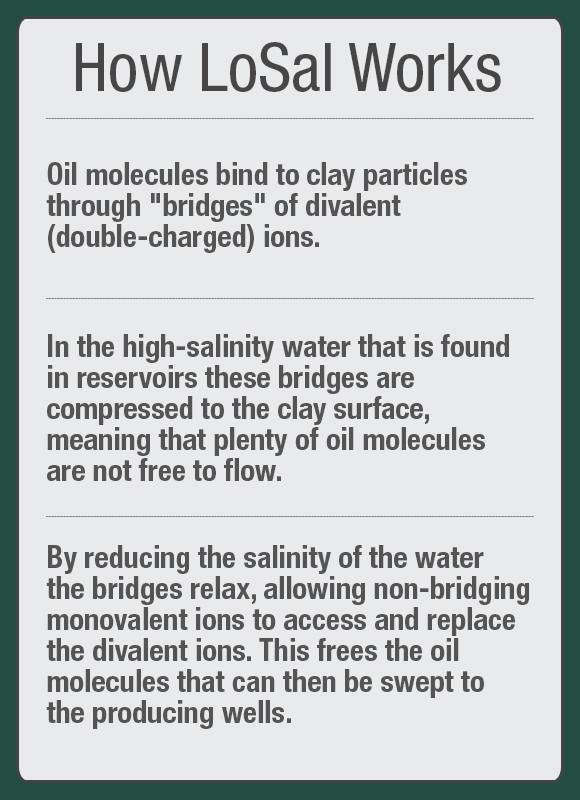 How LoSal Works
The LoSal technology has already undergone a successful field trial at the Endicott field, Alaska, where low-salinity water was injected in one well with the result that incremental oil production was observed in another.
But what's extra neat about LoSal is that while most enhanced oil recovery technologies are applied to mature fields as the oil production rate falls, BP will use LoSal on the new Clair Ridge field in the North Sea when it starts flowing oil in 2017. BP reckons that the use of LoSal at Clair Ridge will result in more than 40 million additional barrels being cost-effectively recovered over the lifetime of the field. Clair Ridge, located 45 miles west of Shetland, is expected to produce some 640 million barrels up until around the year 2050.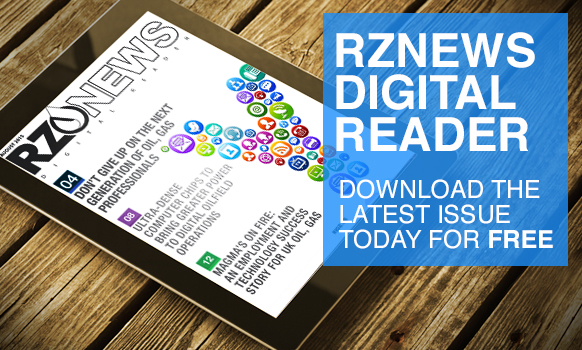 The $7.2-billion Clair Ridge development will include approximately $120 million for the desalination facilities to create from seawater the low-salinity water required for the LoSal system.
Then, there are plans to include a low-salinity waterflood at the Mad Dog Phase 2 project in the Gulf of Mexico. This facility will have a low-salinity waterflood injection capacity of more than 250,000 barrels of water per day.
The industry will be paying close attention to how LoSal performs at the Clair Ridge and Mad Dog Phase 2 projects, as the efficacy of enhanced oil recovery technologies like this will likely be a major factor in determining whether to pursue future field developments in mature basins like the North Sea and Gulf of Mexico.
Generated by readers, the comments included herein do not reflect the views and opinions of Rigzone. All comments are subject to editorial review. Off-topic, inappropriate or insulting comments will be removed.
RELATED COMPANIES