JIP Tests Herders, In-Situ Burning for Arctic Oil Spill Response Potential
by Karen Boman
|
Rigzone Staff
|
Monday, September 07, 2015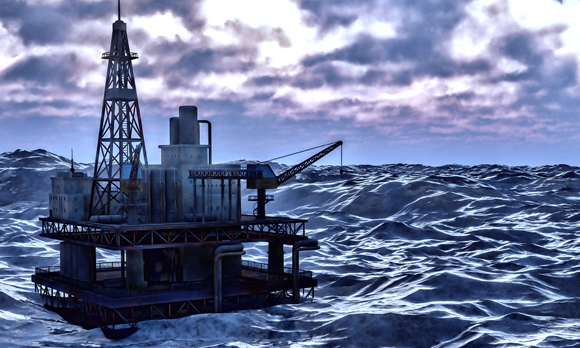 The Arctic Response Technology JIP continues testing oil spill response technology with its recent field trials for herders and in-situ burning.
The Obama administration's recent decision to let Royal Dutch Shell plc resume oil and gas drilling in the Chukchi Sea offshore Alaska and ENI S.p.A.'s plan to start production soon from Norway's first Arctic oil development highlight the continued interest in exploring the Arctic for oil and gas and need for tools to response to oil spills in this environment.
Formed in 2012, the IOGP Arctic Response Technology Joint Industry Programme (JIP) has been examining the effectiveness of oil spill response technologies. In April of this year, JIP scientists conducted tests in Fairbanks, Alaska of the first operational combination of the aerial application of herders and in-situ burning, where herders are applied to an oil slick by manned helicopters.
The study – which sought to validate the use of herders by manned and robotic helicopters – found that herders are effective in the open sea and in fresh and marine waters for addressing oil spills. It also found that herders are effective with or without the presence of ice, up until the point that breaking waves are present.
Five successful tests were conducted over a 10-day period, including cleaning of the tank between tests. Each test took between 10 and 20 minutes from start to completion. The trials took place in a purpose-built, above ground, fully-lined, 8,400-square meter simulated ice basin at the Poker Flat Research Range, in collaboration with the University of Alaska Fairbanks and SL Ross Environmental Research. A project technical report is being prepared, after which research findings will be published in a peer-reviewed scientific journal and presented at a scientific/technical conference.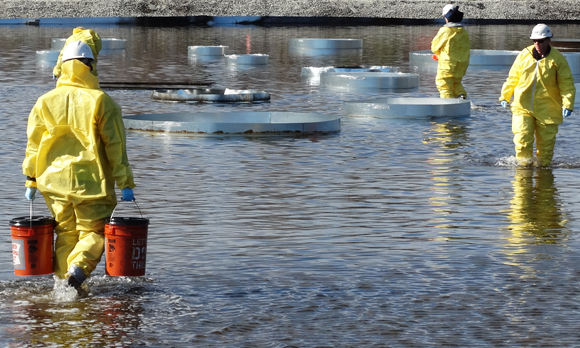 Workers conduct field trials of the first-of-its-kind aerial oil spill response system near Fairbanks, Alaska. Source: Arctic Response Technology Joint Industry Programme
Herding agents can thicken oil slicks in sea ice concentrations of up to 70 percent of ice coverage and in temperatures as low as -17 degrees Celsius, providing favorable conditions for effective ignition and in-situ burning without the need for containment booms. Experimental burns in open water in the Barents Sea have achieved 80 to 90 percent oil consumption.
"This vital research will contribute to the development of an effective, rapid aerial application system combining the use of herders and in-situ burning to achieve potentially high removal efficiencies in remote areas," Tim Nedwed, co-chair of the technical working group investigating herders to advance in-situ burning, told Rigzone in an email statement.
Successful mid-scale field trials use of herders and in-situ burning using boat-based application and ignition were conducted in the spring of 2008 in the Barents Sea off Svalbard. The field trials were one facet of a large JIP coordinated by SINTEF on oil spill response in ice.
"The aerial application of herders offers the potential for a new means of rapid response to spills in remote areas," Nedwed said. "With aerial application of both the herding agent and ignition source, the herder/burn combination becomes an extremely rapid and effective new response tool, independent from vessel support."
The combined aerial response maximizes the use of resources while minimizing the number of workers required to remove a surface slick from the marine environment, where it can do the most harm. The combination also makes the response safer by reducing exposure of people responding to marine operations such as boom deployment and recovery under challenging conditions.
1
2
3
View Full Article
Generated by readers, the comments included herein do not reflect the views and opinions of Rigzone. All comments are subject to editorial review. Off-topic, inappropriate or insulting comments will be removed.