Big Data Growth Continues in Seismic Surveys
|
Wednesday, September 02, 2015
"There's been lots of data collected, but really getting the value out of it is critical."
Big Data About More Than The Three Vs
Big Data is more than just about the three Vs of volume, velocity or variety, but about finding hidden patterns that are meaningful to a business and making data actionable, said Noel Yuhanna, principal analyst at Forrester Research, during the webinar.
The explosion of structured and unstructured data from many directions in recent years has resulted in more than 3.5 zetabytes of data available on the public net, Yuhanna said.
Oil and gas firms that leverage Big Data are experiencing better business growth and innovation versus their peers, Yuhanna said.
"When you look at data in different directions and the values they bring, it's fundamentally different from what oil and gas has done in the past. Previously, oil and gas companies primarily worked with structured data, and structured analysis and reviews."
Today, sources of data such as social, cloud, mobile, video, sensors and Internet of Things brings new opportunities, such as gathering and analyzing data on potential customers, not just existing ones.
Big Data encompasses structured, unstructured and binary data. More than 60 percent of data is unstructured; this data group includes free form texts, emails and tweets, and will continue to grow as the use of mobile devices, sensors and other data sources increase.
Right now, only 15 percent of available data is being used for insights and analysis, Yuhanna said. Lack of tools, approach and initiatives are the reasons why so little of available data is used. By "flipping the iceberg of data" – or using tools available now such as Hadoop – 85 percent of that data could be accessed could make a huge difference.
Noel Yuhanna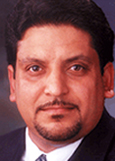 Principal Analyst, Forrester Research
IoT is driving new types of use cases that enable new insights and prediction. IoT is all about gathering sensor data from different types of machines, engines and factories. Cisco Systems predicts that, by 2020, 50 billion of these devices will be connected. Forrest Research estimates that 30 percent usage of IoT in manufacturing; by 2019, this percent is expected to double.
Yuhanna sees lots of advantages of IoT, such as the ability to predict machine failures. The costs of these failures can run into the millions, and could impact other businesses. The predictive capabilities of IoT technologies are being used in John Deere's future farming vision. John Deere combines weather, satellite, seed and soil data for better crop management.
Companies in the railroad industry are using temperature, vibration and acoustic sensor data to predict maintenance needs, increase safety and reduce costs. Automobile manufacturers also are leveraging Big Data, using geospatial and analysis data, aggregated data sets and telematics/sensor data to optimize routes for self-driving cars and communicate with other cars, as well as link to biometrics and notify local authorities of potholes.
Yuhanna sees numerous use cases for IoT technology in manufacturing, including supply chain management, asset, cargo and container manage, machine diagnostics, machine telemetry, industrial automation and real-time equipment monitoring. Technologies like Hadoop are allowing these use cases in manufacturing to happen because of Hadoop's ability to scale across billions and billions of petabytes of data.
What's driving the need for IoT technology? The need for faster real-time access to information, the use of mobile devices, new sensors that track data in real-time, and competitive pressure to support real-time data to access new insights and advanced analytics. But concerns over the security and compliance of data, the integration of data, and support from executives is holding up implementation of IoT technology.
"What we need is to integrate data from systems of engagement, operation and record to drive new insight, interactions and growth," said Yuhanna. "Just gathering Big Data is not enough. Big Data and fast data must be combined with other types of data. That's what we see happening in larger, successful organizations."
1
2
3
View Full Article
Generated by readers, the comments included herein do not reflect the views and opinions of Rigzone. All comments are subject to editorial review. Off-topic, inappropriate or insulting comments will be removed.