IoT Technology Aims to Optimize Production Chemical Optimization
Once it's wired up, the challenge is collecting the data via a telemetered means. That's usually done either putting a cellular radio on the assets. But just as with cell phones, getting access can be difficult. In places like south and east Texas, cellular access is below 40 percent, and in the Permian Basin, less than 20 percent on a square mile percentage.
Cellular companies do build towers along highways and in towns in these area, but coverage is spotty in oilfield areas, Milam said. The remote locations of many oil wells means that cellular networks often fall short of providing needed data coverage, WellAware said. Satellite monitoring is cost-prohibitive for frequent polling rates, and 900 MHz require a high upfront capital expenditures and are often plagued by interference issues. The third layer – visualizing data and performing alerts on that data – poses the next challenge, Milam said.
To help its customers increase automation in oil and gas operations while ensuring security against cyberattacks, WellAware in May announced it would partner with On-Ramp Wireless. On-Ramp Wireless, a provider of long-range connectivity for the Internet of Things (IoT), and WellAware are partnering to create a wide-area IoT communications network using On-Ramp's Random Phase Multiple Access technology. This network will cover more than 55,000 square miles of the most active U.S. oil and gas fields, which represent more than 50 percent of total U.S. production, WellAware said in a May 21 press release.
The RPMA network, already prebuilt over the key oil and gas shale plays, delivers more than 99.9 percent data ability and supports over 5,000 radios per access point, making it the lowest total cost solution available, WellAware said.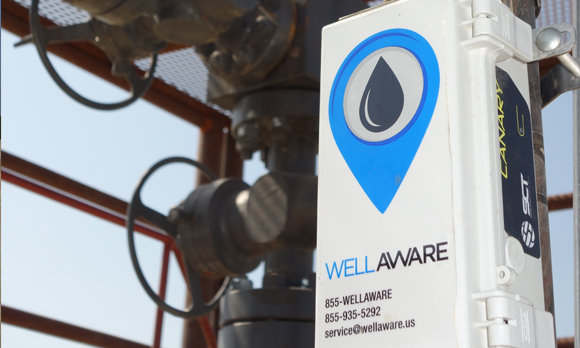 WellAware radio installed near the wellhead. Source: WellAware
Spending on digital oilfield services and processes – which is being pursued by oil and gas companies to increase efficiency, productivity and safety in operations – will grow by an estimated $24.6 billion in 2014 to $38.49 billion by 2024, with a compound annual growth rate of 4.6 percent from 2014 to 2024, according to a report from MarketsandMarkets. The current low oil price environment has prompted E&P companies to slash drilling and spending plans and lay off workers. However, the need to manage visibility and costs in oilfield operations has not gone away, meaning the need for greater efficiency in operations is needed.
Exploration and production will not go away as oil and gas companies being required to drill a certain number of wells to maintain leases, said John Saucer, VP of research and analysis for Houston-based energy advisory firm Mobius Risk Group, in an interview of Rigzone.
Companies are drilling fewer wells, but are focusing their efforts on the best and brightest prospects, which are the most productive and deliver the biggest bang for their buck. These sweet spots – and the fact that some wells previously drilled but were waiting on production hookups – have supported growth in U.S. production, said Saucer.
1
2
3
4
View Full Article
Generated by readers, the comments included herein do not reflect the views and opinions of Rigzone. All comments are subject to editorial review. Off-topic, inappropriate or insulting comments will be removed.