IoT Technology Aims to Optimize Production Chemical Optimization
WellAware pointed to data from the U.S. Energy Information Administration (EIA) and other groups that demonstrate the need for such products. According to the EIA, operating expenses topped over $50 billion in 2014. Data from the Society of Petroleum Engineers reported that downtime that year was more than 10 percent. Data from the U.S. Bureau of Labor and Statistics showed that the average worker in oil and gas operations was seven times more likely to get injured.
The products also provide configurable chemical usage reports and dashboards so that operators and chemical service providers can analyze the effectiveness of their chemical management programs and identify needed changes. Current chemical injection rates can be directly compared to the latest production levels, and new recommended injection rates are provided to reflect changes in well conditions. This transparency allows operators and service providers to have the most effective treatment program to optimize production at the lowest possible cost.
Besides cost, Milam sees the company's technology as a way for companies to uplevel their workforce, freeing up workers for other tasks besides driving from site to site.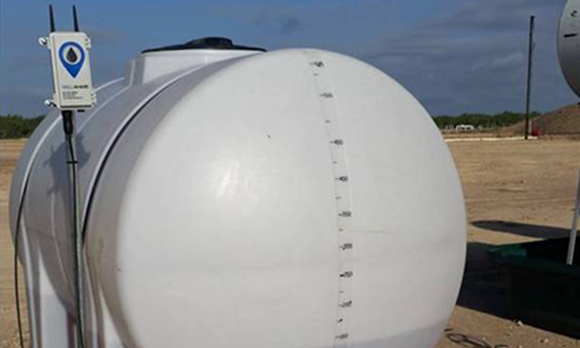 WellAware radio mounted on a chemical tank. Source: WellAware
With profit margins having been slashed by low oil prices, oil and gas companies can't afford to do the same things they have been doing in the past.
"Instead, these companies have to figure out a better way and how to leverage technology to reduce costs," Milam said.
The company already provides exploration and production and midstream services; Milam said the company saw a huge chance to help upstream and midstream operators reduce operating expenses, minimize downtime, and ensure safety and regulatory compliance. In June of last year, the company attracted investment and interest from Dick Cheney, former U.S. vice president and former chairman and CEO of Halliburton, Mexican telecom investor Carlos Slim and Ed Whitacre, former CEO of AT&T and General Motors and a former member of ExxonMobil's board.
Milam said WellAware's full-stack solution enables operators to navigate the three layers that need addressing in the digitization of the oilfield. First, all the hardware to measure data needs to be assembled in the field. A typical oilfield with 1,000 wells could have 10,000 different sensors and equipment from different original equipment manufacturers that speak different dialects, said Milam.
1
2
3
4
View Full Article
Generated by readers, the comments included herein do not reflect the views and opinions of Rigzone. All comments are subject to editorial review. Off-topic, inappropriate or insulting comments will be removed.