How Pipelines Saved America's Biggest Oil Basin From Shale Bust
by Bloomberg
|
Dan Murtaugh
|
Wednesday, July 29, 2015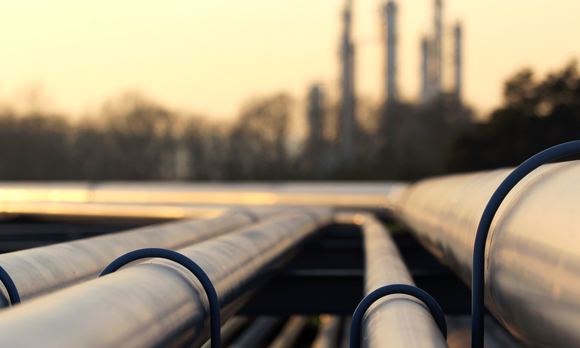 To understand why US oil production is so resilient, it helps to consider the maze of pipelines running out of Midland, Texas.
(Bloomberg) -- To understand why U.S. oil production is so resilient, it helps to consider the maze of pipelines running out of Midland, Texas.
New lines have relieved a chokepoint in America's biggest oil-producing area. A massive supply glut had forced producers to offer discounts of more than $20 a barrel below the U.S. benchmark last year. This month, prices have been at an average premium of 78 cents, the most in records going back to 1991.
Magellan Midstream Partners LP, Plains All American Pipeline LP and Sunoco Logistics Partners LP finished work in the past year that added more than 750,000 barrels a day of capacity, while output grew by only 400,000. With an outlet to Gulf Coast refineries, the Permian has been the only major U.S. shale region to keep growing as prices dropped by more than half to less than $50.
"Putting in those pipelines and connecting the Permian to the Gulf directly allowed that premium to develop," John Auers, Dallas-based executive vice president at Turner Mason & Co., an energy consulting firm, said by phone on July 27. "When you talk about these price levels, $5 to $10 is the difference between putting rigs back to work or shutting down."
The Permian is a vast expanse of arid territory in West Texas and New Mexico, stretching over 75,000 square miles, or about the size of South Dakota. It's been producing energy commercially since the 1920s after ranchers and farmers struck oil while drilling for water.
Production Rebound
After peaking at more than 2 million barrels a day in 1973, basin production slid to less than half that by the turn of the century. That changed in 2010, when companies starting using horizontal drilling and hydraulic fracturing, the techniques employed elsewhere for shale drilling. Output has doubled since then, back to more than 2 million barrels daily.
But the infrastructure didn't keep up. There was only about 1.6 million barrels a day of refinery and pipeline capacity last summer. Storage tanks filled and producers had to offer discounts to buyers willing to ship on more expensive trucks and trains. West Texas oil sold at an average discount to crude in Cushing, Oklahoma, of $12.42 a barrel in August 2014 and dipped as low as $21. That's changed.
"Now there simply isn't enough crude to supply all of the pipes out of the Permian and to satisfy regional refinery demand," said Dominic Haywood, an analyst for Energy Aspects Ltd. in London.
Pipeline Relief
Producers are shipping their crude out of the basin to coastal refineries where prices are higher. Crude inventories in Midland have fallen about 40 percent in the past five weeks to less than 3.5 million barrels as of July 17, according to Genscape Inc., a Louisville, Kentucky-based energy information provider.
Prices in Midland were above those in Cushing, the delivery point for futures on the New York Mercantile Exchange, on Tuesday. West Texas Intermediate oil fell 22 cents to $47.76 a barrel in electronic trading at 6:43 a.m. New York time on Wednesday.
"Had these pipelines not existed, you'd see Midland differentials at an $8-to-$10 discount to WTI," Andy Lipow, president of Lipow Oil Associates LP in Houston, said by phone.
The new lines came at a good time for Permian drillers such as Concho Resources Inc. and Occidental Petroleum Corp. Prices collapsed in part due to extra supply from West Texas and other U.S. shale areas. Drillers responded by cutting budgets and idling more than half their rigs since December.
Eagle Ford
Production is falling in the other major shale regions. The Eagle Ford in South Texas will drop by 10 percent from March to August, while the Bakken in North Dakota will be down about 5 percent, according to the Energy Information Administration. The Permian has slowed to a growth rate of about 0.2 to 0.4 percent monthly from 2 to 4 percent, but it's still expanding. Large swaths of the Permian are still profitable with $49 oil, according to Wood Mackenzie Ltd.
"Even at $50 oil, a lot of development in the Permian looks pretty tight," Christopher Kopczynski, a senior research analyst for Wood Mackenzie in Houston, said by phone. "If you imagine an extra $10 discount for crude, things start to look pretty ugly pretty quickly."
--With assistance from Sheela Tobben in New York.
To contact the reporter on this story: Dan Murtaugh in Houston at dmurtaugh@bloomberg.net To contact the editors responsible for this story: David Marino at dmarino4@bloomberg.net Dan Stets.