Ghanaian Students Use Scholarships to Pursue Careers in Energy Industry
by Valerie Jones
|
Rigzone Staff
|
Wednesday, July 08, 2015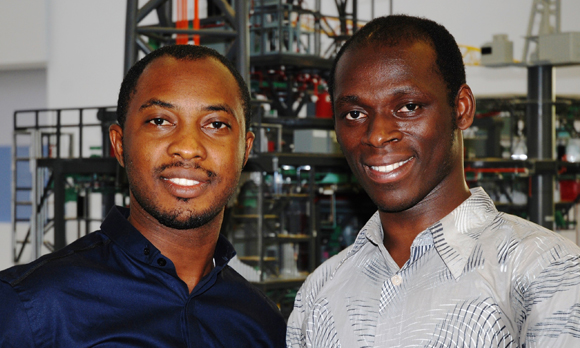 Pictured left to right are Robert Gordon University master's degree students Eugene Yeboah and Justice Ngoah.
Source: Robert Gordon University
Determined to make an impact in the energy industry, two Robert Gordon University (RGU) master's degree students are taking advantage of the opportunity to further their studies as part of a one-year scholarship program.
Justice Ngoah and Eugene Yeboah, chemistry graduates from the Kwame Nkrumah University of Science and Technology in Ghana, are completing their master's degrees through RGU's master's program in instrumental and analytical science with a focus in oilfield chemicals.
"I believe energy is the driving force of every economy and more importantly because of the oil discovery in my country," Yeboah, whose scholarship is funded by Tullow Oil plc, told Rigzone. "I therefore decided to position myself to play a leading role in the industry."
Ngoah, whose scholarship is funded by the Ministry of Energy, refers to the energy industry as "the bedrock of our society" and decided to further his studies at RGU because of the close ties between the university and the energy industry.
While both students have secured placement opportunities with oil and gas companies in Aberdeen, they plan to return to Ghana and work in the energy industry there.
"African countries with oil are setting high targets to meet the increasing demand for energy," Ngoah told Rigzone.
He said the increasing skills gap present in some parts of Africa need to be bridged as early as possible.
Yeboah added that he thinks addressing the skills gap is "essential, especially with regard to local content so that individuals in the oil discovery countries are empowered to be part of what goes on in the industry." He told Rigzone, "this would minimize the situation of always employing expatriates from the west."
For Yeboah, it took him three tries to secure the scholarship opportunity at RGU, but he never gave up.
"I know persistence will always win," he told Rigzone. "I encourage everyone to never give in or give up on their pursuits in life."
In a release, RGU's program leader for the instrumental and analytical sciences master's degree Craig McKenzie said there is a great focus on establishing professional relationships with the master's degree students and collaborative efforts to expand knowledge and practical laboratory skills in context of their chosen careers.
"There are lots of applications for scholarship programs every year and Justice and Eugene are two great examples that the process can be a huge success," McKenzie said.
Generated by readers, the comments included herein do not reflect the views and opinions of Rigzone. All comments are subject to editorial review. Off-topic, inappropriate or insulting comments will be removed.