Succession Planning Critical for Longevity of Oil, Gas Companies
|
Wednesday, July 08, 2015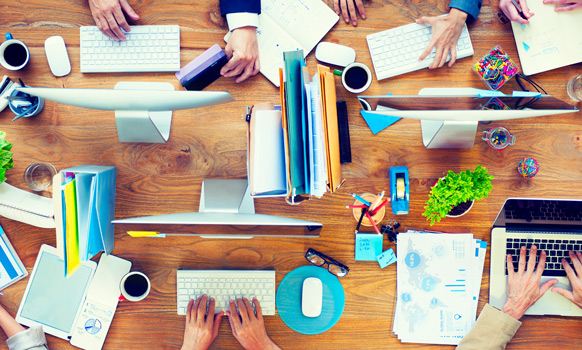 Rigzone explores the most efficient ways to plan for filling key roles in an organization during an industry downturn.
In recent months, restructuring has become almost an industry buzzword as oil and gas companies across the globe have adjusted their organizations' operations in response to the dramatic decline in oil prices that began in late 2014.
In mid-June, Qatar Petroleum, the world's largest producer of liquefied natural gas (LNG), completed an 8-month restructuring plan which included laying off foreign staff and taking over its foreign investment arm, Qatar Petroleum International. The company is focusing on future international expansion.
And with the current market climate, there are many other companies following suit: restructuring, implementing organizational planning and identifying the necessary changes that will help propel their company through the downturn. Part of that includes preparing for the sudden or voluntary change of a CEO or senior level executive. By taking a strategic approach to succession planning, oil and gas companies will be better equipped to handle the cycles common to the industry.
Who Should Be Involved in Succession Planning
Tobias Read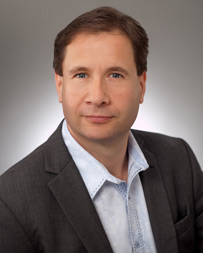 CEO, Swift Worldwide Resources
As a company's succession planning involves developing internal employees to fill key leadership positions, it seems almost detrimental for a company not to have this process in place. And according to Swift Worldwide Resources CEO Tobias Read, it can be.
"Companies that don't look at succession planning are likely to end up failing," Read told Rigzone. "Many CEOs won't put succession plans in place very deliberately because they're paranoid" of losing their job.
The truth is, with the downturn, we've seen quite a few CEOs of oil and gas companies come and go. Those who are prepared for the transition stand to fare better than those who aren't.
At Swift, Read said he talks often and openly with his board members and management team about building a succession plan. During these discussions, the board is able to report on strengths and weaknesses of employees and discuss possible successors to Read.
"Succession planning is an ongoing process," said Read. "Sometimes the person you thought was the best thing since sliced bread just doesn't develop."
In order to be effective, Read said succession plans should be run by the CEO, but should also include board members and the individuals who will be affected.
Susan Power, owner and CEO of Higher Talent Inc., agrees.
"The current CEO has done the job for a number of years, so getting their perspective is critical", Power told Rigzone. "Involving the board of directors is often a best practice because the CEO may be reporting directly into that board. Often, organizations will engage a professional third party such as an HR consultant."
Susan Power
Owner and CEO, Higher Talent Inc.
Power said 360-degree evaluations are also helpful in determining a CEO's successor. The concept behind 360 degree evaluation, an assessment tool in which an employee's boss, peers and subordinates provide feedback about the employee, is to really key in on whether or not the employee would do well in a leadership position.
For example, if senior executives feel strongly an individual would make a good CEO, but he or she doesn't have the respect and credibility among direct reports, then other candidates should probably be considered.
Expectations of a Successor
Expectations for workers in oil and gas are high: they need to come in with the right skill sets and attitude to get the job done efficiently. Many would assume the same applies for those hired in to a CEO position, but should that happen on day one of an employee assuming the role?
"I think it depends on whether a successor is internal or external, because if it's an external successor, someone hired from outside the company, then it's an unrealistic expectation," said Power. "They still need to learn the operation systems, customers and other employees. I don't think you can be completely ready to hit the ground running."
Power said internal successors have the advantage of already having good relationships with team members. However, she pointed out that even internal successors probably have experience in only one or two departments in the business or limited experience in nearly all departments, so even they'll need time to get up to speed.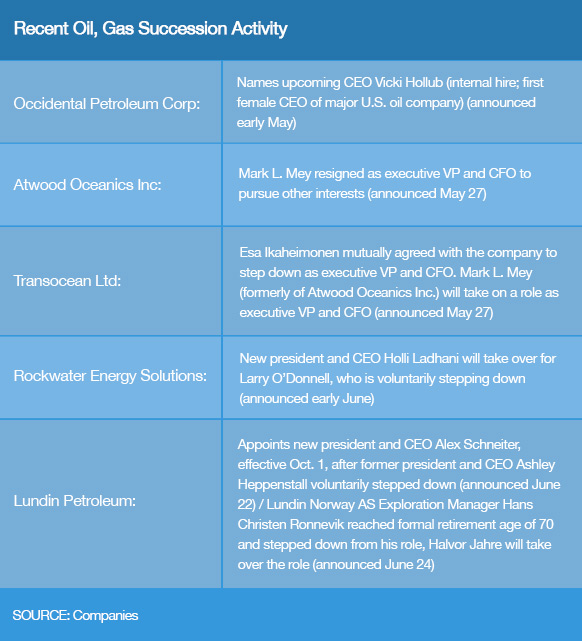 Recent Oil, Gas Succession Activity, Source: Companies
"There are advantages of promoting within an organization because it rewards employees who have tenure and it's a good retention tool and motivator for other employees," said Power. "External candidates can bring in new ideas and though it takes more time for them to go through the learning curve, they are often hired because they have excellent experience from other organizations."
The expectation is that they can help identify new opportunities in the organization, too.
"I think there is an expectation that CEOs make an immediate impact on day one, but I do think that's short-sighted," said Read. "They just end up making poor decisions, lots of mistakes and upsetting lots of people."
Read shared a real-life example of when he hired on a senior-level employee at Swift with plans of having her become a possible successor to him one day. For her first three months, she was not allowed to make a decision. This was by design as Read wanted her to spend the first three months of hire truly understanding the company so she could be a part of its success.
During succession planning, Read said it's good to have a mix of hiring both internally and externally, though he advised always hiring from the outside kills the motivational factor for employees.
"Hiring from within gives employees hope and a chance for career development," said Read. "There's also the fact that they know the customers, they know the operations and they likely won't come in and make radical changes."
While Read said he would suggest bringing up someone from the company 70 percent of the time, he also looks for outside candidates to "bring in fresh blood and new ideas," someone he can "train up and let take over."
Succession Planning Challenges
Just like any long-term strategic plans, organizations do face some challenges with their succession planning.
One challenge, Power identified, is failing to pay attention to the talent pipeline.
"What I often see in companies is a succession plan in place for the top job in the organization, but no plan for the pipeline positions feeding into the CEO role," she said. "If you've spent several years preparing one person for a role and something unexpected happens, they wouldn't have any other people in the pipeline to replace other key roles."
It's important to identify niche roles and those who possess the skills desired for those roles, Power suggested. Senior executives often leave unexpectedly during a downturn and having a succession plan that includes a pipeline of talent helps mitigate that risk.
Another challenge of succession planning is when there are no internal successors identified for a key role.
"In that case if a CEO unexpectedly departs, it could take months to identify a candidate," Power said. "You'll need to put together an external recruitment strategy and plan, and it could take four to six months to effectively recruit for the right person to fill the CEO position."
The biggest challenge with succession planning, according to Read: finding people who have the motivation to step up.
"Not everybody wants to be promoted," he said. "It's a bit disappointing, actually. I want them all to want my job."
But, the truth is, moving to a senior level position isn't the desire for all employees … and companies should take this into account when succession planning.
"Some will say they don't want to take on the responsibility," said Read, who stressed the importance of making the right decision when choosing a successor. The wrong decision can be quite costly: a regular employee could end up costing an employer 15 times their annual salary if they don't work out.
Read has made the mistake of hiring somebody externally for a senior position as managing director and within a 12-month period, the employee did not work well for the company. Read said that costly mistake was in the market of 100 times the employee's salary.
Developing Successors
Regardless of the industry downturn, Read said he encourages his company to constantly recruit ahead of the curve and continually build the strength of their team.
It's important to have a continuous feed of new talent in an organization to ensure there are enough people in the recruiting pipeline, said Read. Though Swift and other companies have frozen recruitment in many areas, Read said his company is still "selectively recruiting."
"Even during difficult times, we may see some people leave and decide not to replace those positions or we may downscale due to natural attrition," he said. "But we've been selectively hiring. In the last week, we hired two really good senior people we may not have otherwise."
It's also necessary for companies to keep an open mind.
"A mistake I often see is when a company has to replace a CEO, they will have a prototype in their head of what they want the new CEO to be like … essentially, they want someone the exact same as they had before," Power said. "But if you can find someone with different strengths to move the company forward, that's advantageous. The economy has changed during the downturn so you may need someone with a new mindset. You have to know the market demands to effectively recruit and identify a successor that is right for the role."
Power said rather than thinking of succession planning as fulfilling a single role, it should be a long-term mindset as it takes between six and 36 months to identify appropriate successors. Companies should focus on constant development of these people so that they're ready when the opportunity arises for them to move into new roles.
"I think mentorship programs work really well because they provide a successor with more experience and pairs them with someone who has been in senior roles whom they can go to for advice and help with career decisions," Power said.
A good mentor should be someone you don't answer to directly, so there's no conflict of interest. Mentoring also provides employees opportunities to work on special projects, prove themselves and test out their ability to work with senior management before placing them in that type of role.
A real concern for companies who have a succession plan and have identified people to be considered for certain roles is whether or not they let those employees know.
"Their question is 'what if the position never opens up or we change our minds?' Then we're getting their hopes up for nothing," said Power. "My advice to them is to be transparent with their employees. If they've been identified as a potential successor, that can be exciting for employees to know. However, appropriate expectations should be set. Stress that they are being considered and they have potential, but it is a plan and plans can change."
Power said succession plans should be revisited on annual basis. They should consider things such as the demographics of employees to predict retirements that may happen within the next two to 10 years and forecast vacancies. They can also look at skills and qualifications of existing staff and determine if there are skill gaps in which the company has no choice but to look to hire externally. It also helps to have a "Successor A" and "Successor B" in mind, and sometimes it doesn't hurt to have a "Successor C."
"The worst thing is a company that is dependent on one or two individuals," said Read. "You need to have at least two or three other people that can do the job. The most important thing we do at Swift is create an environment where people want to come to work every day, build a strong team, train people, have contingency plans, and an organization where the employees and company will carry on, regardless if people leave."
Generated by readers, the comments included herein do not reflect the views and opinions of Rigzone. All comments are subject to editorial review. Off-topic, inappropriate or insulting comments will be removed.