Rig Trends: Eastern Canada Rig Market Changing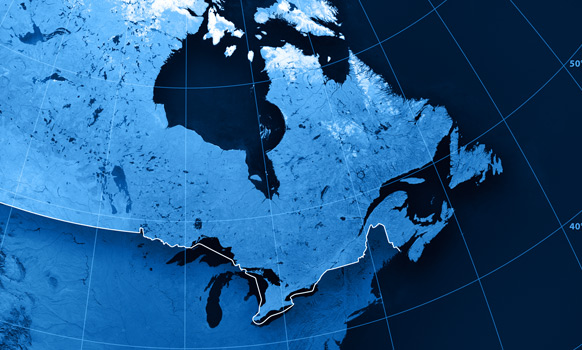 With operations moving into deeper waters and more harsh environments, the list of suitable rigs for Eastern Canada is shrinking.
Since the oil price collapse that began in 2014, the offshore drilling market has taken a big hit, both in terms of utilization and dayrates. In the past six months, several rig contracts have been terminated early and day rates renegotiated downward. Too many new orders by rig owners and speculators has resulted in an oversupply and to offset that contractors have begun retiring or cold stacking large numbers of rigs, including some higher-spec units. In many cases, delivery dates of several uncommitted rigs have been delayed, in most cases by six months or longer. While the rig market for Eastern Canada, defined for this article as the area off the coasts of Newfoundland and Labrador, has remained somewhat insulated, it is not completely immune from going through the peaks and valleys that occur in a cyclical market. If market conditions were to deteriorate any further, it would not be a complete surprise to see a contract modification and/or rate adjustment.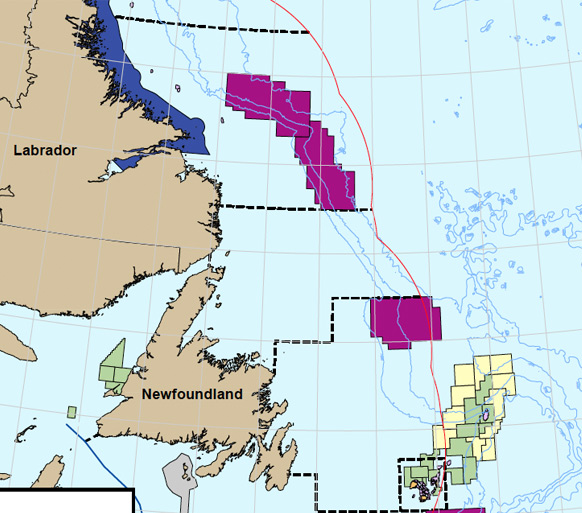 Source: CNOLPB
As drilling off the coast of Eastern Canada has moved into deeper waters and harsher weather conditions, the type of rig needed in the area has also evolved. Currently, there are three semisubmersibles working in the area, two of which are 6th generation, harsh environment rigs that can drill in waters up to 10,000 feet. The third is a 1984 vintage unit rated to drill in up to 1,500 feet of water. This older unit is expected to mobilize out of the area later this year when it completes its current contract with Husky Oil. Subsequently, Husky will pick up a 6th generation newbuild early next year for a 5-year term.
Drilling off Eastern Canada, especially in the winter months, is one of the most challenging operations in the world. Some say it is more severe than the harshest part of northern Norway, and there are reports suggesting operating conditions in some areas might be even more difficult than originally thought. Aside from the weather, there are other challenges that come with operating in this region. Shipyard time and upgrade costs are high as the requirements for getting a rig into this region are stringent. Also, the regulatory climate continues to evolve as the procedures and guidelines are refined. It is said rig approval times can be protracted and not always predictable. However, it should be noted there have only been two modern deepwater rigs brought to the area for a handful of operators –a small data set. As time goes on and more rigs arrive, all parties involved will become intimately familiar with everything required and the process will improve. Already difficult logistics will become more complicated as drilling moves into deeper waters.
While the Hibernia field around the Jeanne D'Arc basin fields are already some 185 miles from shore, some of the blocks in latest license offering are 250 miles or more from shore in more than 10,000 feet of water, further extending boat re-supply and crew change times. Icebergs and packed ice can cause a rig to move off location. While it may be necessary in some cases, it is very expensive for the operator to move the rig and all attempts are made to keep those occurrences to a minimum. Also, there simply are not enough rigs capable of working in this region. Finally, the wide range of water depths of Eastern Canada's licenses means rigs have to have the versatility to drill in both shallow and deepwater depths. To operate in these shallower waters, the rigs must employ a robust 12 point mooring system for which the associated equipment and chain substantially impacts the rig's variable deck load.
Drilling in this region began in 1966 with mobile rigs (excluding platform rigs) drilling 212 wells. Looking at the market since 2000, there have been a total of nine rigs working in the area, five of which are no longer in the region.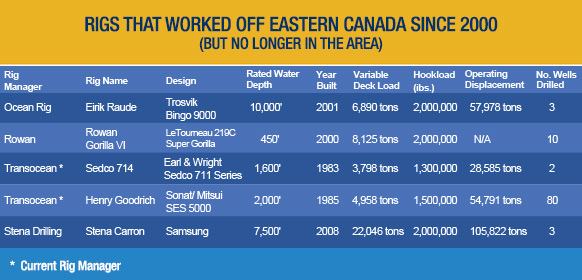 Rigs that Worked off Eastern Canada since 2000 (But No Longer in the Area), Source: RigLogix
Transocean's Henry Goodrich completed a contract with Husky Oil in March 2015 and was later released. It recently left Newfoundland headed for the North Sea. With the exception of a 90-day period where it deployed to the Gulf of Mexico, this rig had worked in the region since mid-1999. It was a workhorse, drilling 80 wells since 2000, the second most of any rig during that period. The other rigs owned by Rowan, Stena and Ocean Rig have only drilled 16 wells combined since 2000.
Currently, there are two Seadrill-managed semisubmersibles plus Transocean's GSF Grand Banks currently operating off Newfoundland. Seadrill's newbuild semisubmersible West Mira is expected to mobilize to the region in early 2016. The number of rigs working will likely be reduced to three once the Grand Banks completes its contract in September. This rig has drilled 96 wells in this region since 2000, by far the most of any rig.
What Are the Characteristics Required of a Rig Drilling in Eastern Canada?
The answer to this question has evolved over time. In 1980, few may have said rigs like the GSF Grand Banks or Henry Goodrich would've never made it there. Similarly, in 2005, saying a rig like the West Hercules or West Aquarius was needed might have been dismissed.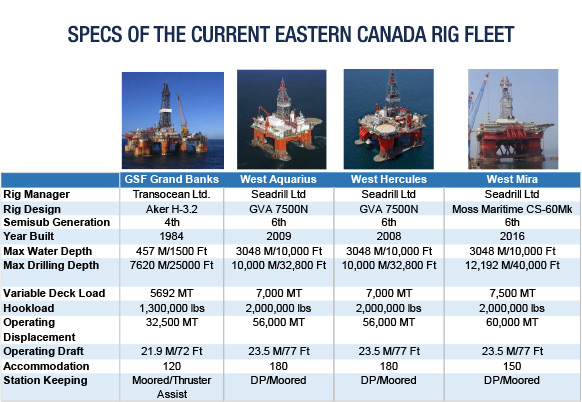 Specs of the Current Eastern Canada Rig Fleet, Source: Rigzone Data Services
But, there is a huge difference between the previous generation rigs and the current 6th generation units in every category. The GSF Grand Banks, a 4th generation rig, is a conventionally moored, Aker H-3.2-design built in 1984 and rated to drill in up to 1,500 feet of water and 1.3 million pound-hookload capacity. The other two working semis in the area, Seadrill's West Hercules and West Aquarius, are sister rigs. They are the GVA 7500N design and both were delivered in 2009. Each rig is rated to drill in up to 10,000 feet of water with a two million pound hookload. The West Mira, also managed by Seadrill, is a 6th generation Moss CS60 design rated to drill in up to 10,000 feet of water and a two million pound hookload.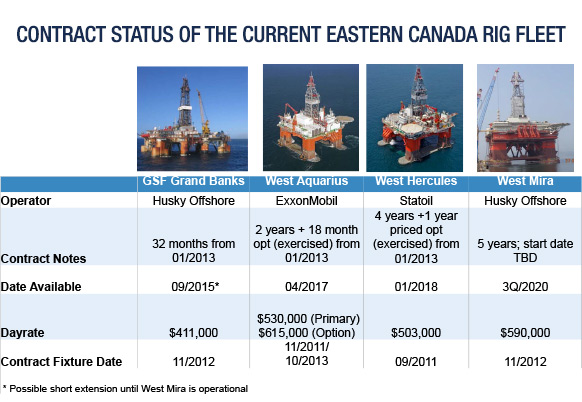 Contract Status of the Current Eastern Canada Rig Fleet, Source: Rigzone Data Services
Contract-wise, the West Hercules is under contract with Statoil through 2017, the West Hercules is under contract with Statoil through 2017, while the West Aquarius is working for Exxon Mobil Corp. into 2Q 2017. The West Mira will join the group either later this year or early next year when it goes to work for Husky Oil under a 5-year contract. As for the GSF Grand Banks, apart from a 14-month stint in the North Sea in 2001-2002, this rig has worked off Eastern Canada since early 1999. It was mentioned previously that its current contract with Husky ends in September. There is a possibility it could receive a short extension until the West Mira arrives, but either way, it is expected that this rig will ultimately leave the area.
Availability of Rigs for Eastern Canada Drilling
Assuming the 6th generation type rigs are what will be required in the future, how many of these rigs exist? One operator currently active in the region, recently stated there were between 10 and 20 rigs that would be suitable to work off Eastern Canada. Based on design and capability characteristics, RigLogix identified 11 units, all semisubmersibles. Drillships have operated off Eastern Canada seasonally in the past, but their ability to work year round in this environment is debatable. Royal Dutch Shell plc will be bringing in the Stena IceMAX drillship from the Gulf of Mexico in a few months for a couple of wells off southwestern Nova Scotia, but the only other drillship that has worked off Newfoundland, also a Stena-managed unit, only drilled three wells. As for jackups, the last one to work in this region (Rowan Gorilla VI) was in 2006, and while there are a few contractors that have previously worked or are currently working on jackup designs for this region, they are a non-factor at present.
This market will most likely never reach double digits in the number of rigs. However, it is entirely feasible that the market could double in size over the next five years. The aggressive licensing program that has been put into place will also likely result in additional rigs coming to the area, but it is also just as probable that the existing rigs in the area will end up performing some of the drilling on that acreage. Currently, Suncor Energy Ltd. is evaluating bids for a 1-year contract, but the company has not yet indicated when an award will be made. It will certainly be interesting to see what rig and at what rate ends up winning the work.
To summarize, even with oil prices projected for a very gradual increase over the next few years, the level of drilling in many areas of the world will not be as robust as in the past several years. Off Eastern Canada, however, drilling in the near term should proceed as planned. Continued advances in technology will help improve drilling efficiencies and any remaining regulatory issues will get ironed out, making for smoother entry and operation in the market. Should that drilling result in new discoveries and ultimately field development, an increase in demand for rigs capable of working in the region should be expected.
Generated by readers, the comments included herein do not reflect the views and opinions of Rigzone. All comments are subject to editorial review. Off-topic, inappropriate or insulting comments will be removed.