Asian Yards Adapt to Industry Downturn
Cushion Provided by Other Offshore Projects
Despite the current pessimism in the oil and gas industry, some Asian yards managed to secure non-rig building contracts to boost their order books.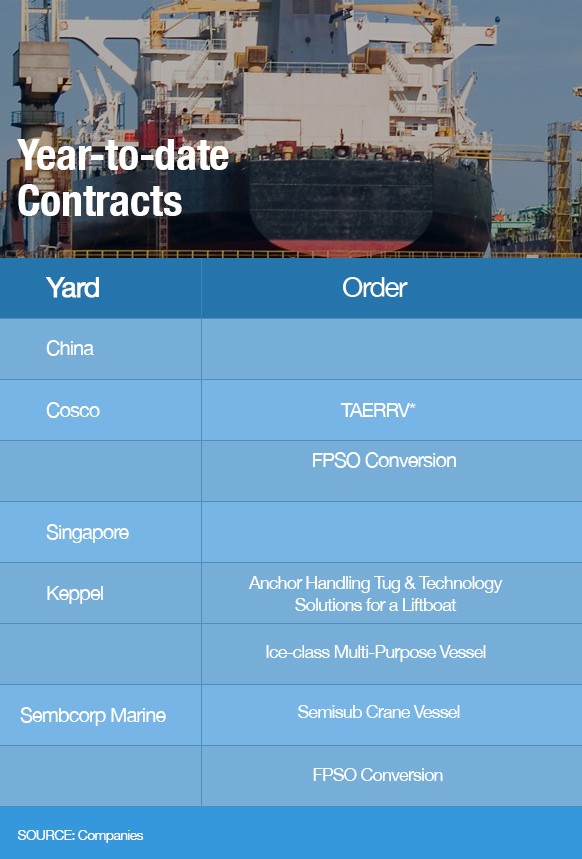 Year-to-date Contracts, Source: Companies
* Tanker Assist/Emergency Response/Rescue/Field Support Vessel
In January, Keppel O&M's unit Keppel Singmarine Ltd. clinched a $212 million (SGD 265 million) contract from Luxembourg-based Maritime Construction Services S.A.'s subsidiary New Orient Marine Pte Ltd. to build an ice-class multi-purpose vessel for delivery in mid-2017.
Keppel Singmarine won two other contracts amounting to $52 million (SGD 65 million). The first contract is from Seaways International Pte Ltd. for the construction of a multi-task Anchor Handling Tug vessel, while the second is from Nakilat-Keppel O&M – a joint venture between Qatar's Nakilat and Keppel O&M – for the provision of technical services to build a liftboat.
Sembcorp Marine Ltd., the other major Singaporean yard, cast its net wider to fill the gap created by the rig building sector. The firm's subsidiary Jurong Shipyard Ltd. entered into a letter of intent (LOI) with Heerema Offshore Services B.V. in March to engineer and construct a new semisubmersible crane vessel (NSCV).
Heerema decided to proceed with the LOI for the NSCV in spite of low oil prices as the company, a part of Heerema Marine Contractors Nederland Golding SE (HMC), felt that the oil and gas industry will need the services of the largest crane vessel in the world.
"Our letter of intent with Jurong Shipyard represents the next critical step in our plans to introduce the NSCV to the market. The fact that we decided to press on with our plans … demonstrates our continued commitment to offer unparalleled installation services to the industry," Jan Pieter Klaver, HMC CEO said in the March 30 press release.
1
2
3
4
5
View Full Article