Asian Yards Adapt to Industry Downturn
China is scheduled to deliver thirty seven of these rigs, including 32 jackups – a segment where its yards have expanded their newbuild market share at the expense of more established competitors, particularly Singapore, in recent years.
Still, the slump in newbuild rig orders did not affect only Singapore yards as its Chinese and South Korean counterparts were also hit by adverse market conditions. This resulted in several of these companies incurring net losses in the first quarter of 2015, ranging from12 to 94 percent.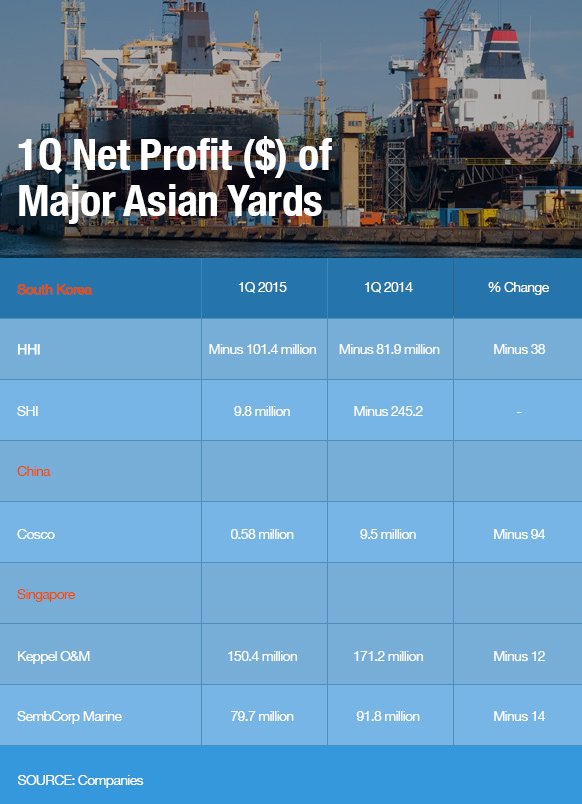 1Q Net Profit ($) of Major Asian Yards, Source: Companies
"Our biggest concern is how deep the actual cuts in capital expenditure for offshore exploration and production will be, as they can have a significant impact on our order book for drilling rigs, tender barges and other offshore vessels going forward," China's Cosco Corp. (Singapore) Ltd. Vice Chairman and President Wu Zi Heng commented in the firm's 2014 Annual Report released May 13.
Like Cosco, Yantai CIMC Raffles Offshore Ltd. – another major rig builder in China – has seen little demand for newbuild jackups and the firm is now focused on completing the seven orders that were placed with it earlier.
Similarly South Korean yards such as Samsung Heavy Industries Co. Ltd. and Hyundai Heavy Industries Co. Ltd. – who traditionally target the more complex newbuild drilling segment like drillship – did not receive any new contracts.
"The offshore industry has been sliding deeper into the doldrums. Across the board, not a single drilling rig order has been placed since the start of this year, and rig inquiries have also not been converted into any new contracts," Loh Chin Hua, CEO of Keppel Corp. Ltd., parent firm of Singapore rig builder Keppel Offshore and Marine Ltd. (Keppel O&M), said April 16 when announcing the company's financial results for the first quarter.
1
2
3
4
5
View Full Article