Asian Yards Adapt to Industry Downturn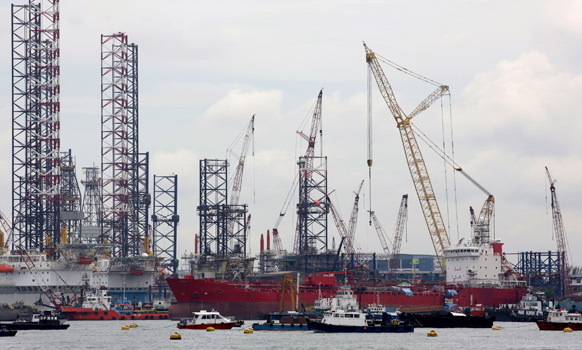 With little signs of a pick-up in newbuild rig orders, shipyards in Asia are turning to other offshore projects to ride out the market doldrums.
Years of optimism in the Asian newbuild rig market has been shaken, with major petroleum companies reducing capital spending in line with the decline in oil prices, which have shown little signs of recovering from its descent below $100 a barrel since the second half of 2014.
Asian shipyards, whose revenues have shrunk due to the weakness in global oil prices which in turn has led to a slowdown in newbuild rig orders, are looking elsewhere for fresh business opportunities covering floating production and offshore vessels.
Vanishing Rig Orders
The adverse impact of lower oil prices, with U.S. West Texas Intermediate and Brent crude oil futures falling by around 40 percent since September 2014, was felt almost immediately by Asian rig builders – newbuild rig orders simply dried up.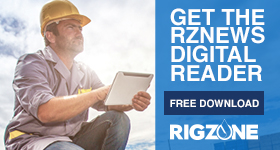 According to Rigzone's RigLogix database, there were no significant newbuild rig contracts placed this year – apart from an order made by Abu Dhabi's National Drilling Company (NDC) for Lamprell plc to build a Super 116E (Enhanced) Class mobile offshore drilling unit (NDC Jackup TBN 9).
Instead, the rig market is facing a supply glut this year, a situation exacerbated by weak demand as companies reduced capital expenditure, including spending on exploration. Around 64 drilling units are scheduled to be delivered in 2015, including eight drillships, 47 jackups, seven semisubmersibles and two tender assist rigs, RigLogix data indicated.
"The oversupply of drilling assets is putting a strain on the industry," Jason Waldie, associate director (Singapore) at Douglas-Westwood told attendees at the Sea Asia 2015 conference in April.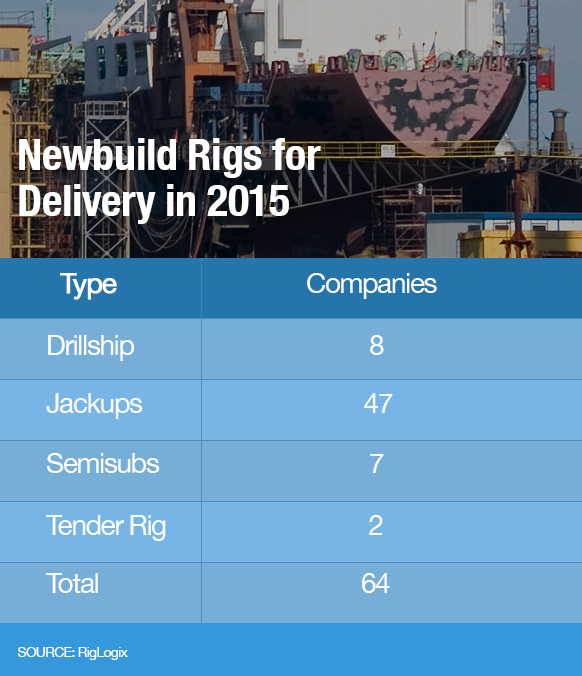 Newbuild Rigs for Delivery in 2015, Source: RigLogix
China is scheduled to deliver thirty seven of these rigs, including 32 jackups – a segment where its yards have expanded their newbuild market share at the expense of more established competitors, particularly Singapore, in recent years.
Still, the slump in newbuild rig orders did not affect only Singapore yards as its Chinese and South Korean counterparts were also hit by adverse market conditions. This resulted in several of these companies incurring net losses in the first quarter of 2015, ranging from12 to 94 percent.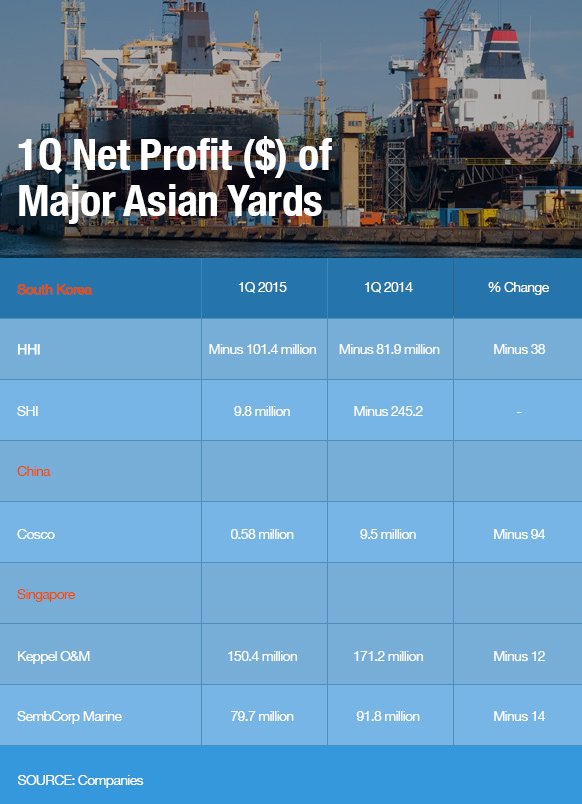 1Q Net Profit ($) of Major Asian Yards, Source: Companies
"Our biggest concern is how deep the actual cuts in capital expenditure for offshore exploration and production will be, as they can have a significant impact on our order book for drilling rigs, tender barges and other offshore vessels going forward," China's Cosco Corp. (Singapore) Ltd. Vice Chairman and President Wu Zi Heng commented in the firm's 2014 Annual Report released May 13.
Like Cosco, Yantai CIMC Raffles Offshore Ltd. – another major rig builder in China – has seen little demand for newbuild jackups and the firm is now focused on completing the seven orders that were placed with it earlier.
Similarly South Korean yards such as Samsung Heavy Industries Co. Ltd. and Hyundai Heavy Industries Co. Ltd. – who traditionally target the more complex newbuild drilling segment like drillship – did not receive any new contracts.
"The offshore industry has been sliding deeper into the doldrums. Across the board, not a single drilling rig order has been placed since the start of this year, and rig inquiries have also not been converted into any new contracts," Loh Chin Hua, CEO of Keppel Corp. Ltd., parent firm of Singapore rig builder Keppel Offshore and Marine Ltd. (Keppel O&M), said April 16 when announcing the company's financial results for the first quarter.
Cushion Provided by Other Offshore Projects
Despite the current pessimism in the oil and gas industry, some Asian yards managed to secure non-rig building contracts to boost their order books.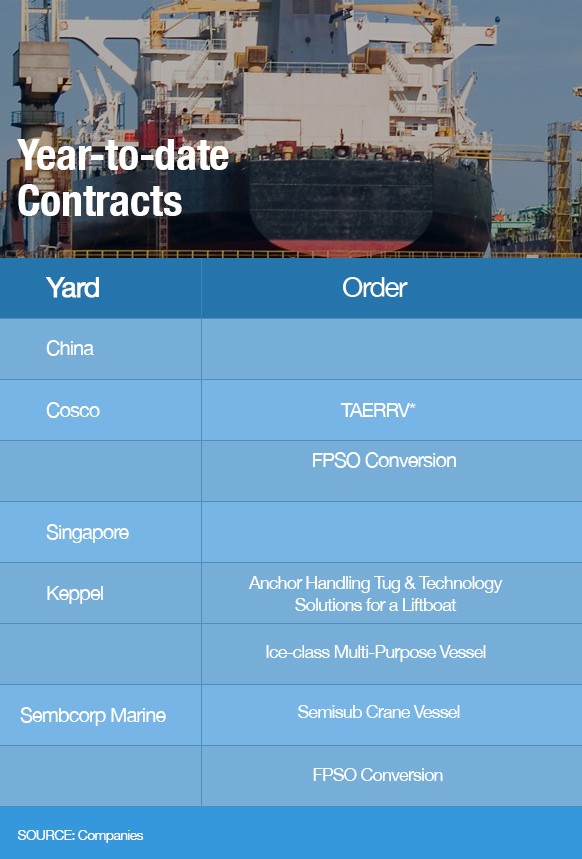 Year-to-date Contracts, Source: Companies
* Tanker Assist/Emergency Response/Rescue/Field Support Vessel
In January, Keppel O&M's unit Keppel Singmarine Ltd. clinched a $212 million (SGD 265 million) contract from Luxembourg-based Maritime Construction Services S.A.'s subsidiary New Orient Marine Pte Ltd. to build an ice-class multi-purpose vessel for delivery in mid-2017.
Keppel Singmarine won two other contracts amounting to $52 million (SGD 65 million). The first contract is from Seaways International Pte Ltd. for the construction of a multi-task Anchor Handling Tug vessel, while the second is from Nakilat-Keppel O&M – a joint venture between Qatar's Nakilat and Keppel O&M – for the provision of technical services to build a liftboat.
Sembcorp Marine Ltd., the other major Singaporean yard, cast its net wider to fill the gap created by the rig building sector. The firm's subsidiary Jurong Shipyard Ltd. entered into a letter of intent (LOI) with Heerema Offshore Services B.V. in March to engineer and construct a new semisubmersible crane vessel (NSCV).
Heerema decided to proceed with the LOI for the NSCV in spite of low oil prices as the company, a part of Heerema Marine Contractors Nederland Golding SE (HMC), felt that the oil and gas industry will need the services of the largest crane vessel in the world.
"Our letter of intent with Jurong Shipyard represents the next critical step in our plans to introduce the NSCV to the market. The fact that we decided to press on with our plans … demonstrates our continued commitment to offer unparalleled installation services to the industry," Jan Pieter Klaver, HMC CEO said in the March 30 press release.
Sembawang Shipyard, another Sembcorp Marine unit, secured a $41.4 million (SGD 56 million) floating storage and offloading (FSO) conversion deal in April from Teekay Offshore Partners L.P. for the Gina Krog field in the North Sea. Sembawang will begin conversion work on the shuttle tanker Randgrid in June and deliver the FSO to Teekay in May 2016.
Cosco clinched its first major offshore contract this year, when Cosco Dalian was awarded a $95 million floating production, storage and offloading (FPSO) conversion contract by MODEC Offshore Production Systems (Singapore) Pte Ltd. in April – the first FPSO contract won by the company since December 2012. In May, it secured a contract to build a tanker assist/emergency response/rescue/field support vessel for U.K.'s Sentinel Marine Ltd. for an undisclosed price at its Guangdong yard in China.
Non-Rig Builders Affected Too
The effects of reduced capital spending by petroleum companies extended beyond rig builders to regional yards that are involved in fabrication of offshore structures.
Malaysia Marine and Heavy Engineering Holdings Bhd (MHB), a yard that traditionally focuses on fabrication works for the offshore oil and gas industry, is extending its business into the onshore and downstream segments.
The firm, owned by MISC Berhad – a 62.44 percent subsidiary of Malaysia's national oil company Petroliam Nasional Berhad (PETRONAS) – eyes a subcontractor role downstream in areas like piping for developments such as the $16 billion refinery and petrochemical integrated development (RAPID) project in Johor, Malaysia.
"It will not be as material as projects like Malikai tension leg platform (TLP) and SK316 wellhead platform (WHP) but during these tough times, the ability to sustain ourselves and to keep our workforce going is very important. We have 3,800 people working in the yard and we have quite a huge overhead we have to cater for," MHB Chairman Nasarudin Md Idris said, as quoted May 26 in the local The Sun Daily.
"These sort of projects (Malikai TLP and SK316 WHP) do not come every day, sometimes they come in quite far in between," he added.
MHB is bidding for $1.9 billion (MYR 7 billion) worth of projects, of which 60 percent are overseas, including the Middle East, Mozambique, Qatar and Canada. But MHB "shouldn't expect much this year [due to low oil prices] and it shouldn't expect the order book to be replenished like two to three years ago," an analyst at Malaysia's RHB Group told Rigzone.
The need to boost their order books has become more pressing for Asian yards as competition intensifies for the few potential contracts for bidding in the oil and gas sector. While some yards in the region capitalized on the opportunities presented in the floating production sector earlier this year, the outlook for the rest of 2015 appears rather uncertain.
Singapore-based offshore advisory firm Energy Maritime Associates Pte Ltd. (EMA) highlighted in an April 21 announcement that Asian shipyards secured contracts totaling over $2 billion for seven floating production units, comprising four FPSOs, 2 FSOs and one mobile offshore production unit in the first quarter of 2015. MHB received orders for three of these units.
Fewer orders for floating production units are expected in the second and third quarters of this year as oil firms continue to reduce development spending. While EMA expects four more FPSO orders to be placed for the rest of 2015, probably in the fourth quarter, only one additional FPSO order is likely if oil prices dipped below $60 a barrel.
"Without new orders in 2015 a few companies, particularly yards in China, will see an idle period with no floating production work. The downturn that already swept through the exploration sector is now just starting to hit the production market," EMA's Managing Director David Boggs explained.