Rig Trends: Is the Gulf of Mexico Jackup Market Finally on its Last Leg?
by Terry Childs
|
Rigzone Data Services
|
Tuesday, June 02, 2015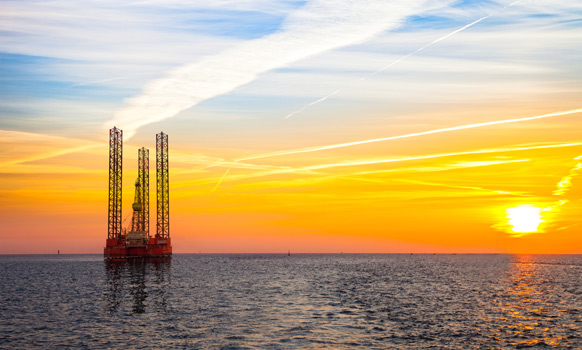 With reserves dwindling and commodity prices expected to remain low into 2016, what does the future hold for jackup activity in the Gulf of Mexico?
Pundits have been predicting the demise of the Gulf of Mexico (GOM) shelf for more than 20 years, and while the number of wells drilled and rigs working has declined, somehow the area has continued to survive. However, the current downturn has resulted in a large number of jackups being cold stacked or retired, and more of each is expected in the coming months. With just a handful of operators accounting for all current jackup drilling in the Gulf, many are now wondering what the future holds for this market.
In May 2005, just 10 years ago, there were 114 jackups in the Gulf of Mexico. As of May 15, that number had fallen to just 46, a decline of nearly 60 percent. Ten years ago, there were 97 marketed jackups, defined as those rigs being actively marketed for work by rig owners. Today, there are just 20 such units, a 79 percent drop. Finally, there were an average of 90 jackups under contract in 2005 and average utilization of the marketed fleet was 96.5 percent. As of May 15, there were only 10 jackups contracted for marketed fleet utilization of just 50 percent.
In 2005, there were 11 rig owners marketing and working jackups in the Gulf of Mexico, but that number has been reduced by 63 percent to just four in May 2015. ENSCO, Rowan and Hercules Offshore are actively working jackups while Spartan Offshore recently completed a contract and hasn't had any working units as of mid-May. Diamond Offshore and Nabors also have jackups in the region, but they are all cold stacked and not marketed for work.
These numbers clearly illustrate how far the market has fallen in just 10 years, but it has not been a straight line decrease. Despite the overall drop in fleet size and number of working rigs, the market has experienced some very strong utilization and day rate periods since 2005, with the most recent coming within the past couple of years. However, the sharp fall seen in the past 8-to-9 months shows how fragile the GOM jackup market actually is. Unlike many international areas, very few jackups in the Gulf are under term contracts, and the well-to-well nature of most contracts make it easy for many rigs to be released very quickly. For example, in early November, there were 34 marketed jackups, 14 more than today. Of the marketed jackups, 21 were under contract, more than doubling today's 10. The leading edge day rate for a 300-ft, independent-leg cantilever jackup (IC) was $130,000 then versus $85,000 today. Just one year ago in May 2014, 30 of 36 marketed jackups were contracted and utilization was 83.3 percent.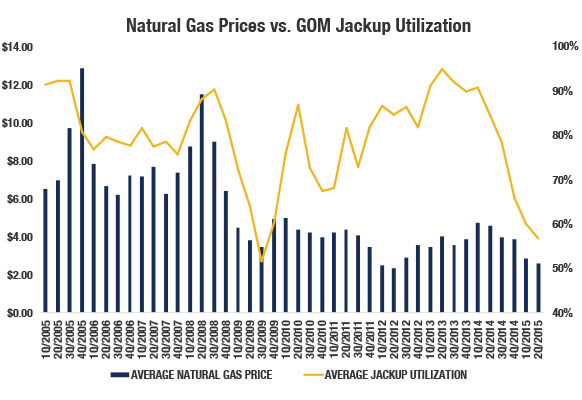 Natural Gas Prices vs. GOM Jackup Utilization, Source: Rigzone Data Services
Historically, GOM jackup utilization was tied primarily to natural gas prices. As Figure 1 shows, the two mirrored one another extremely closely into early 2010 but began to change and eventually ended in early 2012 when prices hit $2.50. Since that time, the correlation between prices and utilization has not existed. Fortunately, oil prices in early 2011 had risen to well over $100 and operators quickly shifted their drilling and production to focus on the oil-bearing blocks in their inventories. As a result, most jackup owners in the Gulf were able to secure term contracts for a portion of their fleets. At the same time, jackup demand elsewhere was also increasing, and many contractors began getting longer-term, higher day rate contracts internationally. As these opportunities became more prevalent, some rig owners did all they could to move as many of their premium jackups out of the Gulf as was possible, and thus supply began to fall.
In April 2010, the Macondo accident occurred in the deepwater Gulf of Mexico; the results were more stringent environmental and rig equipment upgrade requirements with the mandate that they be implemented on all rigs in the GOM, including the jackup fleet. Under these stricter guidelines, the time it took for new well permits to be approved went from what had been a relatively short period to several months in some cases. Luckily, approval time for non-drilling permits was not impacted much, so some rigs were able to keep working. Nevertheless, jackup utilization was negatively impacted as operators would not contract a rig until the permit was approved so many units sat idle while operators waited. Fortunately, since then the process has been streamlined and the wait time, while not as short as it once was, is much improved.
1
2
View Full Article
Generated by readers, the comments included herein do not reflect the views and opinions of Rigzone. All comments are subject to editorial review. Off-topic, inappropriate or insulting comments will be removed.