Azerbaijan Lines 20,000 PSI Drill Bit to Test Caspian New Frontiers
by Chen Hui Hui
|
Rigzone Contributor
|
Wednesday, May 20, 2015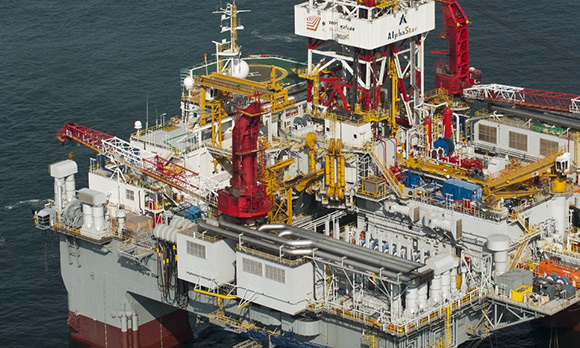 Caspian Drilling Co. is poised to undertake 20,000 pound per square inch blow-out-preventer drilling with its newbuild semisub to be delivered by Keppel FELS in 2016.
Caspian Drilling Co. (CDC), the drilling unit of the State Oil Company of the Azerbaijan Republic (SOCAR), looks set to stand among the world's first drilling contractors to perform 20,000 (20K) pound per square inch (psi) blow-out-preventer (BOP) drilling operations, with its new generation KFELS DSS38M semisubmersible rig upon delivery in late 2016.
Keppel FELS Ltd. and its subsidiaries, Caspian Rigbuilders and Caspian Shipyard Co. Ltd. (CSC), were commissioned in 2013 by SOCAR's subsidiary CDC to build the DSS38M semisub, which was priced at $800 million including owner furnished equipment.
With about 70 percent of the blocks assembled and the lower hull erected by the end of March, construction of the semisub now taking place at various locations before its final integration at CSC is progressing well towards the scheduled delivery in December 2016.
The DSS38M semisub design developed by Keppel Deepwater Technology Group and Gusto-Marine Structure Consultants allows for the installation of a future 20K psi BOP system to be installed with "minimal works" required, according to a CDC spokesperson.
"Having one of the first semisub that has the capability to be equipped with a 20K psi BOP allows us to be in a position to support the future drilling operations planned for the Caspian Sea," the spokesperson said.
CDC has not officially commented on the intended destination field for 20K psi drilling in the Caspian Sea.
1
2
3
4
View Full Article
Generated by readers, the comments included herein do not reflect the views and opinions of Rigzone. All comments are subject to editorial review. Off-topic, inappropriate or insulting comments will be removed.