Myanmar Rules Out Launch of Bidding Round for Exploration Blocks This Year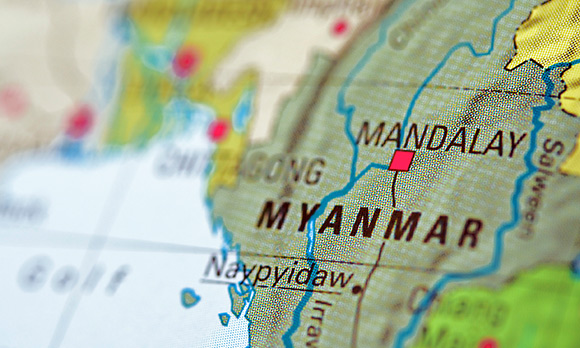 Myanmar rules out the launch of a bidding round for petroleum exploration blocks this year, an official of Myanma Oil and Gas Enterprise says, as reported in a local media.
Myanmar ruled out the launch of any bidding round for onshore or offshore petroleum exploration blocks this year as the government is focused on the development of recently signed production sharing contracts (PSC), according to a senior official of state-owned Myanma Oil and Gas Enterprise (MOGE), as quoted in local media The Myanmar Times earlier this week.
"We are not going to launch any more bidding until 2016, as previous bidding rounds are still ongoing. In the meantime, we will closely monitor active PSCs ... we will also keep the current blocks to improve the production of petroleum reserves," MOGE Managing Director U Myo Myint Oo said.
Another MOGE official had told Rigzone that the earliest launch of another offshore bidding round is likely to take place in early 2017 as upstream work in Myanmar will focus on the 20 exploration blocks awarded by the Ministry of Energy in March 2014.
MOGE's U Myo Mint Oo did not provide any information on how many onshore and offshore oil and gas blocks would be made available in the next bidding round, The Myanmar Times said.
Meanwhile, PSCs for all but one of the 20 offshore blocks awarded in the last bidding round in 2013 have been signed by the end of April, with the latest involving deepwater Block AD-10. The PSC, located off Myanmar's Rakhine coast, was signed by operator Statoil ASA and partner ConocoPhillips Co., April 30.
There has been a delay in the signing of the PSC for shallow water Block M-7, which was originally awarded to a joint venture comprising Roc Oil Co. Ltd., Tap Oil Ltd. and Smart E&P International Ltd.
Roc Oil, an Australia-based company acquired by China's Fosun International earlier this year, withdrew from the Block M-7 joint venture last month, resulting in a delay in signing the PSC.
"There was some internal reorganization at Roc Oil and this cause a delay in PSC signing," a MOGE official had told Rigzone recently.
Despite Roc Oil's withdrawal, Tap Oil and Smart E&P are currently negotiating with MOGE on the PSC award for Block M-7.
1
2
View Full Article
Generated by readers, the comments included herein do not reflect the views and opinions of Rigzone. All comments are subject to editorial review. Off-topic, inappropriate or insulting comments will be removed.