OTC 2015: Tracerco Collects Tech Award, Launches Inspection Product
by Jon Mainwaring
|
Rigzone Staff
|
Tuesday, May 05, 2015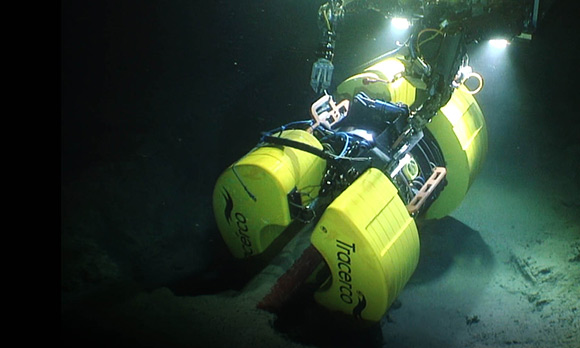 Shell's deployment of Tracerco's award-winning Discovery CT scanning technology in the Gulf of Mexico Source: Tracerco
Detection and measurement technology specialist Tracerco was at the 2015 Offshore Technology Conference (OTC) in Houston this week to pick up an award for its Discovery system that can scan coated subsea pipelines and detect defects at up to 1 millimeter (1/16-inch) resolution. Discovery was named a winner of OTC's Spotlight on New Technology award a month ago.
In a presentation to journalists at OTC, Tracerco Head of Subsea Services Lee Robins explained that Discovery uses the same CT scanning technology that is used in medicine.
"In the same way a medical CT scanner sees the inside of a body, this CT scanner can see inside pipelines," he said.
Oil major Royal Dutch Shell plc used the Discovery CT scanner to scan 10 flow lines, including jumpers, steel catenary risers and pipe-in-pipe flow lines of varying diameters. More than 250 CT scan images over a pipeline length of 50,000 feet, at depths down to 4,200 feet, were generated. In the Gulf of Mexico, Shell was able to use the data acquired from the images to build a complete profile of its pipeline, helping to confirm the condition of the asset.
Robins said that the exercise was the first time such a complex instrument had been taken to the bottom of the Gulf of Mexico.
"Originally, we thought we'd test in in shallow water in the North Sea but Shell insisted on taking it to the Gulf of Mexico," he said. "We jumped in at the deep end, you might say."
Tuesday at OTC saw UK-based Tracerco launch Explorer – a new product that enables oil companies to quickly scan many miles of pipeline to detect the location of deposits causing flow assurance issues. Developed for use in the conjunction with Discovery, Explorer is able to screen subsea pipelines for content and deposit build-up at typical speeds of up to 330 feet per hour.
Generated by readers, the comments included herein do not reflect the views and opinions of Rigzone. All comments are subject to editorial review. Off-topic, inappropriate or insulting comments will be removed.
RELATED COMPANIES