S&P Capital IQ Energy Symposium Provides Financial Outlook in Oil, Gas
by Valerie Jones
|
Rigzone Staff
|
Thursday, April 30, 2015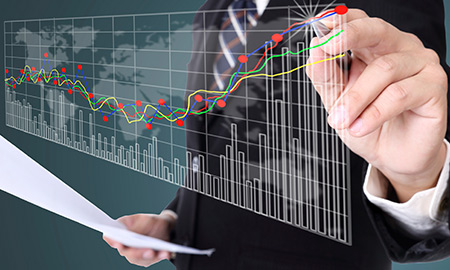 Keynote speaker Robert Bryce discusses future opportunities and challenges in oil and gas with attendees at the S&P Capital IQ Energy Symposium.
A poll of attendees at the 7th Annual S&P Capital IQ Energy Symposium Wednesday revealed that two-thirds believe crude oil prices have hit their lowest for 2015, while one-third believe prices may dip lower in 2015.
The variation in response is indicative of the past six to eight months of volatility in the global energy industry that has raised an understandable level of uncertainty among industry analysts and workers alike. The interactive symposium featured thought leaders who shared insight and provided an outlook on potential financial opportunities and challenges that face the oil and gas industry.
Robert Bryce, senior fellow for the Manhattan Institute's Center for Energy Policy and the Environment, delivered the keynote, speaking about the amount of global energy use and the shale boom in the United States.
Bryce cited that while Thailand, Vietnam and Indonesia have a combined total population of 400 million people, the average per capita GDP in these countries is about $6,000 per year, less than half of the global capita per GDP per person and one-ninth of the average per capita GDP in the United States. Thailand, Vietnam and Indonesia have relatively low incomes because they have low electricity consumption, said Bryce.
"The average American uses more electricity in a day than the average resident of Thailand, Vietnam and Indonesia uses in a week," he said. "If there's one truth in energy economics, it's that low electricity use means poverty. Conversely, more electricity means more wealth creation always, everywhere."
In regard to the shale boom in the United States, Bryce maintains that though shale is plentiful in several other countries, the shale boom "couldn't have happened anywhere else." Why? Well, according to Bryce, because of the three Rs: rigs, rednecks and rights.
"We have far more drilling rigs than any other country in the world. We have the rednecks. You can have the rigs, but if you don't have the skilled personnel to operate them, it doesn't matter," he said. "We've built a skilled workforce able to run the rigs, drive the trucks, operate the hydraulic fracturing spreads … all of the things that need to be done. That workforce cannot be replicated anywhere else in the world or anything like it in the near term."
1
2
View Full Article
Generated by readers, the comments included herein do not reflect the views and opinions of Rigzone. All comments are subject to editorial review. Off-topic, inappropriate or insulting comments will be removed.