Pockets of Jobs Exist in Asia Even as Industry Downturn Persists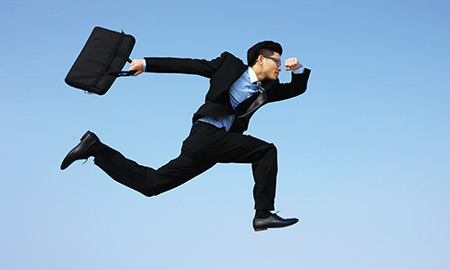 In an otherwise depressed job market in the region, some employment opportunities still exist.
Asia, like the rest of the world, could not escape the adverse impact caused by a sustained fall in oil prices that led many energy firms, including services companies, to reduce expenditures, whether capital (capex) or operational (opex). While spending cutbacks resulted in some layoffs in the region, pockets of employment opportunities still exist.
Global oil prices have fallen by more than 50 percent since the second half of 2014 began. Shrinking oil revenues have caused petroleum companies, particularly producers, to reduce spending, which has sparked a domino effect industry-wide as demand for services like seismic and drilling taper off.
Kevin Gibson

Kevin Gibson, Asia Pacific Managing Director, Earthstream Global Source: Earthstream Globa
"The impact has been quite dramatic ... the number of profitable [marginal and deepwater] fields have decreased dramatically … a lot of projects have been shelved or canceled and there is a general moratorium on anything new being approved," Kevin Gibson, Asia Pacific managing director at specialist recruitment company Earthstream Global, told Rigzone.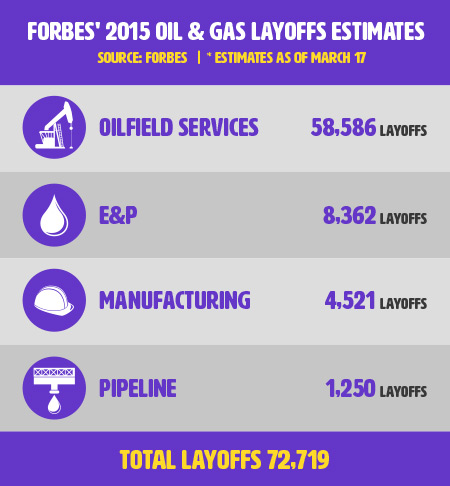 Forbes' 2015 Oil & Gas Layoffs Estimates.
Forbes estimated in a March 17 article that around 73,000 oil and gas jobs were lost worldwide in "The Oil Bust" of 2015. The bulk, or just over 80 percent, of the redundancies were in the oilfield services sector, with exploration and production companies including oil majors like Total S.A., Royal Dutch Shell plc, BP plc and Chevron Corp., accounting for 11.5 percent of the job cuts.
The present job market is a sharp turnaround from the one that attracted new recruits when oil prices were over $100 a barrel.
"For seven years, there was a shortage of staff. Now for the first time, there's a surplus. Currently almost no one is hiring," Tobias Read, CEO of recruitment firm Swift Worldwide Resources, told Bloomberg News in February.
Some Segments Hit Harder Than Others
Low oil prices have impacted the subsectors within the oil and gas industry unevenly; capex cutbacks caused some exploration projects to be shelved, while those already in the development stage were mostly left untouched.
"We see the seismic [sector] bottoming [as] they are actually the very first to be contracted … For the drillers, we haven't seen the trough yet … For floating production contractors, they are slightly behind but they haven't seen the worst either … SURF [subsea, umbilicals, risers and flowlines] contractors are following on quickly. They haven't seen the worst either," Jan-Hein Jesse, senior Energy Banker at ABN AMRO, said at the Singapore Offshore Finance Forum in February.
When oil prices fell below $50 a barrel in January, for the first time in many years, an air of apprehension crept into the industry. In Malaysia, engineering firms like France's Technip S.A. reportedly laid off around 50 staff, while Italy's Saipem S.p.A. and Netherlands's SBM Offshore N.V. were also affected by the business slowdown.
"In January, there was a lot of panic [in the Malaysian oil and gas sector] …. Companies made quick decisions and a hiring freeze came into effect straight away. Redundancy was the first wave and drilling and completion contractors were released ... stability is slowly creeping back to the markets now," Ross Gregory, Singapore-based team manager of Oil & Gas Practice at Hydrogen Group plc, told Rigzone.
Where are the Jobs?
With global energy demand – led by Asia – expected to rise, the development of less costly and more accessible shallow water projects remains high on the agenda of oil and gas companies, including national oil companies (NOC), in the near term.
Oilfield services firms like UK's Petrofac Ltd. and Singapore's Swiber Holdings Ltd. believe low oil prices will have less of an impact on the development of shallow water fields compared to deepwater activities and projects in the exploration stage.
While the "industry is adjusting to the lower oil price environment, shallow water engineering, procurement, construction and installation (EPCI) remains competitive," Petrofac commented when releasing its 2014 financial results Feb. 25.
Swiber CEO Francis Wong concurred with the view, as quoted in the company's Feb. 27 announcement that "the Group's EPCI activities focus on the field development stage, that is, post-exploration and appraisal stages when customers have decided to commence development activities."
Hays, a recruitment firm, listed job vacancies available in Asia in its January-March 2015 quarterly report, which included:
SURF
Geosciences & Petroleum Engineering
Original Equipment Manufacturers (OEM)
Hays observed there is a shortage of senior project managers for SURF in Singapore with mega project experience delivering $150-million-plus value projects.
"Candidates with floating production, storage and offloading (FPSO)/topside experience are in particular demand, while jackup experience is also highly valued ... As Singapore is a regional and global hub for the design and construction of offshore rigs, FPSO and, floating storage offloading and topside structures, demand is expected to continue."
On geosciences and petroleum engineering, Hays noted a demand for reservoir engineers, senior geophysicists and geologists, with experience in unconventional and deepwater areas, is needed for existing and new fields in Malaysia, Indonesia and Vietnam. In addition, local independent operators and oil majors are continually looking for geosciences and petroleum candidates to support offshore and onshore drilling operations.
"Subsurface geological and geophysical expertise are in demand with pockets of hiring as clients are committed to exploration projects. We are seeing demand in that area from companies like Tamarind Energy, Mubadala Petroleum and Enquest plc who still want to capitalize on opportunities in Malaysia," Gregory said.
Gibson believed "there is going to be a lot more activity as the price of oil starts to creep up … people in the reservoir engineering space will come back into demand because oil companies, largely NOCs, will be looking at optimizing wells already drilled ... shallow drilling people will be in demand."
Hays expected the OEM markets servicing Asia's petroleum industry to stay relatively strong with "some products such as downhole tools experiencing growth as employers seek to maximize returns from existing assets." Job opportunities in the OEM sector include regional sales managers and business development managers; manufacturing operations managers; and technical superintendents, according to the firm.
"There is also some [oil and gas] work around the consultancies who are looking to optimize cost for business," Gibson added.
Emerging Trends in Asia
Industry watchers commented on two trends that are emerging in the Asian oil and gas job market as candidates vie for opportunities: a push towards a localization of skilled talents by oil and gas companies and a need for expatriates to be flexible in their expectations to secure employment in the region.
"We have gone within a three month period from a war for talent/extreme skilled shortages to a total glut of talent and if you are a company that is in the business of expanding right now, it's a dream market. You have got some fantastic people at very reasonable salaries … in countries like Malaysia, Thailand and Indonesia, there is going to be a very large push to localize staff or businesses," Gibson explained.
Demand for expatriate staff is likely to decline after Malaysia's national oil firm Petroliam National Berhad (PETRONAS) revealed that it would not offer risk sharing contracts if the price of oil remains below $80 a barrel.
"That will mean that a number of expatriates will not be required and there will be a move to localize Malaysia-focused providers. There will be a demand for Malaysian drilling engineers, Malaysian geoscientists. If you are a local in these markets, your job is still very secure and you can still enjoy a pretty strong salary and rates," Gibson told Rigzone.
"PETRONAS' key agenda is the nationalization of talents in Malaysia," Hydrogen's Gregory added.
Expatriates seeking job opportunities in Asia should therefore manage their expectations as the region does not have the capacity to absorb job candidates made redundant in the North Sea or in the U.S. Gulf of Mexico.
"Asia … has a lesser capacity to absorb these people and the supply is putting extra downward pressure on salaries for expatriates here ... With Australia also going backwards [as several upstream liquefied natural gas construction projects near completion] it is going to be a very challenging market for people looking for jobs in the region," Gibson explained.
"We have already seen people taking roles for 30 percent less than what they were working on a year ago; still pretty good money … but it is a buyer's market, and typically the people who are getting work are the people who are being flexible … If you look at how much people have to discount their salaries it has almost tracked the fall in oil prices," he added.
Candidates' flexibility has emerged as a significant factor in the Asian oil and gas job market as the industry downturn has currently provided employers an advantage in filling vacancies, even for work in remote areas, particularly for expatriates.
"Previously, they had to pay foreigners to come in to Asia and even that was hard. Competing against the United States was challenging last year. Competing against the tax free world of the Middle East was also challenging. And some of the projects were quite remote, like in Papua New Guinea. People weren't that keen but now employers can have the pick of people," Gibson told Rigzone.