Drone Alone: Unmanned Aircraft in Oil, Gas Inspection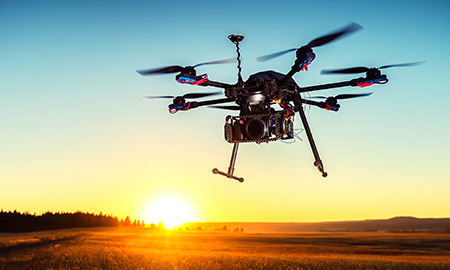 Rigzone looks at how drones are being used to replace human beings for upstream oil and gas inspection work.
Last December in the UK, a "drone" was a must-have Christmas present for your typical gadget-obsessed geek with money to burn. Along with many technologies that began life as a military tool, the drone finally found its way into the consumer sector – with hundreds of thousands of the devices being sold in the UK during the run-up to Christmas. Admittedly, most of those sold were of a size that would likely not concern a commercial airline pilot too greatly, but the sight of sizable hovering machines being remotely controlled by an anoraked, middle-aged man is becoming more common in England.
Like them or loathe them, drones are increasingly a fact of life and, if online store Amazon gets its way, the advent of drone-based delivery services will mean that seeing a drone flying overhead will become just as uneventful as seeing an airplane in the sky.
Regular use of drones within the oilfield services industry is also relatively new, with the two leading UK-based companies providing drone inspections to the sector – Sky Futures and Cyberhawk – having been in existence for less than a decade. However, California-based unmanned aircraft specialist AeroVironment first demonstrated the feasibility of unmanned aircraft systems for the oil and gas industry in the early 2000s, according to Steven Gitlin, the firm's head of marketing strategy.
"These demonstrations included surveying offshore oil rigs, pipelines and other infrastructure. We had contracts in place to support incident response applications when the FAA [Federal Aviation Authority] banned the use of unmanned aircraft systems [UAS] in the national airspace system," Gitlin told Rigzone.
The FAA has since become more flexible about the use of unmanned aircraft for certain commercial applications, paving the way for their use in the oil and gas sector in the United States.
"Last June, we received FAA certification for commercial UAS operations in support of BP in Prudhoe Bay. This was the first FAA-approved commercial UAS operation over American soil. Since that time we've delivered advanced information services to BP, including road and pad modeling, and our mission was expanded to include pipeline modeling. The FAA also expanded our operating area by more than 500 percent to an area larger than the state of Maryland," Gitlin said.
AeroVironment's solution for BP consisted of an integrated information service, using its Puma AE UAS and the firm's UAS operators. The Puma – which is used extensively by the U.S. military – uses advanced sensors to collect large amounts of data as well as a Cloud-based back-office data system that integrates the UAS data with geographic information to produce what Gitlin describes as "engineering-quality" reports.
1
2
3
4
5
View Full Article
Generated by readers, the comments included herein do not reflect the views and opinions of Rigzone. All comments are subject to editorial review. Off-topic, inappropriate or insulting comments will be removed.