Musings: Oil Patch Unemployment Is Challenge For Industry's Future
by G. Allen Brooks
|
PPHB LLC
|
Thursday, April 23, 2015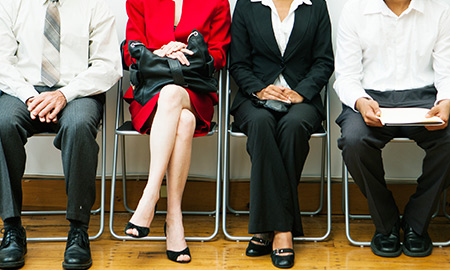 Oil patch layoffs continue to grow, and the shale oil states represent the epicenter. G. Allen Brooks takes a look at the latest oil industry unemployment statistics.
This opinion piece presents the opinions of the author.
It does not necessarily reflect the views of Rigzone.
Several recent media stories have focused on rising petroleum industry layoffs in response to the decline in global oil prices and the resulting fall in activity. Just how many people have already lost their jobs is difficult to accurately determine. Job loss estimates are being provided to the media by various personnel recruiting firms, although there are also data points available from the Bureau of Labor Statistics (BLS).
Since oil prices began dropping last December, energy companies have announced layoffs in excess of 100,000 jobs, according to The Wall Street Journal. It references an estimate of at least 91,000 layoffs having already occurred according to Graves & Co., a Houston-based consulting firm. On the other hand, according to recruiting firm Swift Worldwide Resources and as reported by the Houston Chronicle, more than 120,000 jobs worldwide have been shed by energy companies. Those totals are going up as Schlumberger (SLB-NYSE) announced last Friday a cut of an additional 11,000 worldwide employees bringing its total staff reduction so far to 20,000, or approximately 15% of its pre-oil-price drop labor force.
According to the BLS data, since October, direct employment in the oil and gas extraction industry, which is a subset of the mining industry, has shrunk by 3,000. This category had added 50,000 jobs since 2007, reaching a peak in October of 201,500 jobs. In the case of energy support firms, where employment peaked at 337,600 jobs in September 2014, some 12,000 layoffs have occurred so far. Unfortunately, the chart accompanying another Wall Street Journal article focused on energy industry employment seems to show much larger labor forces for both oil and gas extraction and support activities. It is quite possible that the categories plotted in the chart in Exhibit 8 (next page) are for the broader mining sector, which includes the oil and gas industry. Regardless of the specific figures, the visual image presented by the chart is of an industry that is in decline, which increasingly resembles the pattern beginning in mid-2008.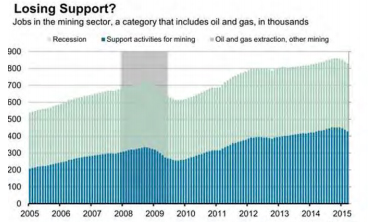 Source: The Wall Street Journal
1
2
View Full Article
Generated by readers, the comments included herein do not reflect the views and opinions of Rigzone. All comments are subject to editorial review. Off-topic, inappropriate or insulting comments will be removed.