First Quarter 2015 Oil, Gas M&A Tumbles to $7.1B in E&P Sector
by Eoin Coyne
|
Evaluate Energy
|
Thursday, April 09, 2015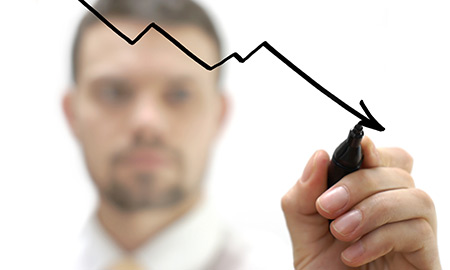 The value of global upstream oil and gas M&A deals tumbled to $7.1 billion during 1Q 2015, a drop of 79% compared to the value in 1Q 2014.
This opinion piece presents the opinions of the author.
It does not necessarily reflect the views of Rigzone.
The value of global upstream oil and gas M&A deals tumbled to $7.1 billion during Q1 2015, a drop of 79% compared to the value in Q1 2014 and a drop of 85% compared to the average value per quarter since the start of 2009. The oil price as per the WTI benchmark started the year at $52 and has moved little since. With Saudi supply policy showing no signs of shifting, large U.S. stock inventories persisting and further supply side pressure from a potential resolution to sanctions on Iranian exports, the chances of a sharp increase in oil price in the near future are slim.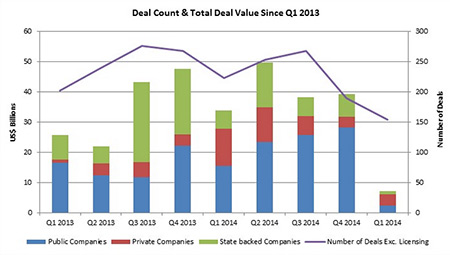 Deal Count & Total Deal Value Since Q1 2013. Source: Evaluate Energy
In the medium-to-long term commodity prices will inevitably return to a semblance of levels seen in the past 5 years as cuts in exploration and development drilling translates into a restoration in the oil price, closer to the required break-even level to sanction new development projects. For any well-capitalized company, this quarter could have been seen as a rare opportunity to acquire oil assets at a steep discount to historical levels. However, with sellers seemingly of an opinion that the oil price is lower than fair value, an impasse has been reached, resulting in the lowest value quarter for oil and gas deals in the 7 years that Evaluate Energy has been tracking all global oil and gas transactions.
Private Companies Active Despite Price Downturn
In times such as these, when the outlook for earnings is poor, it is advantageous to be free from the burden of satisfying a large group of shareholders demanding quick fixes to what will very likely be a cyclical downturn requiring patience. For this reason, private companies have become relatively more prominent during this quarter in the M&A market. Over the past 5 years, private companies have accounted for 10% of the total publicly disclosed oil and gas deal value. In Q1 2015, however, private companies accounted for $4.1 billion of corporate and asset acquisitions, representing a significant 58% of the total global deal value.
In addition to the corporate and asset acquisitions, private equity companies also made inroads into the oil and gas sector via less traditional methods. The largest of these involved Quantum Energy Partners, who agreed a $1 billion deal with Linn Energy for a "Strategic Acquisition Alliance," which will see Quantum initially committing up to $1 billion of capital to leverage Linn Energy's experience in acquisitions whilst allowing Linn to maintain its momentum in what would have otherwise likely have been a time of cutbacks for the debt-laden company. EIG Global Energy Partners also invested $1 billion into the U.S. oil patch via the acquisition of $350 million worth of preferred units of Breitburn Energy Partners and the issuance of $650 million of senior secured notes.
1
2
3
View Full Article
Generated by readers, the comments included herein do not reflect the views and opinions of Rigzone. All comments are subject to editorial review. Off-topic, inappropriate or insulting comments will be removed.