UH Symposium Reveals Energy Industry's Unmet Needs for Skilled Workforce
|
Thursday, April 02, 2015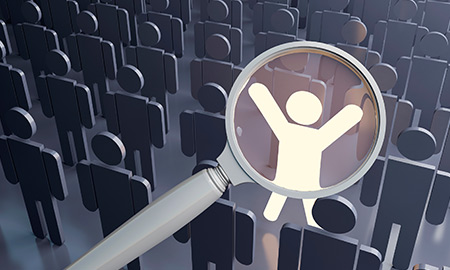 Speakers address the critical needs of the current energy workforce at the University of Houston Energy Symposium.
The University of Houston Energy Symposium series culminated Tuesday night with a discussion about how to prepare for the future of the energy workforce. Guest speakers included John Colborn, director of Skills for America's Future, an initiative of the Aspen Institute; Elaine Cullen, president of Prima Consulting Services; and U.S. Rep. Pete Olson.
The message from the evening was clear: current workforce candidates do not meet the demands of the workforce.
"Baby Boomers make up one-third of the U.S. population and a very large percentage of the workforce for the [oil and gas] industry," Elaine Cullen, who spent 38 years as safety researcher for the U.S. Bureau of Mines and for the National Institute for Safety and Health, addressed the audience. "They will retire, taking with them, not only the skills they have, but the wisdom. Wisdom is knowing what to do when things go wrong because you've seen it before."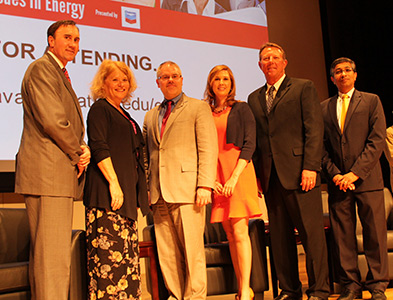 Pictured (l-r) are panel speakers U.S. Rep Pete Olson, Elaine Cullen and John Colborn; Laura Isensee, moderator; Bill Hunter of Chevron; and Ramanan Krishnamoorti of the University of Houston.
Panelists suggested a clear disconnect between institutions of higher education and the oil and gas industry.
"In general, when you ask colleges and universities how they're doing in preparing graduates for the world of work, they tend to say they're doing a pretty good job, but when you ask employers how colleges and universities are doing in preparing people for the world of work, schools don't get such a good review," said John Colborn. "At the Aspen Institute, we champion investing in community colleges – a place where a lot of working people gain their education and as an institution that is uniquely adapted to respond flexibly to the needs of employers."
With the industry looking more for students who are ready to hit the ground running and begin work on day one, the old pedagogies of teaching someone in a classroom or training program and expecting them to be successful on day one are now obsolete, Colborn added.
The most effective ways to address this challenge, which is largely due to the Great Crew Change, are varied.
1
2
View Full Article
Generated by readers, the comments included herein do not reflect the views and opinions of Rigzone. All comments are subject to editorial review. Off-topic, inappropriate or insulting comments will be removed.