Wood Mac: Deepwater Gulf of Mexico to be 'Resilient' in 2015
by Wood Mackenzie
|
Press Release
|
Friday, March 20, 2015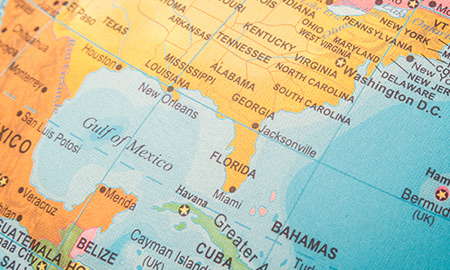 Wood Mackenzie expects momentum from 2014, which marked the first year of production growth since 2009, to continue in 2015.
Deepwater Gulf of Mexico (GOM) is proving to be resilient in the face of a sharp decline in oil prices. We expect momentum from 2014, which marked the first year of production growth since 2009, to continue in 2015. Six new projects are expected to come online this year, which are expected to bring an additional 177,000 boe/d in new production. The number of rigs contracted is also close to record levels. Development capex is projected to increase for the fifth year in a row and reach a record level of $14.9 billion. This activity will to lead to a sharp increase in production, which we anticipate to grow 23 percent this year and reach 1.6 mmboe/d.
The robust level of GOM activity is expected to remain buoyant over the short-term due to lower breakeven costs for sanctioned projects. The mix of sunk E&A wells and facility costs creates attractive projects on a point-forward basis. Lucius, Jack/ St. Malo and Tubular Bells all started up in the past six months and had breakevens of US$10-US$50 at first production. The advantage in point-forward breakevens for sanctioned projects is significant compared to some pre-FID projects with breakevens as high as $60-$80/bbl. Additionally, GOM developments are less impacted by short-term oil price uncertainty due to the long life profiles (30-40 years) for typical stand-alone projects. While onshore shale wells can decline as much as 80 percent on an annual basis, the typical offshore well decline is 30 percent.
Due to the massive influx of newbuild rigs in the Gulf, Mobile Offshore Drilling Units (MODUs) are operating at almost record levels with rigs contracted for development drilling leading the activity. Small independent players have less flexibility for shuffling rig activity given portfolios limited in scale. While Majors can re-direct rigs globally within the portfolio, GOM is seen as a core area for several players. The current environment presents a counter-cyclical opportunity for players with strong balance sheets that can capitalise on lower rig and service costs. However, should oil prices remain lower for a prolonged period of time, operators might choose to let rig contracts expire and pull back on Ultra Deep Water (UDW) frontier drilling activity.
In the short term, GOM is expected to defy the overall trend and sentiment in the lower oil price environment, but if oil prices remain depressed for an extended period, the long term outlook of the region changes drastically. Projects like Kaskida, North Platte, Shenandoah, and Tiber have point forward breakevens in the ~$70-80 range as currently modelled. All of these projects possess high development costs, but there is value to be found in the large reserve size. Under our current price forecast, our base case valuation for these fields ranges from $0.6 – 1.5 billion, NPV10. However, if we hold the oil price at $60/bbl permanently, the base case for these fields drops to the range of $-1.7 – 1.1 billion, NPV10.
All four of the aforementioned fields are in the Lower Tertiary play, which is in the very early stages of development. Consequently, development costs are high and well performance is uncertain, making the play most vulnerable should the oil price remain low. The reserves potential in the play is high, but if the projects are uneconomic, it's possible that operators won't develop these existing projects, much less continue exploring in the play.
GOM as it stands in the current price environment is bucking the trend of decreased drilling and massive capital spend reductions. However, if the low oil price persists and operators can't develop unique ways to decrease the capital required for new projects and/or improve recovery rates, projects will slip and it will be difficult for the region to sustain high level of activity and maintain production growth.
Generated by readers, the comments included herein do not reflect the views and opinions of Rigzone. All comments are subject to editorial review. Off-topic, inappropriate or insulting comments will be removed.
RELATED COMPANIES