Slow Year Ahead for Floating Production as Industry Downturn Bites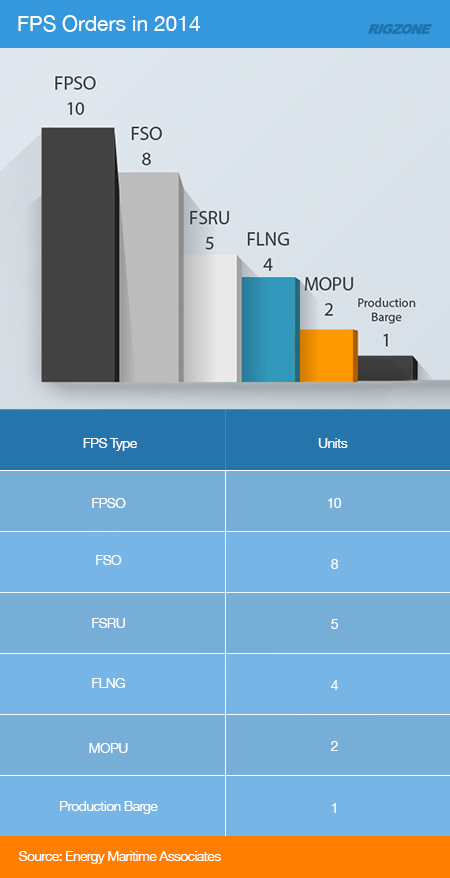 FPS Orders in 2014
Projections from EMA showed that Brazil will remain the dominant player in the FPS market between 2015 and 2019, particularly for FPSOs. Africa follows next with a requirement consisting of a mix of FPSOs and floating liquefied natural gas (FLNG) units and Australia.
"Australia [has] some large FLNG projects [in the pipeline], most likely being sanctioned towards the end of the forecast period [2019] after Prelude comes online … for large FLNG projects, people want to see these units up and running. And once people are comfortable with the technology and have a better sense of how they operate and the operating costs, we would expect to see the other [FLNG] projects move ahead," Boggs told the Singapore forum.
Meanwhile, FPS demand in 2015-2019 from Southeast Asia will center on FPSO, FLNG and floating storage offloading (FSO) units, while the focus on the U.S. side of the Gulf of Mexico is on spar, semisubmersible and FLNG.
Rising Interest in FLNGs
Rising gas demand, stemming from increasing use of cleaner energy globally to curb greenhouse emission, has translated into greater interest in gasification in the FPS market. Of the 65 FPS units currently on order, EMA noted that 18 are in the gasification space, comprising nearly half of the 37 FPSOs that are currently on order by firms. They comprised of 11 floating storage and regasification units (FSRU) and 7 FLNG vessels.
"On the gas [FPS units], what has been interesting is that of those units, 5 of the FSRUs and 2 of those FLNGs are built on speculation," Boggs observed.
Golar LNG Ltd. placed orders, worth $1.44 billion, with Singapore's Keppel Shipyard Ltd. in recent months to convert two liquefied natural gas (LNG) carriers – Hilli and Gimi – into floating liquefaction vessels (FLNGV) on a speculative basis.
1
2
3
4
5
View Full Article
Generated by readers, the comments included herein do not reflect the views and opinions of Rigzone. All comments are subject to editorial review. Off-topic, inappropriate or insulting comments will be removed.