Slow Year Ahead for Floating Production as Industry Downturn Bites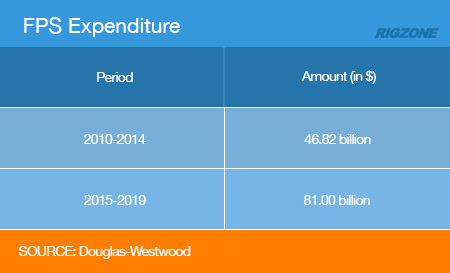 FPS Spend to Rise in 2015-2019
According to Douglas-Westwood, around $81 billion will be spent on FPS units between 2015 and 2019 despite the current oil price environment, 73 percent more than the period from 2010 to 2014. The value of annual FPS installations is likely to grow from nearly $12 billion this year and peak at around $21 billion in 2017 before slipping to $17 billion in 2019. Projects already on order will account for much of the expenditure.
Meanwhile, EMA forecasts that between 105 and 188 FPS orders are expected between 2015 and 2019, with companies likely to spend starting $80.2 billion to $157.4 billion on the units, the firm said in a Jan. 15 press release. It added that the FPS sector is most likely to see around 142 orders at a cost of $118.5 billion.
One issue that could weigh on the bullish long-term view of the FPS sector is Brazil, which featured prominently in the market, especially for floating production, storage and offloading (FPSO) units – a segment dominated by the country's national oil company Petroleo Brasiliero S.A. (Petrobras). That's because the Brazilian company accounted for more than a quarter of the world's FPSO awards since 2003, peaking at 12 out of the 26 units awarded in 2010.
Boggs explained that with Petrobras ordering an average of two to three FPSOs a year, "Operation Car Wash" – a reference to the corruption scandal troubling the firm – could have a negative impact on the entire industry.
But "it's a question of time when things will turn around. Obviously Petrobras has issues internally as well as financially … deepwater offshore Brazil is very prolific and is economically viable so it's a question of how Petrobras can restructure to develop those fields economically," the EMA executive told the Singapore forum participants.
BG Group, which partners with Petrobras in developing several oil and gas projects offshore Brazil, revealed on its website that the Santos Basin development has low unit development cost as a result of excellent reservoir characteristics. It delivers high margins and an economic break-even at less than $40 a barrel, compared to Feb. 26's settlement price of $60.05 a barrel for benchmark Brent crude oil futures and $48.17 for West Texas Intermediate.
1
2
3
4
5
View Full Article
Generated by readers, the comments included herein do not reflect the views and opinions of Rigzone. All comments are subject to editorial review. Off-topic, inappropriate or insulting comments will be removed.