Slow Year Ahead for Floating Production as Industry Downturn Bites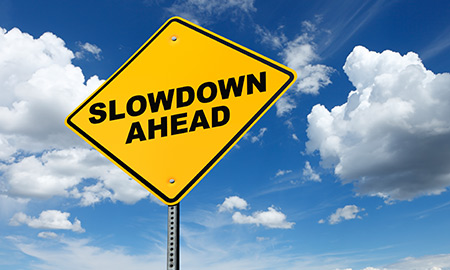 Orders for floating production systems may see a slowdown in 2015 as companies hold back on new orders amid an uncertain business environment.
Companies operating in the global floating production sector will not escape unscathed in the current petroleum industry downturn as new orders are expected to slow down this year amid potential delay in project sanctions by field operators, according to industry consultants.
Studies by two consultancies – Energy Maritime Associates (EMA) and U.K.'s Douglas-Westwood – revealed that global demand for floating production systems (FPS) will be relatively weak this year.
With overall sentiments in the petroleum industry turning negative due to the downtrend in oil prices, field operators appear reluctant to commit to project sanctions as they hold out for lower development costs in the present market.
"People expect that the tendering and enquiry activity [for FPS] will slow down in 2015 but that it will not drop off completely," EMA's Managing Director David Boggs told participants present at the Singapore Offshore Finance Forum in February.
Given cost deflation, petroleum firms will sanction projects only when "they can get the best deals … in 2015 they will continue to do studies and continue to get pricing so that when they are finally ready to move ahead they can do so relatively quickly," he added.
Such observation was shared by Douglas-Westwood's Balwinder Rangi, who said in the company's "World Floating Production Market Forecast 2015-2019" released Feb. 24 that "the outlook this year for orders is poor ... [with] declining number of orders for 2015 and subsequent installation decline in 2018."
Longer-Term Outlook More Optimistic
Despite the prevalent pessimism in the FPS market this year, most industry watchers expect the longer-term outlook for the sector to be relatively bullish given increasing demand for hydrocarbon resources globally.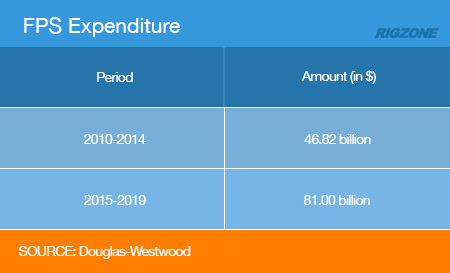 FPS Spend to Rise in 2015-2019
According to Douglas-Westwood, around $81 billion will be spent on FPS units between 2015 and 2019 despite the current oil price environment, 73 percent more than the period from 2010 to 2014. The value of annual FPS installations is likely to grow from nearly $12 billion this year and peak at around $21 billion in 2017 before slipping to $17 billion in 2019. Projects already on order will account for much of the expenditure.
Meanwhile, EMA forecasts that between 105 and 188 FPS orders are expected between 2015 and 2019, with companies likely to spend starting $80.2 billion to $157.4 billion on the units, the firm said in a Jan. 15 press release. It added that the FPS sector is most likely to see around 142 orders at a cost of $118.5 billion.
One issue that could weigh on the bullish long-term view of the FPS sector is Brazil, which featured prominently in the market, especially for floating production, storage and offloading (FPSO) units – a segment dominated by the country's national oil company Petroleo Brasiliero S.A. (Petrobras). That's because the Brazilian company accounted for more than a quarter of the world's FPSO awards since 2003, peaking at 12 out of the 26 units awarded in 2010.
Boggs explained that with Petrobras ordering an average of two to three FPSOs a year, "Operation Car Wash" – a reference to the corruption scandal troubling the firm – could have a negative impact on the entire industry.
But "it's a question of time when things will turn around. Obviously Petrobras has issues internally as well as financially … deepwater offshore Brazil is very prolific and is economically viable so it's a question of how Petrobras can restructure to develop those fields economically," the EMA executive told the Singapore forum participants.
BG Group, which partners with Petrobras in developing several oil and gas projects offshore Brazil, revealed on its website that the Santos Basin development has low unit development cost as a result of excellent reservoir characteristics. It delivers high margins and an economic break-even at less than $40 a barrel, compared to Feb. 26's settlement price of $60.05 a barrel for benchmark Brent crude oil futures and $48.17 for West Texas Intermediate.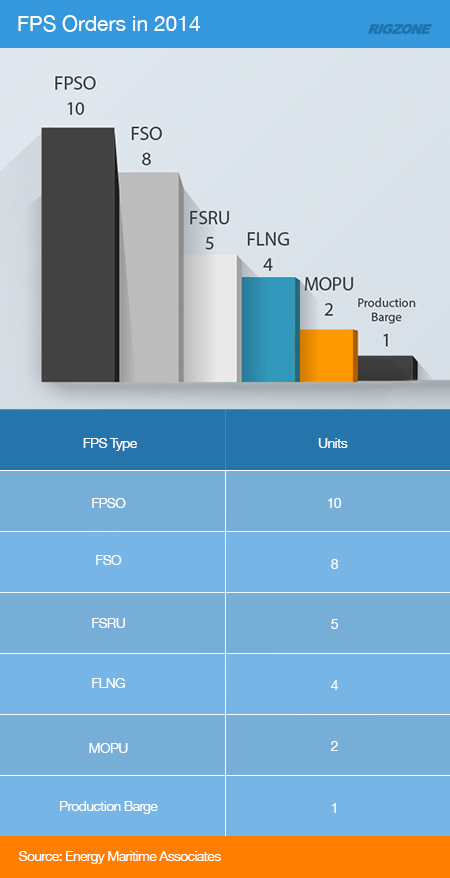 FPS Orders in 2014
Projections from EMA showed that Brazil will remain the dominant player in the FPS market between 2015 and 2019, particularly for FPSOs. Africa follows next with a requirement consisting of a mix of FPSOs and floating liquefied natural gas (FLNG) units and Australia.
"Australia [has] some large FLNG projects [in the pipeline], most likely being sanctioned towards the end of the forecast period [2019] after Prelude comes online … for large FLNG projects, people want to see these units up and running. And once people are comfortable with the technology and have a better sense of how they operate and the operating costs, we would expect to see the other [FLNG] projects move ahead," Boggs told the Singapore forum.
Meanwhile, FPS demand in 2015-2019 from Southeast Asia will center on FPSO, FLNG and floating storage offloading (FSO) units, while the focus on the U.S. side of the Gulf of Mexico is on spar, semisubmersible and FLNG.
Rising Interest in FLNGs
Rising gas demand, stemming from increasing use of cleaner energy globally to curb greenhouse emission, has translated into greater interest in gasification in the FPS market. Of the 65 FPS units currently on order, EMA noted that 18 are in the gasification space, comprising nearly half of the 37 FPSOs that are currently on order by firms. They comprised of 11 floating storage and regasification units (FSRU) and 7 FLNG vessels.
"On the gas [FPS units], what has been interesting is that of those units, 5 of the FSRUs and 2 of those FLNGs are built on speculation," Boggs observed.
Golar LNG Ltd. placed orders, worth $1.44 billion, with Singapore's Keppel Shipyard Ltd. in recent months to convert two liquefied natural gas (LNG) carriers – Hilli and Gimi – into floating liquefaction vessels (FLNGV) on a speculative basis.
In contrast to the FLNG that Royal Dutch Shell plc is building for the Prelude gas field offshore Western Australia and the 2 FLNGs that Petroliam Nasional Berhad (Petronas) has ordered for deployment offshore Sabah and Sarawak off East Malaysia, Boggs explained that the ones under conversion for Golar are "purely for liquefaction … They are not doing any of the pre-processing, so it has been an interesting development to see."
China Eyes FLNG Market
China, already established in offshore segments like rigs and offshore supply vessels, has ambitions to extend its reach into the FPS market, including FLNG.
Shanghai-based Wison Offshore & Marine has been contracted by Belgium's Exmar NV to deliver two FLNGs, with the first – Caribbean FLNG – scheduled for delivery to Colombia for installation in the second half of 2015, later than the original timeline at the end of the June 2015 quarter due to unfavorable energy market conditions.
China appears keen to boost the participation of its yards in the FLNG segment. The Ministry of Science and Technology has named Wison's Caribbean FLNG liquefaction and storage project a "National Key New Product" under the National New Products Program (NNPP), Wison said in a Feb. 4 press release. The NNPP aims to improve companies' technology innovation and increase competitiveness of Chinese products.
But the success of Chinese yards in the overall FPS market is fairly mixed. Last year, China did not secure any FPSO contracts, with larger yards such as Cosco Corp. failing to gain any orders. In fact, Cosco maintained a cautious outlook when it announced its 2014 financial results in mid-February, citing the slowdown in the global offshore market.
Still, Boggs observed that "a lot of the conversion work, especially "dirty work" [like] steel repair, blasting is more and more being done in China because it is far cheaper than in any other parts of the world."
However, newbuild FPSO projects are mostly undertaken by South Korea's "Big Three" yards – Daewoo Shipbuilding and Marine Engineering, Hyundai Heavy Industries and Samsung Heavy Industries. Singapore yards, comprising Keppel and Sembcorp Marine Ltd., are still the preferred choice for FPS conversions.
To ward off competition from Chinese yards, Singapore yards have to improve their service offerings in the FPS sector and assume more complex projects.
"Jurong is doing the topside integration, the mooring system, so that's quite a bit step up from their previous type projects," Boggs said at the forum, citing the $696 million FPSO conversion contract for Brazil's Libra project that Sembcorp Marine's subsidiary Jurong Shipyard clinched last October.
Meanwhile, market watchers expect oil companies, FPSO contractors and yards to focus more on strengthening their internal organizations in the current slowdown. In the FPS sector, SBM Offshore has already announced plans to lay off 1,200 workers, while Malaysia's Bumi Armada Berhad also intends to initiate cost reduction including headcount rationalization.
The lack of new FPS contracts may not weigh heavily on the immediate prospect of ambitious Malaysian firms such as Bumi Armada and Yinson Holdings Berhad after their recent wins, including the latter's $2.54 billion deal from Eni S.p.A. for Ghana's Offshore Cape Three Points project in January.
"Yinson has secured one big contract in Africa. Even if there is a lull in FPSO contracts, it won't be affected for long … Bumi Armada has a lot on their plate now with 3 projects, even if it doesn't bag any project this year, it is not too big an issue," Arhnue Tan, an analyst with Malaysia's Alliance Research told Rigzone.
Generated by readers, the comments included herein do not reflect the views and opinions of Rigzone. All comments are subject to editorial review. Off-topic, inappropriate or insulting comments will be removed.