Pink Petro Network to Grow, Empower Women in Energy
Katie Mehnert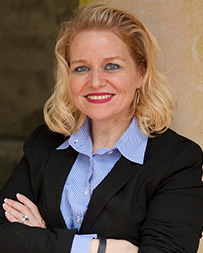 Katie Mehnert, Founder & CEO, Pink Petro.
Social networks may have historical roots in connections to high school friends and swapping vacation photos, but there is a clear rise in more focused channels designed to educate professionals through quality resources and meaningful conversations. These goals are part of the driving idea behind Pink Petro, a new social channel launching today for women in energy.
Powered by Jive Software, Inc. and funded by Halliburton and Shell, Pink Petro will offer women a new resource to help advance their careers in the energy industry. The channel will allow members to post questions, share advice, join groups, connect to coaches or follow thought leaders. Individuals, companies, trade associations and non-profit organizations can all join the platform by applying and investing in a membership.
Founder and CEO Katie Mehnert is a "People Engineer" with 18 years of experience helping people connect and grow. While her background includes a global career in Shell and BP, her art is people.
"Three things get me out of bed every day," Mehnert tells Rigzone. "The first is the energy business. It's complex but it does something so vital for the world. I also love technology. I'm not a millennial but I recognize that we really need to harness the power of information technology, as that is what's creating a lot of innovation and disruption. The third thing is my love for helping women succeed."
There is definitely a convergence of things currently going on in the energy industry. First, social media continues to change the way people live and work. Second, the oil and gas business is getting a lot of attention because of low commodity prices, but Mehnert says social can still successfully bring quality people together to create a niche group that helps companies find the best talent. Social can also be a tool that helps tell the story of an industry that is at times undervalued and misrepresented, she adds.
"Social networks can take people from different generations in our industry and allow them to connect. That same experience can help educate individuals and allow them to grow their professional presence. This is the time to double down and use social media to drive messages about what our industry does and the talent agenda. Pink Petro does this."
1
2
View Full Article
Generated by readers, the comments included herein do not reflect the views and opinions of Rigzone. All comments are subject to editorial review. Off-topic, inappropriate or insulting comments will be removed.