Small, Medium or 'Right-Sized', Incremental Projects Broaden LNG's Reach
|
Thursday, March 05, 2015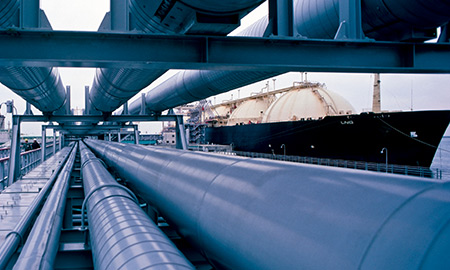 Smaller liquefaction projects represent a growth area for the LNG sector.
Deviating from its previously rosy outlook, the oil and gas industry within the past year has taken a more cautious view toward pursuing mega-LNG export projects in regions such as the U.S. Gulf Coast, Western Canada and Australia.
"The global collapse of LNG prices is the primary driver" behind the dampened enthusiasm for investing in multibillion-dollar, world-scale liquefaction projects, said Rick Margolin, senior natural gas analyst with Genscape, pointing out the price of LNG is tied to that of crude oil.
Less Than World-scale
Here is a list of several sub-world-scale projects dotting a growing LNG export landscape.
A combination of supply and demand factors has suppressed the momentum behind mega-projects, Margolin noted. On the supply side, Australia has brought on some very large projects and Qatar is angling to bring more LNG into the market, he explained. In terms of demand, a relatively mild summer last year has left Asian customers with healthy LNG storage inventories, he added. Furthermore, talk in Japan and South Korea of re-commissioning nuclear power plants idled in the wake of the 2011 Fukushima disaster has stifled expectations that the major LNG buyers will take on larger volumes of the fuel.
Not all investors are shying away from liquefaction projects amid the current slump, however. In fact, some are downright enthusiastic about the outlook for certain types of LNG export facilities. Take Martin Houston, for instance. The chairman of Parallax Energy and retired executive with BG Group plc is leading the charge to build the mid-scale Live Oak LNG project in Lake Charles, La.
"We are well positioned to succeed," Houston told Rigzone. "Our project is well researched, we are fully funded through to final investment decision, and we are supported by world-class experts and suppliers."
Focus on Results Rather than Size
Multiple LNG industry professionals told Rigzone that there are no universally accepted size ranges that designate whether a liquefaction terminal belongs in the small, medium or large category.
"It's not clear-cut," said Jorge Ferreiro, LNG and floating storage and regasification unit (FSRU) specialist with the Uruguay-based oil and gas firm ANCAP.
1
2
3
4
View Full Article
Generated by readers, the comments included herein do not reflect the views and opinions of Rigzone. All comments are subject to editorial review. Off-topic, inappropriate or insulting comments will be removed.