Maersk Positions Self for 'New Oil Reality' as Profit Fall
by Karen Boman
|
Rigzone Staff
|
Thursday, February 26, 2015
The company said its results were positively impacted by a $73 million after-tax gain from the sale of its 10 cantilevered drilling barges in Venezuela to Barrystar Holding S.A. and strong operational performance across its fleet. However, the company's financial results were hurt by impairments of $85 million, or $73 million after-tax. These impairments included a $50 million ($38 million after-tax) impairment related to its Egyptian Drilling Company joint venture.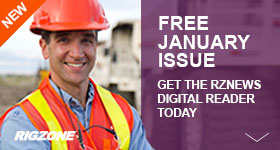 Maersk also incurred additional operating cost last year related to the start-ups and operational expenses for five newbuild rigs that started working last year and start-up costs for three remaining newbuild rigs to be delivered this year and in 2016. The cost level on the existing fleet excluding newbuilds was on level with costs seen in 2013, Maersk noted.
In 2014, Maersk took delivery of Maersk Viking (UDW drillship), Maersk Valiant (UDW drillship), and Maersk Venturer (UDW drillship), the first three rigs in a series of four ultra-deepwater drilliships, from Samsung Heavy Industries in South Korea. The company also took delivery of Maersk Intrepid (492' ILC) and Maersk Interceptor (492' ILC) from Keppel FELS in Singapore, the first two rigs in a series of four ultra-harsh environment jackups. All five rigs commenced operations in 2014. The company completed five yard stays and two offshore upgrades, making 2014 "a very busy year".
Operational uptime averaged 97 percent, the same level seen in 2013. As of the end of last year, Maersk's forward contract coverage was 80 percent for this year, 52 percent for 2016 and 30 percent for 2017. The total revenue backlog by the end of 2014 amounted to $6 billion, down from $7.9 billion. Return on invested capital (ROIC) was 7.1 percent, down from 10.8 percent in 2013.
Looking forward, the company aims to achieve net operating profit after tax of $1 billion in 2018 and ROIC of more than 10 percent. It also will seek to secure contracts for the Maersk Venturer (UDW drillship) and Maersk Voyager (UDW drillship) and to secure contracts for rigs rolling off contract this year.
1
2
View Full Article
Generated by readers, the comments included herein do not reflect the views and opinions of Rigzone. All comments are subject to editorial review. Off-topic, inappropriate or insulting comments will be removed.
MORE FROM THIS AUTHOR
Karen Boman
Senior Editor | Rigzone