Oil Prices Leave Uneven Impact on Offshore Sector
|
Tuesday, February 24, 2015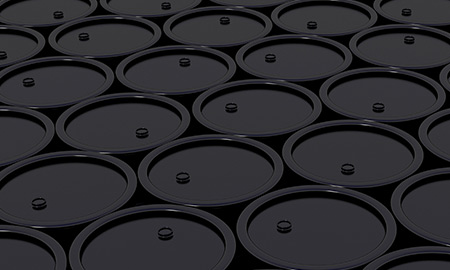 Despite cost reductions dominating news headlines in the petroleum industry, in reality, weak oil prices have an uneven impact on firms operating in the offshore sector.
Given the slide in oil price over the last six months, it is not a surprise to see companies in the petroleum industry reducing costs, whether it be capital expenditure (capex) or operating expenditure (opex). But not all firms felt the full impact of lower oil price simultaneously – those operating in the development segment are mostly continuing business as usual, while those involved in exploration have been hit by cutbacks in operations, speakers told the Singapore Offshore Finance Forum earlier this month.
The shift towards a lower oil price environment commenced in the second half of 2014 when benchmark Brent oil futures fell below the psychologically significant $100 a barrel in early September. The decline in Brent prices mirrored the earlier fall in U.S. West Texas Intermediate oil futures which broke through the $100 a barrel mark in late July.
The decision by the Organization of Petroleum Exporting Countries (OPEC) to not cut oil production last November had exacerbated the problem of abundant supplies in the markets, resulting in further downward pressure on oil prices.
Hurt by falling revenue, many oil producers, including international oil companies (IOC) and national oil companies (NOC), have reduced their capex and opex, which have in turn impacted the rest of the petroleum industry.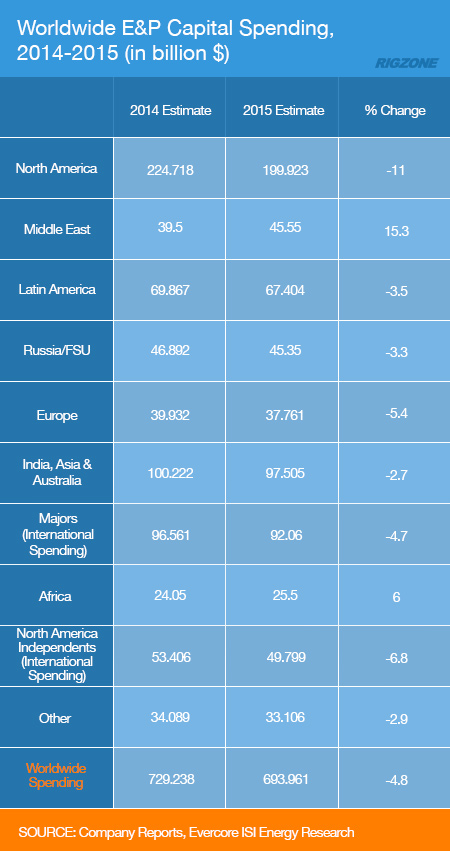 World E&P Capital Spending, 2014-2015
"This is a period of uncertainty. Companies are not sure at this point what will happen going forward, projects are being pared back this year, next year and certainly until things get back into a natural equilibrium ... expensive projects such as U.S. shale, oil sands, some of the ultra deepwater, the Arctic … will be delayed until oil price gets up to the right level," Jason Waldie, an associate director of Douglas-Westwood Pte. Ltd., told forum participants in Singapore.
The absence of any clarity on the direction of oil price adds further to the uncertainty for seeking project approvals in the near term as the low price environment is forecast to last between one and three years, speakers at the forum commented.
1
2
View Full Article
Generated by readers, the comments included herein do not reflect the views and opinions of Rigzone. All comments are subject to editorial review. Off-topic, inappropriate or insulting comments will be removed.