Safety, Efficiency Features Smooth Way for Offshore Helicopter Flights
|
Friday, February 13, 2015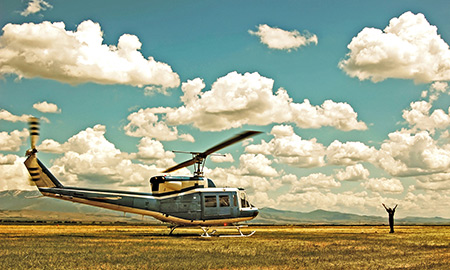 Automation will play a greater role in helicopter technology to meet the needs for greater safety and efficiency.
As the "highways" that offshore oil and gas workers travel to and from work on become more complex, advanced helicopter technology is allowing for improved airspace management for individual aircraft and aircraft fleets.
This technology is providing important safety and productivity benefits in transporting workers from land to offshore rigs and infrastructure, said David Martin, vice president of energy with helicopter designer and manufacturer Sikorsky, a unit of United Technologies. Last month, officials with Stratford, Conn.-based Sikorsky visited Houston to demonstrate the capability to aviation advisors of its latest version of the S-76D helicopter, which features the latest production improvements.

Helicopter Takes Flight with Latest Technology
The company also took some of its customers, including oil and gas majors and helicopter companies, and local media for a spin in the helicopter over suburban west Houston.
With a 400-mile nautical range that covers most of the area where deepwater oil and gas operations take place, the latest version of the S-76 was designed in the early 2000s based on feedback of Sikorsky customers seeking the most up-to-date technology to make helicopter flights safer and operations more efficient and productive, as well as three to four decibels quieter than legacy models.
The first S-76D was delivered in February 2014 to National Helicopter. Martin said Sikorsky has seen great performance from that aircraft, which now has 1,250 flight hours. Since 1979, more than 800 S-76 helicopters have been delivered to customers worldwide, and at any time, more than 720 of these helicopters are in service. These aircrafts contribute daily to the more than 6.5 million plus fleet flight hours on Sikorsky aircraft.
Currently, 40 helicopters of this particular model are in various stages of the completion cycle, which can take between four and 10 months, 20 are in service, and 70 have been sold. Martin believes that the helicopter will be a great fit for its offshore oil and gas customers, who comprise 80 to 90 percent of Sikorsky's business global market in terms of fleet flight hours.
The Evolution of Helicopter Technology
The most visible feature of Sikorsky's newest helicopter is the larger egress door. Egress windows, which is a big topic in the industry with lots of new regulations coming out of Europe, said Martin. In February 2014, the UK Civil Aviation Authority (CAA) released CAP1145, a safety review and proposal for changes to offshore public transport helicopter operations in support of the exploitation of oil and gas.
1
2
3
View Full Article
Generated by readers, the comments included herein do not reflect the views and opinions of Rigzone. All comments are subject to editorial review. Off-topic, inappropriate or insulting comments will be removed.