Southeast Asian NOCs Adapt to Lower Oil Prices
|
Thursday, February 12, 2015
One immediate casualty of falling oil prices is Canada's Pacific Northwest LNG Project in British Columbia, with the Petronas-led joint venture delaying a final investment decision (FID) mainly because of high development costs.
"Costs associated with the pipeline and liquefied natural gas [LNG] facility remain challenging and must be reduced further before a positive FID can be undertaken," Pacific Northwest LNG said in a Dec. 3 statement.
Meanwhile, industry watchers said projects that already received their FIDs will proceed as scheduled but those still awaiting approval might be delayed or cancelled.
"Those that haven't got FID are at risk. Heard Sepat [gas project in PM 313 offshore Peninsular Malaysia] got cold-storage for now, while others like RAPID [refinery and petrochemical integrated development] are going ahead," Tan said.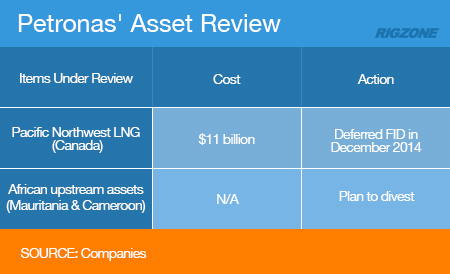 Petronas' Asset Review
Last month, Petronas disclosed an interest in divesting part of its African upstream assets – an oil block in Mauritania and several gas blocks in Cameroon – where prospects for growth are minimal.
"We are looking at where we can divest in Mauritania and Cameroon … we may divest if it has no value," Reuters reported, quoting Sharbini Suhaili, vice president for Petronas' international upstream operations, while Tan believed that the move will "free up cash flow."
Meanwhile, Macquarie Research estimated that Petronas' capex will drop 20 percent to $12.27 billion (MYR 44 billion) in 2015 due to the oil price slump, compared to $15.34 billion (MYR 55 billion) last year. However despite a smaller capex, Malaysia may not be adversely affected by the full impact of the cutbacks as Petronas will likely prioritize domestic projects.
"With the recent directive by the Ministry of Finance to all government-linked companies, government statutory bodies and its subsidiaries to stop buying foreign assets, we believe Petronas will refocus on domestic fields and assets, which favor Malaysian oilfields services companies," Macquarie said in a Jan. 12 investor report.
Pertamina Reduces Capex Too
Over in Indonesia, Pertamina expects its 2014 profit to fall to $2.4 billion from $3.06 billion in 2013, forcing a review of its growth plans, necessitated by missing its full year production target and lower oil price.
"We are confused. Pertamina's profits will fall far … A lot of our expansion plans must be revised," Ahmad Bambang, director of marketing and trading at Pertamina said, as quoted by Reuters.
Pertamina intends to allocate around $7 billion for capex in 2015, mostly for upstream investment. This is below 2014's capex of $7.85 billion, of which the upstream sector accounted for $3.77 billion, or 48 percent of the total.
1
2
3
4
5
6
View Full Article