Rig Trends: Idle Times Ahead for Offshore Rig Fleet
|
Wednesday, February 11, 2015
On the other end of the spectrum, Seadrill (42 rigs) has the youngest fleet in the world with an average age of just 4.1 years. It is followed by Maersk Drilling (23 rigs) at 10.3 years and Noble Corp. (31 rigs) at 12 years. Table 2 shows the average fleet age for rig owners with 20 total rigs or more.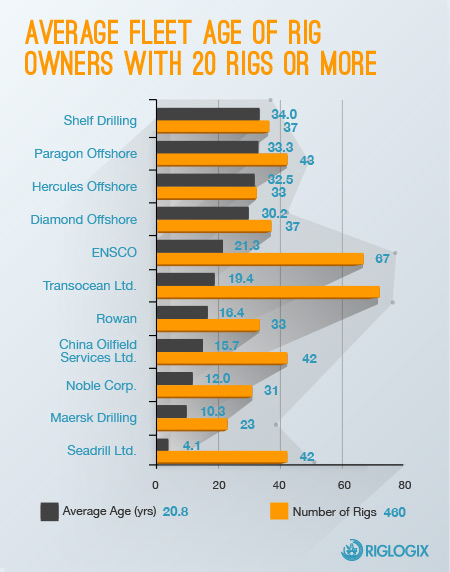 Average Fleet Age of Rig Owners With 20 Rigs or More
One final group of rigs to look at is the existing cold-stacked fleet. As of Feb. 5, RigLogix shows there were 60 cold-stacked jackups, semisubs and drillships worldwide (including the Hercules 120 that is scheduled for cold stacking). Fifty-two (86.7 percent) of those are 30 years or older, and 32 of the 60 (53.3 percent) have been idle for three years or longer. Cold stacked and over 30 years of age is not a good combination if a rig is hoping to stay around, although some will manage to pull it off. In general, however, these are likely two factors that could most determine a rig's fate. While not in every case, this group of rigs could very well be viewed as the most likely candidates for retirement.
Finally, there are 87 new rigs (jackups, semis and drillships) scheduled to enter the fleet during the remainder of 2015. Some deliveries will be delayed, but most are expected to be delivered more or less on time adding greatly to the rig supply. However, 2015 is also shaping up as a year of rig attrition which could partially negate the net gain to supply. Historically, rig owners have been reluctant to retire rigs because in a good market they are cash cows, meaning they are still able to bring in good dayrates with lower operating costs. Some of these older rigs will most certainly cold stack, and if the previously-mentioned recent rig retirements by Transocean, Diamond, Noble and Atwood are any indication, the fleet could also see a large number of rigs leave this year. Should the current pace of retirement continues, rig attrition in 2015 could reach or eclipse the 30 rigs removed from service in 2014.
RigOutlook Trends Feb. 2015
1
2
3
View Full Article
Generated by readers, the comments included herein do not reflect the views and opinions of Rigzone. All comments are subject to editorial review. Off-topic, inappropriate or insulting comments will be removed.