Rig Trends: Idle Times Ahead for Offshore Rig Fleet
|
Wednesday, February 11, 2015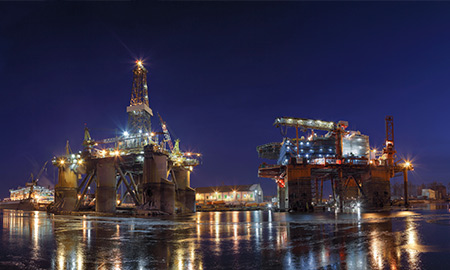 Rig owners are retiring older rigs and making plans to cold stack others in an effort to reduce costs in the current market climate.
As the reality of low oil prices settles in, operators and rig owners are being forced to take hard looks at where and when they will spend money. Oil companies are reducing 2015 spending budgets significantly, which means in many cases rig contracts will not be renewed and several others are being looked at as possible early termination candidates. In turn, rig owners are having to make tough decisions on whether to continue to market or cold stack currently active rigs in addition to retiring older or long-idled rigs. In the past few months, Hercules Offshore, Diamond Offshore, Noble Corporation and ENSCO have cold-stacked a combined total of eight jackups and four semisubs. On the retirement front, since the fourth quarter of last year, Transocean (11) and Diamond Offshore (6) have scrapped 17 floating rigs. Most recently, Noble Corp. (3) and Atwood Oceanics (1) announced the retirement of four floating rigs. All were older, shallow and mid-water units that were either not likely to work for some time or were going to require substantial capital expenditures to remain competitive, and that money is simply not going to be spent on that equipment given the current market. In general, most future rig attrition can be identified from the existing fleet of cold-stacked rigs; however, in some instances a rig owner may opt to retire a rig immediately after contract completion. This article will examine long-idled rigs, the age of the rig fleet and the existing cold-stacked fleet to see which segments of the fleet will likely be affected in 2015.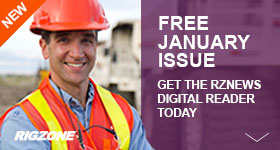 Based on data from RigLogix, as of Feb. 1, there were 196 idle jackups, semisubs and drillships. Of those, 67 have been idle for one year or longer. A closer look at the numbers show that 55 rigs have been idle for two years or more, and most of those have not worked in three years or longer. In addition, there are 12 rigs that have been idle for at least one year, meaning 67 of the 196 (34.2 percent) stacked rigs have not worked in a minimum of 365 days. It must be pointed out that 17 of the 67 rigs are owned by state oil companies or shipyards, meaning that while not impossible, they might be less likely to be removed from service. The data also shows that 58 of the 67 rigs are jackups. Although larger contractors have been able to hang onto their long-idled units for years, in some cases a rig may be the only asset a company owns. Some of these companies may not be able to afford the substantial reactivation costs necessary to bring the rig up to operational standards. The resale market offers few, if any, opportunities to dispose of the rig for any kind of meaningful revenue. As a result, how long they are able to keep these rigs is questionable and makes scrapping a real possibility.
There is little doubt that the idle and retired rig counts will increase dramatically during the remainder of 2015. Some of it will be due simply to existing contracts coming to an end and/or options not being exercised, but early rig releases will also be responsible for adding to the numbers. Although a total is impossible to say at this point, channel checks suggest that number is currently over 20. For instance, in Southeast Asia alone, there are seven rigs reported to be candidates for early release. Couple that with eight rigs that are due to come off contract by the end of March and newbuilds coming out shortly that currently do not have contracts and it becomes easy to see how fast the idle numbers will add up. Given these kinds of numbers, the question then becomes how many of these rigs will be maintained with crews and how many might be cold-stacked? One factor that may help determine that is the age of the rig fleet. This has been written and talked about on many occasions and many in the industry have called for owners to get rid of old equipment for many years. According to RigLogix, as of Feb. 5, 395 of the 861 (45.8 percent) jackups, semisubs and drillships (excluding under construction units) in the world are 30 years of age or more. Thirty to 35 years, while not an absolute, is generally considered the useful life of an offshore rig. Within the 395 rigs, 271 (68.6 percent) were either working or had upcoming work scheduled. On a side note, the Hercules 120 jackup is the oldest rig in this group at just over 57 years of age. While it is currently working, it will be cold-stacked when it wraps up its current contract in the Gulf of Mexico around March 1. It should be noted that many of these rigs have had substantial steel replacement and/or equipment upgrades over the years so age alone does not necessarily reflect the rig's current condition, and as evidenced by the numbers, some of these rigs will continue to work well past 30 or even 40 years in some cases. Nevertheless, many of the rigs that ultimately are either cold-stacked or retired will likely come from this group of rigs. Some owners will opt to warm stack certain rigs, keeping a skeleton crew onboard and keeping the rig running, which significantly reduces operating costs and allows the rig to come back into service faster if and when the market improves. Table 1 numerically displays the 395 rigs that are over 30 years old by rig type and region.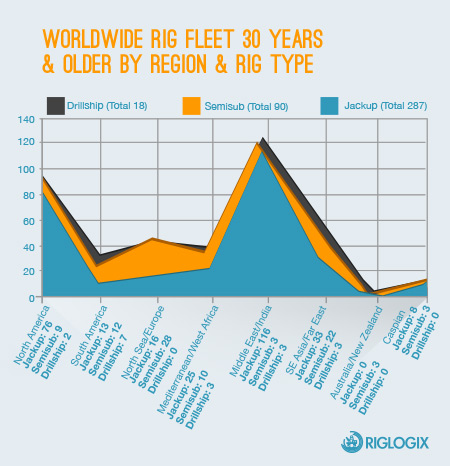 Worldwide Rig Fleet 30 Years & Older by Region & Rig Type
Of course, when discussing rig fleet age, the question of contractor fleet ages always comes up. According to RigLogix, rig owners with 20 or more rigs in their fleet (excluding under construction rigs) and an average fleet age of 30 years or more include:
Shelf Drilling - 37 rigs at 34 years
Paragon Offshore - 43 rigs at 33.3 years
Hercules Offshore - 33 rigs at 32.5 years
Diamond Offshore - 37 rigs at 30.2 years
On the other end of the spectrum, Seadrill (42 rigs) has the youngest fleet in the world with an average age of just 4.1 years. It is followed by Maersk Drilling (23 rigs) at 10.3 years and Noble Corp. (31 rigs) at 12 years. Table 2 shows the average fleet age for rig owners with 20 total rigs or more.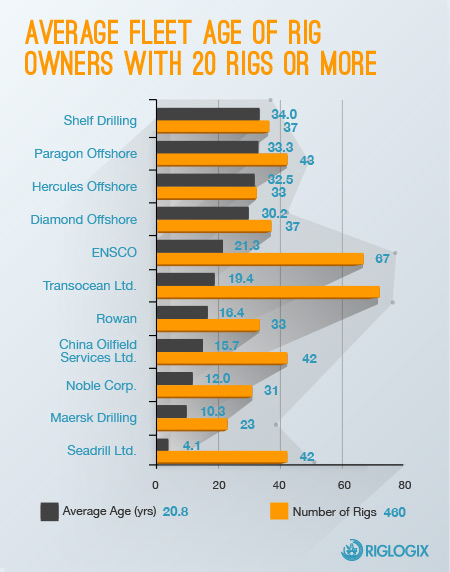 Average Fleet Age of Rig Owners With 20 Rigs or More
One final group of rigs to look at is the existing cold-stacked fleet. As of Feb. 5, RigLogix shows there were 60 cold-stacked jackups, semisubs and drillships worldwide (including the Hercules 120 that is scheduled for cold stacking). Fifty-two (86.7 percent) of those are 30 years or older, and 32 of the 60 (53.3 percent) have been idle for three years or longer. Cold stacked and over 30 years of age is not a good combination if a rig is hoping to stay around, although some will manage to pull it off. In general, however, these are likely two factors that could most determine a rig's fate. While not in every case, this group of rigs could very well be viewed as the most likely candidates for retirement.
Finally, there are 87 new rigs (jackups, semis and drillships) scheduled to enter the fleet during the remainder of 2015. Some deliveries will be delayed, but most are expected to be delivered more or less on time adding greatly to the rig supply. However, 2015 is also shaping up as a year of rig attrition which could partially negate the net gain to supply. Historically, rig owners have been reluctant to retire rigs because in a good market they are cash cows, meaning they are still able to bring in good dayrates with lower operating costs. Some of these older rigs will most certainly cold stack, and if the previously-mentioned recent rig retirements by Transocean, Diamond, Noble and Atwood are any indication, the fleet could also see a large number of rigs leave this year. Should the current pace of retirement continues, rig attrition in 2015 could reach or eclipse the 30 rigs removed from service in 2014.
RigOutlook Trends Feb. 2015
Generated by readers, the comments included herein do not reflect the views and opinions of Rigzone. All comments are subject to editorial review. Off-topic, inappropriate or insulting comments will be removed.