Midland: Weathering the Downturn in Crude Oil Prices
|
Wednesday, February 04, 2015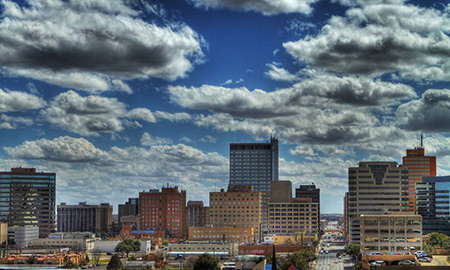 The West Texas city of Midland has yet to be affected by the downturn in crude oil prices, but a prolonged energy slump would eventually be felt. Midland, Texas' downtown. Source: City of Midland Chamber of Commerce
With crude oil prices at their lowest levels in years, municipalities that depend primarily on the oil and gas industry for their economic vitality are suddenly at risk of seeing drastic slowdowns in the local economy, and possibly some red ink. One such city is Midland, Texas, an oil and gas town like few others. Oil is its lifeblood, and throughout its history, the Tall City has experienced many up-and-down cycles in the energy industry. So, how is it weathering the current one?
The short answer is that months after oil prices first began to slump, the city itself is doing fine – so far. In fact, a relatively short-term slowdown would not be completely unwelcomed, since it would allow the city to catch its breath, Midland Texas Chamber of Commerce Executive Vice President of Chamber Relations Nellwyn Barnett, told Rigzone.
"Obviously, we don't want for oil to continue to go down, and we certainly don't want it to stay where it is. We'd love to see it go back up. However, it's not at a point right now where it is detrimental to our economy, and in some ways, there's definitely a benefit [to the slowdown in hiring] for other sectors of the economy – the hospitality industry and the retail industry and others – to have an opportunity to capture some of the employment market. They haven't been able to be competitive in the past," Barnett said.
Unfortunately, layoffs in the industry seem to be on the rise, and they could affect Midland in the future. A number of oilfield service companies and drilling companies have already announced layoffs, including Halliburton Co., Baker Hughes Inc., Schlumberger Ltd., Apache Corp. and other energy companies familiar to West Texas residents. And while there has been only limited layoff talk heard in the local community, hiring in the oil and gas sector has slowed, Barnett said.
"I think the biggest effect that we're seeing is really more of a mental one. The good thing for Midland is that we've been down this road before, and we're much better prepared this time around. We're really just seeing some adjustments in the industry and some restructuring. It's a kind of a mindset of, 'Well, let's shift some things around, and let's do things a little differently to adjust our margins,' and that kind of thing. We're not seeing a significant number of lay-offs or anything like that," Barnett said.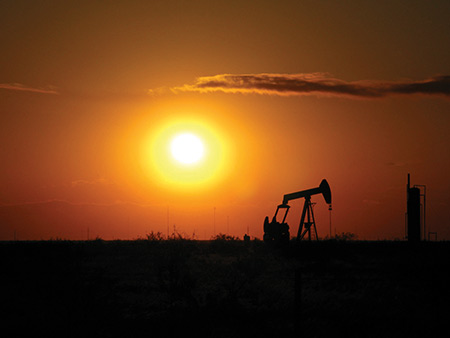 A Permian Basin pumpjack at sunset. Source: City of Midland Chamber of Commerce
While a lengthy period of low prices will certainly have an effect on the financial health of Midland, a temporary leveling-off of activity in the Permian Basin could allow the city to be well-positioned when the market takes off again, Barnett said.
"From a governmental standpoint, it gives our city, our planners [and] our county government a chance to catch up with some of the infrastructure needs. We've been going so fast for so long, and our population has spiked so dramatically.
1
2
3
4
View Full Article
Generated by readers, the comments included herein do not reflect the views and opinions of Rigzone. All comments are subject to editorial review. Off-topic, inappropriate or insulting comments will be removed.