Bakken Boom Slows on Crude Pride Slump
|
Tuesday, February 03, 2015
In general, the new math of mid-$40s crude oil oil does not pencil-out very well in expensive formations like the Bakken for any but the largest and most efficient of companies with sufficient economies of scale. And even for those companies, it is becoming increasingly difficult to make drilling profitable in all but a few core counties in the Bakken.
"Drilling in North Dakota is very expensive and the costs are extremely high," Chris Faulkner, chief executive of Breitling Energy, told the New York Times in a Jan. 8 story. "If you are not in the middle of the sweet spot in the Bakken, there is no way you are now going to risk 10 or 11 million dollars on a well."
According to a new analytical report by Cost & Capital Partners LLC, a management consulting firm that looked at the cost of drilling activity in the formation as a whole, the price of WTI crude oil needs to be in the mid- to upper $40s/barrel (bbl) for most of the companies that are active there to simply cover costs. And for most of those companies, only prices above $70/bbl will result in sustained growth.
The firm's recently released report, "Bakken Producer Financial Stress", examined the effects of crude oil pricing on five producers in the Bakken. The firm centered their report on these particular companies in part because they are considered "pure play producers," with more than 90 percent of their production coming from the Bakken and Three Forks shale formations in North Dakota and neighboring Montana.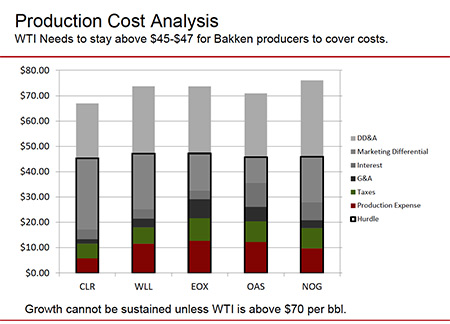 "Production Cost Analysis for five producers – Continental Resources, Emerald Oil, Oasis Petroleum, Northern Oil and Gas, and Whiting Petroleum – that have most of their resources in the Bakken."
1
2
3
4
View Full Article
Generated by readers, the comments included herein do not reflect the views and opinions of Rigzone. All comments are subject to editorial review. Off-topic, inappropriate or insulting comments will be removed.