Bakken Boom Slows on Crude Pride Slump
|
Tuesday, February 03, 2015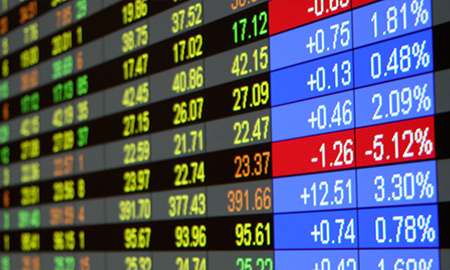 Drilling activity in the Bakken is feeling the effects of a bearish crude oil market.
The drop in crude oil prices in recent months has likely gone uncelebrated in the North Dakota town of Williston, or in the state as a whole, as exploration and production companies reduce or halt their drilling activity in the Bakken, that vast shale formation underlying North Dakota and neighboring Montana. But how much has the state's drilling activity been affected, and how long is the slowdown likely to last?
The abrupt arrival of sub-$50 oil prices has been a shock to the oil industry, and the subsequent decline in drilling activity in the Bakken could, if continued, prove painful for a state that had until recently been riding high as an oil producing state and an economic powerhouse. Between 2006 and 2013, North Dakota went from being the ninth-largest oil producing state to the second, behind only Texas, according to Bakken.com, an online shale publication centering on activity in North Dakota.
It was not always that way. Early in the new millennium, the state was steadily losing population and brainpower as new college graduates struck out for more alluring opportunities elsewhere. North Dakota's future looked increasingly dim, if not dismal.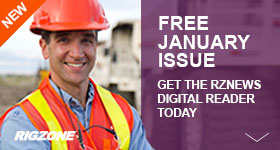 The waning of the state's population was quickly reversed when the combination of horizontal drilling and hydraulic fracturing in unconventional shale formations helped create an energy renaissance overnight. Thanks to exploration and production in the Bakken, North Dakota began to prosper as never before, and Williston, which is thought of by locals as ground zero for the state's shale boom, began experiencing explosive growth, skyrocketing real estate prices and no small amount of attention from the media. The sleep prairie town was suddenly going through what community development workers called "the new American Dream".
The Higher Costs of Drilling in the Bakken
Crude oil prices began losing altitude last summer, and the fall continued steadily through the rest of the year, and into 2015. While it did not take long for the diminished values to begin putting the brakes on drilling activity in general, unconventional wells in shale formations like the Bakken are probably the most affected, some industry officials say.
"As the price of oil goes down, some people like to see their money in more traditional resource plays, because if you can get the repeatability of an unconventional play, and the lower-cost completion of a traditional play, that's the best of both worlds," Mark Plummer, chairman and owner of Chestnut Exploration Companies, told Rigzone. "Lower prices will probably have more of an effect on the amount of unconventional drilling that is done because that kind of drilling is generally more expensive on the completion side."
"If your accountant tells you that you have to cut the budget by 40 percent to account for lower [crude oil] prices, you're only going to drill the best 60 percent of the wells in your portfolio. You're going to high-grade your prospects and drill selectively."
In general, the new math of mid-$40s crude oil oil does not pencil-out very well in expensive formations like the Bakken for any but the largest and most efficient of companies with sufficient economies of scale. And even for those companies, it is becoming increasingly difficult to make drilling profitable in all but a few core counties in the Bakken.
"Drilling in North Dakota is very expensive and the costs are extremely high," Chris Faulkner, chief executive of Breitling Energy, told the New York Times in a Jan. 8 story. "If you are not in the middle of the sweet spot in the Bakken, there is no way you are now going to risk 10 or 11 million dollars on a well."
According to a new analytical report by Cost & Capital Partners LLC, a management consulting firm that looked at the cost of drilling activity in the formation as a whole, the price of WTI crude oil needs to be in the mid- to upper $40s/barrel (bbl) for most of the companies that are active there to simply cover costs. And for most of those companies, only prices above $70/bbl will result in sustained growth.
The firm's recently released report, "Bakken Producer Financial Stress", examined the effects of crude oil pricing on five producers in the Bakken. The firm centered their report on these particular companies in part because they are considered "pure play producers," with more than 90 percent of their production coming from the Bakken and Three Forks shale formations in North Dakota and neighboring Montana.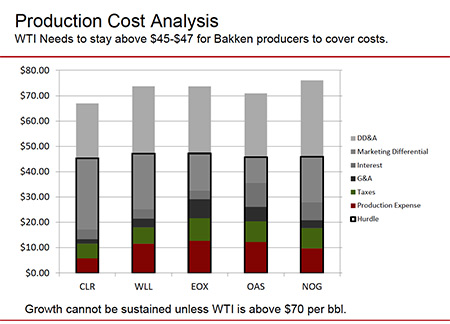 "Production Cost Analysis for five producers – Continental Resources, Emerald Oil, Oasis Petroleum, Northern Oil and Gas, and Whiting Petroleum – that have most of their resources in the Bakken."
One of Cost and Capital Partners' conclusions was that when crude oil prices dip below $50/barrel, drilling companies that fund operations "through credit revolvers" could be at risk of "violating covenants." There is even a worst-case risk that some producers could default on financial obligations, the report said.
There are a few things about the Bakken that make it more expensive to produce in than, say, the Eagle Ford formation in South Texas, Tom Bokowy, senior partner at Cost and Capital Partners, told Rigzone.
Not only does North Dakota lack the density of oil and gas infrastructure required to easily handle production, but there are also the political realities associated with getting product to refineries or to end users elsewhere.
"It's not that difficult moving crude oil across energy-friendly states like Texas or North Dakota," he said. "However, it can be another thing, politically, to move it across some of the states that lay between the two, and in addition, it is much farther from Gulf Coast refineries and end-use markets."
Thinner Margins Mean Fewer Rigs
Rapidly eroding profit margins for drillers are likely to lead to a drop in rig count, and that is occurring now in the Bakken. In one week, the Bakken lost more rigs than during any other one-week period since 2008, according to a Jan. 23 Bloomberg story, and data from the Baker Hughes rig count showed that the rig count in the Bakken formation was at its lowest since February 2011, and possibly earlier than that.
Although there are about 154 rigs still operating in the Bakken, that is significantly less than the number in operation last summer and fall, and the number continues to shrink. Still to come are possible rig cuts by Hess Corp., an oil and gas producer that is a major operator in the Bakken, after Hess said in a Jan. 26 press release that it planned to cut spending by 16 percent from the amount it spent in 2014.
The Bakken formation is one of the more expensive shale formations to drill in, according to Bokowy. There is less infrastructure in North Dakota than in, say, Texas, and it is located much further from Gulf Coast refineries. That results in high rail transport costs. So, the weakening of oil prices has hit operators working in the Bakken particularly hard. However, it is only fair to mention that activity in other formations is also waning. For example, global diversified resources giant BHP Billiton Ltd. is planning to cut the number of its rigs in the United States by 40 percent, the company recently announced in a press release, and the company's activity in two Texas plays – the Eagle Ford and the Permian Basin – will focus on the core acreage. Meanwhile, Helmerich & Payne is idling as many as 50 rigs, following an announcement that it had already idled another 11.
A Light at the End of the Tunnel
The big questions for the industry are when will prices begin to head back up, and how high will they go. While several pricing scenarios are being discussed by analysts and economists, a number of them, including two Rice University analysts, have said prices could be as high as $70/barrel by the end of the year.
The rationale is that many countries within the Organization of Petroleum Exporting Countries (OPEC) will feel the effects of lower profits from crude oil sales and push for a reduction in production by Saudi Arabia. Some analysts believe OPEC production is likely to be dialed back somewhat, resulting in a more balanced supply-and-demand scenario for crude oil, and a strengthening of prices with it.
Generated by readers, the comments included herein do not reflect the views and opinions of Rigzone. All comments are subject to editorial review. Off-topic, inappropriate or insulting comments will be removed.