PumpWELL Offers New Approach to Enhancing Artificial Lift Production
by Karen Boman
|
Rigzone Staff
|
Thursday, January 29, 2015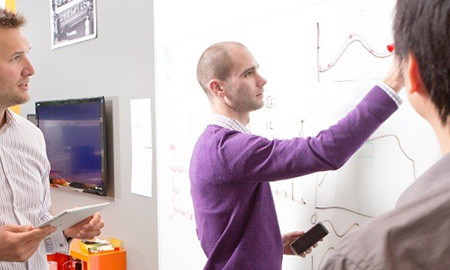 Calgary-based PumpWELL says it offers a breakthrough solution and approach to artificial lift technology.
A Canada-based technology company offers a new approach in technology and service to enhance oil production from wells that use artificial lift.
Founded in 2004, Calgary-based PumpWELL Technology offers a mix of technology and service that makes it unique and strong in the artificial lift industry, said Nav Dhunay, CEO of PumpWELL, in an interview with Rigzone. The company's power proprietary software, combined with highly skilled onsite technicians, allows for the real-time optimization of oil and gas wells which use artificial lift.
Traditionally, manipulations or minute operational changes were made to artificial lift by manual means to allow producers to meet two goals: to boost production and minimize downtime. This meant people had to be on site watching the well to make changes as needed to the pumpjack. But whether the changes had any benefits couldn't be seen right away – in some cases, it might take a month, said Dhunay.
Technology that allows for minute changes to be made electronically from a panel attached to a well has been around for some time. However, Dhunay says that PumpWELL's technology is groundbreaking in that it can detect what's happening downhole and make changes to a pumpjack stroke a rate of milliseconds, much faster than a human could.
"We can remotely see how a well is performing, and within an hour, you can see the impact of changes."
The company can remotely monitor wells, and provide as much data as any production engineer would need to know. PumpWELL can run a producer's entire production operations remotely by leveraging its group of production engineers. The company can focus on optimizing production, and get more efficiencies out of pumping operations than their clients can. In the cases of smaller clients, who can't afford an entire team of in-house production engineers, Dhunay said that PumpWELL's team of specialists become an extension of the production team within the oil producing company.
"The premise behind the product is that we believe that the technology hasn't evolved in this area, and that not a lot of organizations are looking at ways of doing things better in this space," said Dhunay, noting that the company has seen gains of up to 20 percent by clients utilizing its technology.
1
2
3
4
5
6
7
View Full Article
Generated by readers, the comments included herein do not reflect the views and opinions of Rigzone. All comments are subject to editorial review. Off-topic, inappropriate or insulting comments will be removed.