US Municipalities Differ on Approach to Fracking, Despite Benefits
by Gene Lockard
|
Rigzone Staff
|
Monday, December 22, 2014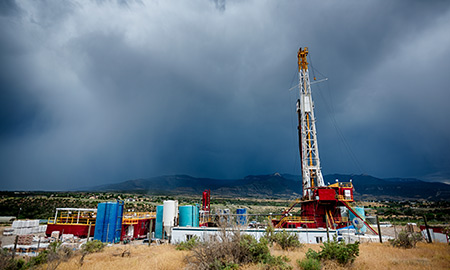 Hydraulic fracturing has occasionally resulted in voter action in the US, but better communication and more information could lessen discord, according to the oil and gas industry.
The combination of horizontal drilling and hydraulic fracturing – fracking – has contributed greatly to job growth in a number of areas, and to economic growth in the general economy. Fracking has enabled the country to substantially increase its energy security, while also keeping a ceiling on oil and gas prices. However, as fracking has grown in popularity among exploration companies, drilling operations have inevitably crept closer to cities, towns and rural areas where people live. This has resulted in restrictive setback laws in some locales, as well as outright bans on fracking in others.
One notable case involved two New York municipalities, Dryden and Middletown, which tried to use zoning laws to ban fracking within their city limits. The case went through the court system, where it was finally heard by the New York Court of Appeals, which ruled that municipalities could indeed use zoning laws to prevent fracking within municipal boundary lines.
That decision was made moot when New York Governor Andrew Cuomo's administration announced in December 2014 that the state was going to enact a permanent ban on fracking beginning early in 2015, following a long-awaited report concluding that fracking poses health risks. With the decision, New York joined Vermont as the only states to have enacted statewide bans on fracking.
Across the country in Colorado, Governor John Hickenlooper was able to get the energy industry and environmental and neighborhood groups to drop competing voter initiatives for and against fracking by appointing a task force to examine the issues raised by the two sides, and then make recommendations regarding how close to residential dwellings oil and gas drilling may be done.
One of the most surprising results regarding fracking ballot initiatives occurred on election night, when Denton, Texas residents voted to ban fracking within city limits. Oil and gas exploration and production is sacrosanct in Texas, and the outcome of the vote was not expected. While there were 1,200-foot setbacks in place on all new drilling, existing wells that had been drilled before the residences were built were not subject to them, thus prompting the ballot initiative.
While the Denton fracking ban was the perhaps the most attention-grabbing election night result, there were ballot measures on fracking in other locales, as well. The results of those measures were mixed. A successful ban was passed in Athens, Ohio – making it the state's fifth city to ban fracking. However, three other Ohio municipalities – Gates Mills, Kent and Youngstown – voted against bans.
California also had ballot initiatives on fracking, and just as in Ohio, the results were mixed. Two California counties, Mendocino County and San Benito County, passed bans, while in Santa Barbara County, a ban on fracking was rejected, according to The Daily Caller.
1
2
3
View Full Article
Generated by readers, the comments included herein do not reflect the views and opinions of Rigzone. All comments are subject to editorial review. Off-topic, inappropriate or insulting comments will be removed.