Asia Experiences a Hectic 2014 in Upstream Asset Swaps
by Chee Yew Cheang
|
Rigzone Staff
|
Tuesday, December 23, 2014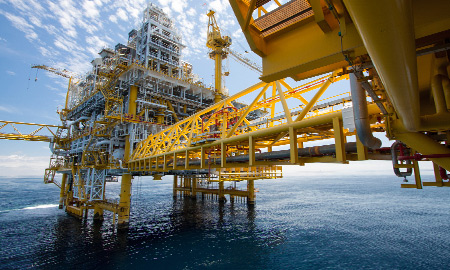 Demand for Asian petroleum blocks stays fairly strong in 2014, with buyers spending nearly $5 billion to boost their upstream producing oil and gas assets.
Acquisition interest in Asian oil and gas blocks remains fairly strong in the energy hungry region as the pace of transactions that commenced in 2013 accelerated in 2014, leading to almost $5 billion worth of producing petroleum assets changing hands.
Not surprisingly, the firms making these upstream acquisitions were mostly based in Asia including national oil companies (NOC) such as Indonesia's PT Pertamina and Thailand's PTT Exploration and Production Public Co. Ltd. (PTTEP) – companies seeking to add to their existing petroleum asset base and new ventures in the upstream sector.
Drivers for Upstream Asset Acquisitions in Asia
Strong energy consumption in Asia resulted largely from economic growth in the region over the past few decades, particularly from large economies like China, India and Indonesia, which expanded by 7.7 percent, 4.7 percent and 5.8 percent, respectively in 2013, World Bank's estimates showed.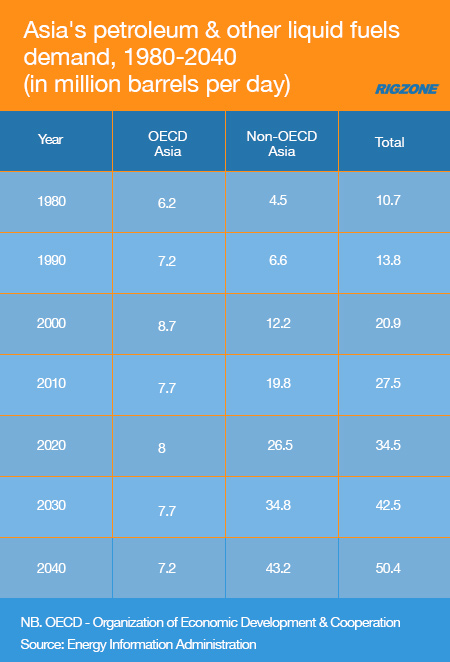 Asia's petroleum & other liquid fuels demand, 1980-2040
Growing Asian economies are expected to increase demand for petroleum and other liquid fuels, with consumption projected to rise 83.3 percent to 50.4 million barrels of oil per day (MMbopd) in 2040, compared to 27.5 MMbopd in 2010, the U.S. Energy Information Administration (EIA) reported in its 2014 edition of International Energy Outlook (IEO2014) that was released in September.
"Petroleum and other liquid fuels consumption in OECD Asia is expected generally to decline over the long term, from 7.7 MMbopd in 2010 to 7.2 MMbopd in 2040 ... the other countries of OECD Asia – South Korea, Australia, and New Zealand – experience modest growth in liquids fuels use," the IEO2014 added.
In contrast to OECD Asia, the IEO2014 report noted that non-OECD Asia is anticipated to post the "largest growth in liquid fuels consumption worldwide … at 23.4 MMbopd from 2010 to 2040, with China accounting for 10.7 MMbopd of the total increase."
1
2
3
4
5
View Full Article
Generated by readers, the comments included herein do not reflect the views and opinions of Rigzone. All comments are subject to editorial review. Off-topic, inappropriate or insulting comments will be removed.