Exec: Bakken Rail Loading Available Today, Will Be Vital Tomorrow
by Matthew V. Veazey
|
Rigzone Staff
|
Friday, December 19, 2014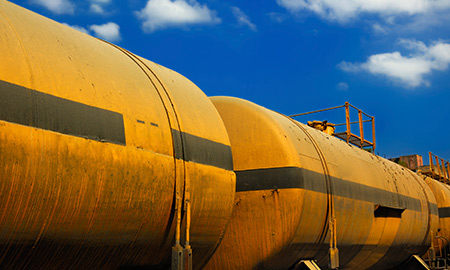 Crude oil export options are expanding and diversifying for Bakken producers.
When BOE Midstream began operations at its Bakken Oil Express Rail Terminal in Dickinson, N.D., in November 2011, crude production from the Bakken shale play in the Williston Basin was approaching 450,000 barrels per day (bpd) and steadily increasing. Less than 3 years later, in June of this year, production crossed the 1 million bpd mark, based on figures from the North Dakota Oil & Gas Division.
Two months after daily Bakken production hit seven figures – on August 21, to be exact – Denver-based BOE achieved a milestone of its own: loading its 1,000th unit train from the Dickinson terminal.
"As the second rail terminal in the Bakken, Bakken Oil Express is proud to be one of the leaders in the historic change the Bakken has created in the North American crude oil industry," said John Wadsworth, BOE's chief operating officer. "We are excited about the opportunities ahead."
Growing production from the Bakken, coupled with the region's lack of refineries and pipeline takeaway capacity, have resulted in a more than five-fold increase in Williston Basin rail loading capacity since Bakken Oil Express began operations – from 245,000 bpd at the end of 2011 to 1.26 million bpd currently. Pipeline and, to a lesser extent refining, capacities are on the increase as well. The graph below, created with figures from the North Dakota Pipeline Authority, highlights the changing crude oil export options from the Williston Basin.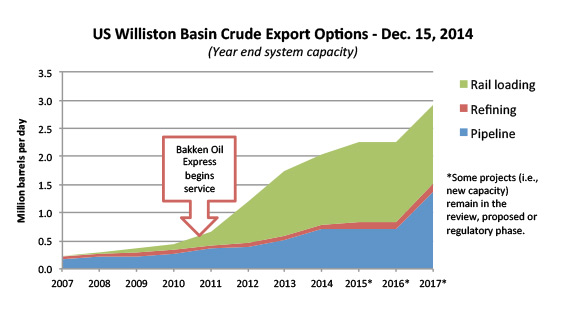 Despite the increasing variety of takeaway options for Bakken oil producers, Wadsworth is confident that crude-by-rail will continue to be an export mainstay in the region for the long haul. Read on for his impressions of the evolving transportation story underway in North Dakota.
1
2
3
View Full Article
Generated by readers, the comments included herein do not reflect the views and opinions of Rigzone. All comments are subject to editorial review. Off-topic, inappropriate or insulting comments will be removed.